This is an archival story that predates current editorial management.
This archival content was written, edited, and published prior to LAist's acquisition by its current owner, Southern California Public Radio ("SCPR"). Content, such as language choice and subject matter, in archival articles therefore may not align with SCPR's current editorial standards. To learn more about those standards and why we make this distinction, please click here.
Throw Away Those Arrowhead Bottles Already:
Stories like these are only possible with your help!
You have the power to keep local news strong for the coming months. Your financial support today keeps our reporters ready to meet the needs of our city. Thank you for investing in your community.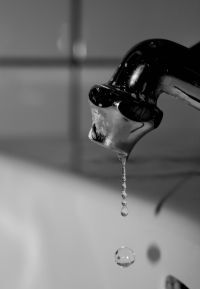 One of my favorite food writers, Jeffrey Steingarten, once did an elaborate and methodical taste test of several different varieties of tap and bottled water. After much research and even more adjectives, he came to the shocking conclusion that New York tap water was most pleasing to the palate.
And now Los Angeles tap water has every right to brag as well: it won the award for best municipal water at the 18th annual Berkeley Springs International Water Tasting held this weekend in Virginia, going up against waters from around the WORLD. That's right, we have the greatest tasting city water in the WORLD!
The title of best municipal water was shared by the Metropolitan Water District of Southern California, which serves Los Angeles, and the town of Clearbrook, British Columbia. Los Angeles won a gold medal in 1998 and has been in the top five in four other competitions since then, according to the competition organizers.


This is only going to make me madder every time I go to Costco and see families piling crate upon crate of bottled water into their carts -- not only do those bottles NEVER biodegrade, but the water you're drinking is probably tap water itself. And hey, you know what else they sell at Costco?
Brita filters and gallon-sized water dispensers
! I made the switch over to filtered tap last year and now I enjoy crisp, cold, taste L.A. water every day.