This is an archival story that predates current editorial management.
This archival content was written, edited, and published prior to LAist's acquisition by its current owner, Southern California Public Radio ("SCPR"). Content, such as language choice and subject matter, in archival articles therefore may not align with SCPR's current editorial standards. To learn more about those standards and why we make this distinction, please click here.
The Neighborhood Project: Chinatown
Before you read more...
Dear reader, we're asking you to help us keep local news available for all. Your tax-deductible financial support keeps our stories free to read, instead of hidden behind paywalls. We believe when reliable local reporting is widely available, the entire community benefits. Thank you for investing in your neighborhood.
Although Chinatown is no longer a hub of activity relative to other parts of Los Angeles, it contains significant portions of the cultural history of the city within its tiny one-square-mile boundaries. It has served as the gatekeeper to America for many generations of immigrant groups, not only from China but from all over the world. It's been a launching pad for all of the true believers that clung to the promise of a new life in the land of opportunity. Today, you can hear the echoes of these stories, and the underlying heritage of the lives that were left behind, reverberate throughout the community. Far more than just a novelty, Chinatown is a reflection of many of the things that, for better or worse, give LA its true identity beyond the postcard images and the glitz and glamour that the rest of the world projects on to it.
Boundaries: Officially, the boundaries are Bernard St. to the north, Cesar Chavez Ave. to the south, North Main St. to the east, and Yale St. to the west. However, this really comprises more of the commercial district of Chinatown; the residential community extends out past Yale across the 110 to the hills below Dodger Stadium in Elysian Park, out to Beaudry St. (as noted by the fact that the street signs are still in Chinese that far west). For the purposes of the Neighborhood Project, we are restricting it to the commercial district.
Politics:
LA City Council District 1, represented by Councilman Ed Reyes
LA County District 1, represented by Supervisor Gloria Molina
California Senate District 21, represented by state Senator Jack Scott
California State Assembly District 45, represented by Assemblyman Kevin de Leon
US Congressional District 34, represented by Congresswoman Lucille Roybal-Allard
Public Transit: Because of its proximity to Union Station, Chinatown is accessible by virtually any mode of transportation with a short walk. If you're too lazy to walk a few blocks, the Gold Line's Chinatown station dumps you at Spring St. and College St., and the DASH-B (Downtown Discovery on weekends) and Lincoln Heights/Chinatown line go directly through the heart of the neighborhood. Several MTA buses make stops in Chinatown as well.
The pagoda-shaped Chinatown Metro station
Freeway Access: 110 (Hill St. exit), 101 (Alameda St., Spring St.)
Usually considered: Chinatown
People who front say they live in: Downtown, Elysian Park
Population and Demographics: 9,029, according to LA Almanac from the 2000 census, but many thousands more if you include the Chinatown adjacent areas. Interestingly enough, Chinatown had been a haven of multiculturalism during the 80s and 90s, drawing not only from Asian populations, but also significantly from Latino and African-American populations. More recently, the area has once again become more predominately Asian, although a sizable number of Latinos still inhabit the community.
One of the many multilingual signs throughout Chinatown, reflecting the diversity of the neighborhood and the city as a whole
We tried to get rid of them but they just wouldn't leave
The first Chinese immigrants to Los Angeles established their community in the area where the El Pueblo Historical Monument and Union Station currently exist during the 1850s after the Gold Rush. They were predominately male laborers, escaping the poor economic conditions in China to make money to send home to their families. Within this same area, numerous immigrants from Mexico (celebrated through Olvera St.), Italy (celebrated through Italian Hall at El Pueblo), and France also settled and built their own little cultural enclaves during the mid- to late-1800s.
However, significant discriminatory laws aimed at curtailing the presence of the Chinese had a hugely detrimental effect on the community. In 1882, the government passed the Chinese Exclusion Act which, through subsequent amendments, effectively banned all immigration of ethnic Chinese (not only from China but from any country) and prevented any existing immigrants from having the right to naturalize (the act itself wasn't lifted until 1943, and immigration restrictions weren't fully removed until 1965; even the 1943 action came as a byproduct of China siding with the Allies in World War II and the US instead focusing its attention on the Japanese "threat" by seizing Japanese-Americans and dumping them in internment camps). For obvious reasons, this policy severely restricted the growth of the Chinese-American community since workers could not bring over their families from back home. Further laws prohibited Chinese from owning the land they lived and worked on, hampering efforts to expand businesses. These statutes served as a catalyst for the deterioration of Old Chinatown beginning in the early 1900s.

In 1931, the city made the decision to demolish old Chinatown to build Union Station. The residents that still remained were displaced, since it wasn't until 1937 when relocation plans were finally executed on to build New Chinatown (the current location) and China City (adjacent to El Pueblo, between Spring and Main St., which was destroyed in the 1950s). Despite these obstacles, Chinatown re-emerged as a cultural center for Chinese.
The history of local-area Chinese-Americans is captured at the Chinese Historical Society of Southern California on Bernard St. As a side note, while El Pueblo is deserving of its own post because of its own unique place in Los Angeles history (in particular Mexican-American history), it should be mentioned that the Garnier building, which held many of Old Chinatown's most important social and commercial organizations and currently houses the Chinese American Museum, is situated within the monument's grounds off of Los Angeles St.
Thanks, but no thanks. We'll let someone else have it
Although the construction of New Chinatown fostered a new era for the Chinese with the return of new residents, merchants, and tourists, many Chinese migrated out to the suburbs (most notably in the San Gabriel Valley) once the restrictions on land ownership and use were removed. This trend became particularly pronounced after 1965 once immigration laws were reset and wealthier immigrants began to arrive by the thousand. Thus, in the current day, cities like Monterey Park and Alhambra function as de facto Chinatowns. In place of the Chinese, many immigrants from Southeast Asia, in particular Vietnam and Cambodia, effectively replaced those that left Chinatown behind for greener pastures. As such, Chinatown can be roughly bisected into two halves by College St., with primarily older Chinese businesses to the north, and a significant percentage of Southeast Asian businesses to the south.
Chinatown Phuoc Loc Tho Center on Spring is one of the shopping centers featuring numerous Vietnamese merchants
Don't forget about us, we were here too
Although Italians were prominent in the area well into the 1900s, the Little Italy that was once there is all but vanished. Little Joe's Restaurant on Broadway and College, which closed in 1998, was the last connection to the Italian-owned businesses in Chinatown. The building is still there, but the restaurant is now used sporadically as a film set.
The legacy of the French in Chinatown is seen through the Pacific Alliance Medical Center on College, as noted by the Joan of Arc statue which stands guard in front. It was originally built in 1868 as a hospital to treat French immigrants, but has over time served as the primary medical facility for Chinatown residents.
left: Don't mess with Dr. Joan
below: This just looks like the kind of place Fat Tony would love
A look at the East through the eyes of the West
New Chinatown was originally designed in part by set designers from Hollywood, who sought to heighten the sense of "Chineseness" (or at least the perception of Chineseness) to make it appealing to attract tourists. Thus, the architecture was highly stylized and exaggerated. Today, many of these original structures remain. Central Plaza, between Broadway and Hill St., was the focal point of this neo-Chinese architecture, with buildings constructed to resemble pagodas of different bright, pastel colors, and bookended by two gates with tiered roofs and neon signs. Central Plaza is still the hub of Chinatown for visitors, with a combination of bars, restaurants, specialty shops, and street vendors hawking trinkets and jewelry. Most prominent neighborhood events, such as the Chinese New Year celebrations, are usually held in the plaza square.
It's not exactly the Forbidden City, but Central Plaza retains some hint of the motherland
Looking into Central Plaza from the back, you can see that the founders thought it would be clever to name the area "Chinatownland" as if it were an amusement park of sorts; no truth to the rumor that Disneyland nearly opened a Chinatownland in Anaheim, featuring Mr. Toad's Wild Rickshaw Ride and the Haunted Pagoda
Across Hill, West Plaza was designed with a similar motif, attached to a narrow alley (Chung King Rd.) of curio and antique stores and lined with dozens of red lanterns. In recent years, the plaza showed signs of gentrification, with numerous art galleries replacing the struggling stores which couldn't stay in business. At its apex, Chung King was a destination spot for hipsters frequenting the numerous gallery openings and exhibitions. These days, however, the scene has died down a bit, so while the galleries are still around and Saturday night shows still run, it's more likely that you'll see tumbleweeds flying through the alley than patrons. Still, some remnants of the past have endured. The F. See On store referenced in Lisa See's On Gold Mountain (one of the best books about the Chinese-American experience in LA) is located in West Plaza and is the oldest continuing Chinese enterprise in the city going back to 1878.
right: an example of one of the gift shops-turned-art galleries with the original signage still in place

below: Chung King Road, minus any customers
F. See On store, now well into its second century of operation
Our special of the day is mu shu pork infused with the essence of Jackie Chan
Although the Hollywood-influenced construction of New Chinatown caricatured Chinese culture in some ways, many businesses are still dependent on the tourists that it helped bring in, as well as the many movies and TV shows which are filmed in the area. However, few places attempt to capitalize on this as shamelessly as Foo Chow Restaurant on Hill, where scenes from Rush Hour were filmed. "Do you understand the words that are coming out of my mouth?" Yes, but I don't understand the poor grammar that they have on this mural.
If they're not going to look out for us, we'll take care of each other
As is common within Asian cultures, Chinese immigrants tended to work together to protect each other's interests. These efforts took the form of family or benevolent associations. Associations provided a unified voice for the political needs of the Chinese people and their businesses, but also provided a safe haven to gather, creating a sense of home and community in a country that was largely hostile to them. Despite the fact that overt institutional discrimination has been mostly eradicated today, these associations still exist as a congregating center, particularly for older Chinese. The Chinese Consolidated Benevolent Association, formed in 1890, was the original umbrella organization for all of the individual groups and is now located adjacent to Central Plaza on Broadway. You'll see associations dotted throughout Chinatown, with newer ones representing more recent immigrants from other parts of China and Southeast Asia.
One example of a still-active benevolent association and some of its older members
That being said, the removal of discriminatory laws wasn't a panacea for the challenges of assimilation. For example, Chinese still struggled to gain access to funds to help grow businesses and purchase property. Thus, they began forming their own banks to address this need. Cathay Bank was the first Chinese-American bank in California, opening in 1962 at Broadway and Alpine St. as a commercial bank, and is now the oldest Chinese-American bank in the country. Since then, several more Chinese-American banks have opened in the greater LA-area. Incidentally, the founder of Cathay Bank, F. Chow Chan, was well-established in the community as the owner of the venerable Phoenix Bakery, another institution in Chinatown.
The original branch of Cathay Bank
In case you forgot, one more reminder that Sweet Lady Jane still sucks
Speaking of Phoenix Bakery, it possesses some of the finest sweets (both traditional Chinese and Western) in the city. And they won't treat you like a second-class citizen when you go in to sample cakes, either. Located at the north end of Chinatown on Broadway, and still run by the Chan family after 69 years, Phoenix has an oft-copied cake (a super-light sponge cake with whipped cream, fresh strawberries, and slivered almonds) that is far superior to anything at certain more esteemed bakeries. Virtually every LA-area Chinese wedding reception will serve this cake or some derivative of it. For the new-school bakery crowd, Wonder Bakery in Central Plaza offers many tasty treats and boba tea drinks, with a mouth-watering aroma that wafts out into the plaza square.
Seriously, the cake is unbelievable
Come for the baked goods, stay for the fresh foods
Chinatown is also a great place to buy fresh poultry. And by fresh, I don't mean going to the supermarket and getting meat from the butcher counter fresh, I mean actual live chickens. Animal-lovers probably won't enjoy the fact that birds are, um, decommissioned on premise, but you're not going to find a better bird to cook with anywhere. Superior Poultry on Broadway is the most well-known of the poultry markets; besides chicken, they also sell other types of meat like rabbits and quail.
Superior Poultry is a great place to get a chicken for dinner, as long as you can hold your dinner down while they get your chicken ready
If aquatic creatures are more your thing, you can also find live fish and seafood ready for the picking at certain markets as well. Although if I were one of these fish, I'm thinking I'd probably want to be eaten just so I wouldn't have to live in these grimy tanks any more.
On the other hand, don't come for the chicken's feet
One of the unfortunate side effects to the Chinese migration out to the San Gabriel Valley was that seemingly all of the good food went with them. Thus, I can't consciously endorse any of the restaurants in Chinatown given that much better authentic Chinese food in much greater quantities can be found another 15 minutes to the east (or in the case of Vietnamese food, 45 minutes to the south in Little Saigon).
But if it's truly too inconvenient to make the trip to the SGV, there are a lot of eating options in Chinatown, and depending on whom you talk to, you'll get a different answer about which restaurants are best. Since many folks come to Chinatown in search of dim sum, be forewarned that while Empress Pavilion in Bamboo Plaza and Ocean Seafood on Hill garner the most acclaim because of their elegant décor, they're also uber-crowded (particularly Empress, it's like eating on the floor of the NYSE) – you can get reasonably comparable food at ABC Seafood on New High St. and Ord St. or at CBS Seafood on Spring and Ord with considerably fewer hassles. I've also found Hop Li on Alpine to be a decently reliable option for an authentic meal.
It rates well with guides like Citysearch and Zagat, but locals know to steer clear of Empress Pavilion
On the opposite end of the culinary spectrum, the Americanized cuisine at Yang Chow with its trademark slippery shrimp or Plum Tree Inn (both on Broadway) attracts a faithful following though the dishes are largely stripped of their authenticity. From the many Vietnamese restaurants in Chinatown, Pho 97 in Far East Plaza is the most notable. And if you're in the mood for something slightly less conventional, you can stop by New Battambang Restaurant on New High for Cambodian cuisine or Asian Noodles on Spring for Filipino food. One thing's for certain, you will get the same terrible service at any restaurant in Chinatown as you would in SGV.
There aren't usually many Chinese patrons in Yang Chow, but there is a framed picture of Tommy Lasorda in there so that's worth something
Imitation is the sincerest form of flattery
The widely popular Sam Woo Restaurant, which has locations all over Southern California, had its first location in Chinatown in 1979. While there is still a Sam Woo BBQ restaurant in Chinatown, beware – some of its branches were sold off and turned into fakers like San Woo Bar-B-Que and Sum Wu Seafood Restaurant in Far East Plaza. These are not the same (but give the new owners credit for trying to trick you into thinking otherwise)! It's part of the Chinese way: practicality over originality. For further evidence, stop by a video store and check out all of the kung fu titles starring Bruce Le, Bruce Li, and Bruce Lai.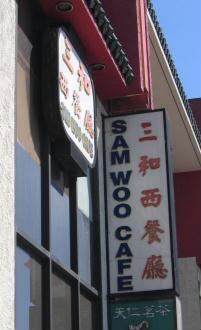 If you can't beat 'em, be 'em (or buy them out and pretend to be them)
Well, maybe not every restaurant is forgettable
Although decidedly un-Chinese, the hands-down best place to eat at in Chinatown is Philippe the Original, the 99-year old restaurant on Alameda and Ord, which claims to be the originator of the French Dip sandwich. True, it doesn't exactly blend into its surroundings, but it's been a fixture in its location since 1951 as Chinatown was being built up around it. According to the restaurant, the sandwich was created when deli owner Philippe Mathieu accidentally dropped a roll into meat drippings while making a sandwich. Now, the legendary sandwiches are hand-dipped in au jus (the pork are the best), while the little quirks of the restaurant like the sawdust on the floors and the jars of pickled eggs at the counter make it a one-of-a-kind dining experience. Quite frankly, if you haven't been to Philippe, you have no business calling yourself an Angeleno. Oh by the way, they still sell a cup of coffee for nine cents, the best deal in town.
While we're on the subject of coffee, eff off Starbucks
Yes, it's true. There are zero Starbucks in all of Chinatown. It's the one place where the gospel of Howard Schultz hasn't caught on (there's even Starbucks in the Forbidden City in Beijing these days). For the price of one venti mocha latte you can get forty cups of joe at Philippe. And not get harassed by a snobby barista.
Now if Starbucks specialized in tea instead of coffee, maybe it would be a different story
Tea is an integral part of not only the Chinese dining experience, but its cultural norms as well. Tea ceremonies are traditional parts of weddings and family gatherings as a way of paying respect to elders. In Chinatown, boxed teas can be found in most of the general stores, as well as specialty stores where you can also walk in and self-serve from large canisters for your own magic elixir. Wing Hop Fung Ginseng & China Products in Far East Plaza is reputed to be one of the largest herbal retailers in the country, with a huge selection of tea and ginseng, as well as an assortment of Chinese foods, medicine, and home products. I'm too cheap to shell out for some of those amazingly high-priced teas, but I can vouch for the quality of herbal remedies that my older relatives have used to treat me in the past, based on many of these ingredients.
Wing Hop Fung is one of many stores in Chinatown where you can find the same herbs that have been used in China for thousands of years
More than just trinkets and knick-knacks
The greater downtown area is synonymous with bargain shopping for various goods (see: Fashion District, Jewelry District, Toy District). While Chinatown isn't known for its shopping, it does offer plenty of opportunities for cheap goods beyond the seemingly countless stalls of junky exotic-looking merchandise. But only if you can haggle. Both Dynasty Center and Saigon Plaza contain a maze of bazaars selling clothes, handbags, electronics, and other random items, all available at whatever price you can talk the vendor into selling them to you. Numerous jewelry stores can be found at the Broadway Jewelry Mart in Chinatown Plaza and the Dynasty Jewelry Mart. Most of these merchants are Southeast Asian immigrants referenced earlier, and you'll notice the preponderance of Vietnamese food concentrated here. There's also a Farmers Market in a parking lot on Hill on Thursday afternoons.
Chinatown is no Melrose, but does have a couple of stores that attempt to bring some current flavor to the area. Lions Den on New High is a nondescript small, trendy clothing boutique with some funky threads. And for other eclectic merchandise, Munky King in Central Plaza and Ooga Booga on Broadway carry quirky toys, art, and books.
Munky King strives to achieve "individuality in the face of conformity"
So then where do the cool kids hang out?
While most of Chinatown shuts down pretty early, there is a small nightlife scene concentrated in Central Plaza. Grand Star Jazz Club is the standard, a restaurant/jazz club owned by the Quon family for more than 60 years. It's totally chill and sporadically offers karaoke in addition to the live acts – co-owner Frank (one of my friends tabbed him Frank Quon-atra) and his brother Wally will get up and sing some old standards as well, while "Mommy" tends the bar. On the first, third, and fifth Friday of the month, the second floor turns into a dance club, Firecracker.
Grand Star is a great place to get introduced to "strangers in the night"
The other two bars of note also have historical significance. Hop Louie, which has a super-dive bar on the first floor beneath the main restaurant, is home of the five-tier golden pagoda, the biggest landmark built during the construction of New Chinatown in 1941. In contrast, The Mountain Bar captures the newer art scene, with DJs spinning tunes in a swanky lounge setting; however, for more than 120 years, the space served as the oldest restaurant in Chinatown (Man Jen Low, also known as General Lee's) until its closure in 1987, owned by several generations of the Lee family.
The inside of Hop Louie is about as dated as the pagoda itself, but that's part of the charm
After you've abused your liver, wander over to Full House Seafood Restaurant across Hill or sober up on the walk over to Won Kok Restaurant (minds out of the gutter, please) on Alpine. Both places are open until 3 am for late night greasy Chinese food.
The food's not all that at Full House, but who cares - Chinese food at 3 am rocks!
Unfortunately it's a little tougher to work off that greasy food
Chinatown is not particularly green, like most of greater Downtown, but the Alpine Recreation Center on Yale provides facilities for residents to have their leisure time. Like other city parks, there are standard basketball courts, playground equipment, and a gymnasium. Catering to the local population, there is also a table tennis table and martial arts and tai chi classes offered. You'll often find older men playing xiangqi (Chinese chess) on the tables in front.
Future Kobes may be born here at Alpine (The mamba is by far the biggest jersey seller in China, not Yao)
However, there are no tennis courts in Chinatown so aspiring Michael Changs have to be resourceful to find a match, like this man rallying with himself beneath the Gold Line overpass.
Exercising your mind is just as important as exercising your body
Achievement is a central part of Chinese culture in order to bring honor to one's family, and education is seen as a big enabler of success. Castelar Elementary School on Yale is Chinatown's lone school, serving as a house of learning for children from all of the various immigrant groups that have passed through the area over the years. In operation since 1883, it has the second-longest running tenure of any elementary school in LA.
Tens of thousands of children, including many first-generation Americans, have passed through these gates over the last 120 years
Although the Chinatown branch of the LA Public Library used to be housed at Castelar, a new standalone building was constructed four years ago at Hill and Ord to expand the branch's facilities. The modern architecture stands in contrast to the old buildings and pagoda-rich structures that are pervasive throughout the rest of Chinatown.
Reading is fundamental, no matter what language you speak
The connection to mind, body, and soul
Traditional Chinese base many practices on the holistic view that everything in the universe is interconnected, which draws heavily from principles from Buddhism, Confucianism, and Taoism. Chua Ba Thien Hau Temple on Yale, which pays tribute to the Taoist goddess Matzu, is the largest of several temples in Chinatown, most of which are associated with benevolent associations. These temples, along with ancestral shrines, allow worshippers to pray to their ancestors and gods.
The temple was rebuilt in 2005
While Christianity is now rapidly growing in China as the country opens up to the rest of the world, Chinese-American churches have been a prominent part of the landscape in the US since the arrival of the early immigrants. The Chinese United Methodist Church on Hill is the oldest Chinese-American church in LA, formed in 1877 by a former Christian missionary. The largest Chinese Baptist church in California, First Chinese Baptist Church Los Angeles, is on Yale.
Like many other things in Chinatown, this church is the oldest of its kind in the city
Other interesting things you'll see in Chinatown
The Capitol Milling Company was a flour mill that serviced bakeries all over LA, including Nancy Silverton's beloved La Brea Bakery. It operated in the area for more than a hundred-fifty years until 1998, when the company relocated to a bigger facility in Colton. Since 1883, it had been owned by multiple German immigrant families and their descendants, before being purchased by ConAgra in 1999. The building is one of the oldest standing buildings remaining in Los Angeles, going all the way back to 1831. Redevelopment plans have been made to convert it into (what else?) lofts but, like the many other proposed projects in Chinatown, the groundbreaking has not yet begun.
Vendors do their best to appeal to the needs of all visitors, leading to some interesting combinations of services and goods. Where else are you going to be able to get hot dogs, nachos, and fish balls with curry sauce?
These murals on Broadway from 1968 are composed of hundreds of tiles. According to the Public Art in LA website, the murals depict three different scenes:
The mural on the viewer's left, designed in the style of a Sung Dynasty (960-1279 A.D.) landscape ink drawing, is described in the Chinese inscription as "Picture of Viewing Waterfalls in Summer Mountains." The center mural, identified as "Palace in Heaven", depicts a scene about the monkey king from the long 14th century episodic tale Hsi-yu chi, The Journey to the West. The colorful mural on the viewer's right, "Four Beauties Catching Swimming Fish", is in a style from southern China.

This is another mural entitled "The Party at Lan-ting" on one of the walls of Castelar School on College. It was designed as part of the larger city-wide effort under SPARC (Social and Public Art Resource Center) to restore ethnic pride to the communities, enhance the aesthetics of local neighborhoods, and train aspiring artisan youths. The sad irony of the graffiti defacing the mural speaks to the fact that there is still much work to be done to build up and clean up many underserved communities around the city. The scene depicted is of a birthday party for Wang Xizhi, considered one of the founders of modern Chinese calligraphy during the 4th century.
Though it feels worlds apart from other parts of the greater Downtown area, Chinatown sits in the shadow of City Hall and the skyscrapers of the Financial District. From the top of the Metro station, you can also see the tops of the lights at Dodger Stadium and the entire river basin out towards East LA if you take a 360-degree panoramic view.
Also at the Chinatown Metro station is this energy dial entitled "The Wheels of Change," based on the principles of the I Ching, one of the seminal Chinese texts. I can't possibly explain all of the different aspects of cultural significance that this is intended to embody, so check out this site if you want to better understand its meaning.
The Chinatown Gateway at Broadway and Cesar Chavez was built in 2001 and functions as the main access point to Chinatown. The depiction of twin dragons above the clouds is said to represent good luck, harmony, and prosperity. Which makes this a great place to conclude our visit to Chinatown in the hopes that those things will follow you wherever life takes you.
All photos by Ryan Young for LAist