This is an archival story that predates current editorial management.
This archival content was written, edited, and published prior to LAist's acquisition by its current owner, Southern California Public Radio ("SCPR"). Content, such as language choice and subject matter, in archival articles therefore may not align with SCPR's current editorial standards. To learn more about those standards and why we make this distinction, please click here.
The CW (Clipper Weekly), New Year's Edition
Before you read this story...
Dear reader, we're asking for your help to keep local reporting available for all. Your financial support keeps stories like this one free to read, instead of hidden behind paywalls. We believe when reliable local reporting is widely available, the entire community benefits. Thank you for investing in your neighborhood.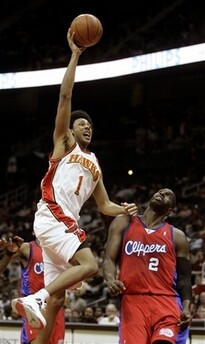 Clipper Weekly has returned from its nearly month-long hiatus after taking its own road trip – fortunately, the road was much more hospitable to the CW than it has been to the Clippers.
Current Record: 15-19, 5th Pacific, 11th West
Last Month:
It's been an ugly few weeks for Clipper Nation. The Clippers' six-game December losing streak was highlighted here. The road woes can no longer be considered an aberration, with the teams' 3-13 mark second worst in the league, including an embarrassing loss to Atlanta on Saturday which Elton Brand is calling for some introspection. The Clips seemed to have righted the ship with three convincing home wins (albeit against crummy teams like the Celtics and Knicks) to close 2006, but the same bad habits have crept up in 2007, leading to three out of four Ls on this current road trip. Turnovers, poor outside shooting, and lack of defensive stops in critical junctures of the game all look far too familiar at this point in the season.
About the only good news for the Clips is that there is a serious dropoff after the current six elite teams in the West (Dallas, Phoenix, Utah, San Antonio, Lakers, Houston), making the last couple of playoff spots highly attainable. To be sure, this isn't exactly what the team had in mind at the beginning of the season, but the way they have been playing, .500 even seems a stretch at this point. Sam Cassell's foot injury (he's sat out the past eight games) and the continuing distraction of Corey Maggette's trade status appear to be undermining team cohesion.
Quick Take:
The Clippers clearly miss Cassell's leadership and presence on the court, not to mention his offensive production: his replacement, Daniel Ewing, is far less productive scoring (only 11.3 points per 48 minutes versus 25.8 for Sam) and initiating the offense (extremely poor assist-to-turnover ratio of 1.1 versus Cassell's 2.8). Although Shaun Livingston has been performing adequately as the starter, his inconsistency at both ends of the court is a far cry from the steadying influence that Cassell provided last year. The Clips just signed Luke Jackson off of the scrap heap D-League in a hope to get something productive out of the point guard position.
Maggette is mentally checked out, waiting patiently for Elgin Baylor to trade him before he pulls a Sprewell and attacks Mike Dunleavy. Though he remains the Clippers' second-leading scorer and best option off the bench, the team does not seem to be play as a unit when he's on the floor.
Elton Brand and Chris Kaman have improved their offensive output from earlier in the season but are still extremely turnover prone, with the opposition flashing double teams to the low post with increasing frequency, leading to poor decision making and sloppy ballhandling, creating easy points the other way. The lack of shooters (what the hell are they paying Tim Thomas for, I can shoot below 40% for $6 million a year?) is not exactly a deterrent for these double teams.
And on the effort side, the intensity on defense and rebounding is clearly not where it was last year. Breakdowns seem to occur with regularity, particularly in the fourth quarter, and the hustle plays that the team always made last year haven't been there. The Clips were fourth in rebounding margin last year but are only 12th this year. It's by and large the same players as last season, so there is clearly something going on mentally that is contributing to this mediocre performance.
The Clips play only two teams with winning records for the rest of the month, with 7 out of 11 at Staples, so if they do not pick up some games here, it will be time for Elgin Baylor to start getting his customary seat at the draft lottery warm.
This Week:
Monday: at New Orleans/Oklahoma City (PRIME, 5:00 pm) - injuries have finally caught up to the Hornets, having lost 11 of 13. The team is playing with a patchwork lineup of forgettable players, as their top three scorers Chris Paul (ankle), Peja Stojakovic (back), and David West (elbow) are out for several weeks, as well as top sub Bobby Jackson (ribs). Yes, the Clips are only 2.5 games ahead of them in the standings. It's that bad.
Wednesday: at Minnesota (PRIME, 5:00 pm) - Garnett and the eleven dwarves are riding a hot streak, with four consecutive nailbiting wins. After the T-Wolves were unsuccessful in trading for Allen Iverson, KG has apparently taken his rage out on the rest of the league: he's averaging 27.5 points and 14.5 boards per game during this run. That's more than Tim Thomas has been getting in four games lately.
Saturday: Cleveland (KTLA-CW, 7:30 pm) - King James makes his annual trip to Clipper Nation. LeBron and all of his alter egos, which have been plastered on countless runs of those Nike commercials on ESPN, have apparently come up with a training regimen that works - the Cavs are leading the junior varsity Eastern Conference. That might even be enough to get him into Hyde. (Nah, probably not)
AP photo by John Bazemore