The CW (Clipper Weekly), New Year's Edition
LAist relies on your reader support, not paywalls.
Freely accessible local news is vital. Please power our reporters and help keep us independent with a donation today.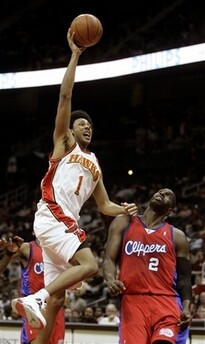 Clipper Weekly has returned from its nearly month-long hiatus after taking its own road trip – fortunately, the road was much more hospitable to the CW than it has been to the Clippers.
Current Record: 15-19, 5th Pacific, 11th West
Last Month:
It's been an ugly few weeks for Clipper Nation. The Clippers' six-game December losing streak was highlighted here. The road woes can no longer be considered an aberration, with the teams' 3-13 mark second worst in the league, including an embarrassing loss to Atlanta on Saturday which Elton Brand is calling for some introspection. The Clips seemed to have righted the ship with three convincing home wins (albeit against crummy teams like the Celtics and Knicks) to close 2006, but the same bad habits have crept up in 2007, leading to three out of four Ls on this current road trip. Turnovers, poor outside shooting, and lack of defensive stops in critical junctures of the game all look far too familiar at this point in the season.
About the only good news for the Clips is that there is a serious dropoff after the current six elite teams in the West (Dallas, Phoenix, Utah, San Antonio, Lakers, Houston), making the last couple of playoff spots highly attainable. To be sure, this isn't exactly what the team had in mind at the beginning of the season, but the way they have been playing, .500 even seems a stretch at this point. Sam Cassell's foot injury (he's sat out the past eight games) and the continuing distraction of Corey Maggette's trade status appear to be undermining team cohesion.
Quick Take:
The Clippers clearly miss Cassell's leadership and presence on the court, not to mention his offensive production: his replacement, Daniel Ewing, is far less productive scoring (only 11.3 points per 48 minutes versus 25.8 for Sam) and initiating the offense (extremely poor assist-to-turnover ratio of 1.1 versus Cassell's 2.8). Although Shaun Livingston has been performing adequately as the starter, his inconsistency at both ends of the court is a far cry from the steadying influence that Cassell provided last year. The Clips just signed Luke Jackson off of the scrap heap D-League in a hope to get something productive out of the point guard position.