This is an archival story that predates current editorial management.
This archival content was written, edited, and published prior to LAist's acquisition by its current owner, Southern California Public Radio ("SCPR"). Content, such as language choice and subject matter, in archival articles therefore may not align with SCPR's current editorial standards. To learn more about those standards and why we make this distinction, please click here.
Photo Essay: The Bowl Is Alive With The Sound Of Music
We need to hear from you.
Today during our spring member drive, put a dollar value on the trustworthy reporting you rely on all year long. The local news you read here every day is crafted for you, but right now, we need your help to keep it going. In these uncertain times, your support is even more important. We can't hold those in power accountable and uplift voices from the community without your partnership. Thank you.
18,000 screaming queens, pregnant nuns, and babies in lederhosen headed to the Hollywood Bowl last Saturday for the annual Sound Of Music Sing-A-Long. As expected, many snacks from Trader Joe's were eaten (might I recommend the Artichoke/Jalapeno dip), much swooning over Christopher Plummer took place, the Baroness got hissed at, Julie Andrews was cheered, and the unified masses belted in earnest (and amazingly in key) the tunes from Rodgers & Hammerstein's final masterpiece. How do you solve a problem like Maria? The answer -- a hot sea captain.
With many photos, hilarity ensues, after the jump...
Alive Hills.
Multi-lingual at such a young age... Impressive.
Laser pointers were reserved for making nipple dots and demon eyes on the Baroness and a few of the Nazis. Well played, laser folks.
Baroness von Drag Queen.
Wife made you come to this? Drink up, man.
Last year's winner of the costume contest dressed up like a the carburetor stolen by the nuns. This year, he dressed his kid up like the Captain's whistle... Does that look a whistle to you?! It looks like a condom. Or maybe a crayon. It looks like 4-5 years of therapy.
Charmian Carr, who played Liesl "sixteen going on seventeen" von Trapp, showed up to help judge the longest costume-contest/parade in the known galaxy.
Do Re Mi Fa So on and so forth.
Edelhead.
Eighteen Thousand Cellular Edelweisses.
Goatherd goodness (part 1).
Goatherd goodness (part 2).
More puppetshow action.
I'm With Noodles.
What they gave us when we arrived.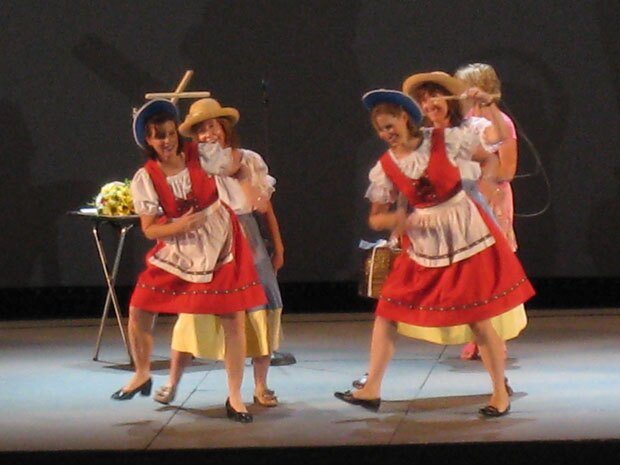 They had a choreographed number and everything.
Esoteric costumes are almost as awesome as conceptual get-ups.
A moonbeam in your hand. Obvi. And ps, the winner of this years contest. This child won himself a 7 day cruise to the Mexican Riviera. Woot.
Do not adjust your monitor. It's just a guy with noodles on his head.
Nunboy. His mother admitted to hastily taping a shawl to his head. Brilliant.
Pinecone lady. You know, the one on Maria's chair. Same cone.
The hills are like, alive and stuff.
Photos by Lisa Brenner for LAist
It's been many, many years since we saw this much snow in our mountains. Going up there right now isn't safe, but here are some places where you can enjoy the view and snap a pic.

April Valentine died at Centinela Hospital. Her daughter was born by emergency C-section. She'd gone into the pregnancy with a plan, knowing Black mothers like herself were at higher risk.

A look at years past when snows creeped into our citified neighborhoods, away from the mountains and foothills.

In the face of a drier future, that iconic piece of Americana is on its way out in Southern California.

Bob Gregory, 62, went missing the same day as Sands. His body was recovered near Mount Islip.