The Assault on Porn Valley
LAist relies on your reader support.
Your tax-deductible gift today powers our reporters and keeps us independent. We rely on you, our reader, not paywalls to stay funded because we believe important news and information should be freely accessible to all.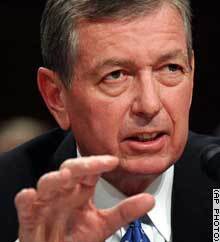 Even with Ashcroft out of office, the Justice Department still wants to get its hands on some pornography. We caught this story first in Broadcasting & Cable (subscription required) but it's also available in The Daily News and elsewhere. Extreme Associates won a reprieve when a US District Judge dismissed the obscenity case against them last month but now the Department of Justice says it will appeal the decision.
We're nervous about pointing to their website because we don't want the DoJ coming after us but, hey, we'll take a risk. No one will ever accuse the Northridge couple responsible for such high brow adult affair as "Slap Happy 6" and "Oral Hygiene" of being classy but obscenity laws always make us nervous. We're just not comfortable with the government in our bedrooms telling us what is and isn't okay.
Not that the DoJ would ever have to worry about us. We'd never watch XXX entertainment. Not even if it's coming through our cable box. We're too busy watching "Spongebob Squarepants."
Oh wait...