This is an archival story that predates current editorial management.
This archival content was written, edited, and published prior to LAist's acquisition by its current owner, Southern California Public Radio ("SCPR"). Content, such as language choice and subject matter, in archival articles therefore may not align with SCPR's current editorial standards. To learn more about those standards and why we make this distinction, please click here.
Sneezeless Cat Fancy
Support your source for local news!
The local news you read here every day is crafted for you, but right now, we need your help to keep it going. In these uncertain times, your support is even more important. Today, put a dollar value on the trustworthy reporting you rely on all year long. We can't hold those in power accountable and uplift voices from the community without your partnership. Thank you.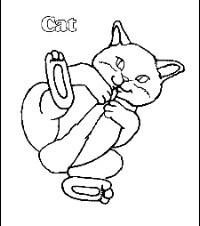 We're animal lovers here at LAist. Dogs always come first, but over the years we've shacked up with a motley assortment of cats, birds, fish, and even some reptiles. Still, we've always been sensitive to those who have suffered from allergies to our dear four, six and eight legged friends. Too bad, we always thought to ourselves, that they had to miss out on the joys of pet ownership because of an unfortunate genetic twist. Until today, we always thought those folks were doomed to face life without a loyal furry, feathery or scaly friend by their side. But then we opened up our copy of the Daily News and we realized how much the world has changed.
Yes indeed. If Simon Brodie has his way, West L.A.'s very own Allerca will be popping out hypo-allergenic felines quicker than you can say "Faster Pussycat." [Editor's note: That is until the pet-crazy City of West Hollywood outlaws genetically-bred animals within its borders] But is the world really ready for a sneezeless kitten? Must we crave such a bizarre mutation? And what of the litany of ethical issues we must address before such an experiment can be completed? Do we have the right to play God with helpless animals? Are genetically modified humans the next step? At what point do we have to ask ourselves if we've become too advanced and dependent on computers? And, most importantly, why would anyone pay 10 large for a kitten? That's some expensive pussy.
We know, LAist thinks this whole idea is pretty silly, too, although we wouldn't mind it if our Golden Retriever puppy could be modified into a model that wasn't so rancidly gaseous every night. But Mr. Brodie is dead serious about his business. He firmly believes his company will be raking in billions in no time and all because of this finicky feline fixing. His logic is straight and true:
"Suppose I meet a girl, she moves in and she's allergic. I'm not going to get rid of my cat and I'm probably not going to want to get rid of her, either."
LAist thinks it may have been a long time since Mr. Brodie last met a girl. Perhaps he should get out more and cut down on all the genetic mutation talk at every first date. That just kills the moment.
Meow.
Cruise off the highway and hit locally-known spots for some tasty bites.

Fentanyl and other drugs fuel record deaths among people experiencing homelessness in L.A. County. From 2019 to 2021, deaths jumped 70% to more than 2,200 in a single year.

This fungi isn't a "fun guy." Here's what to do if you spot or suspect mold in your home.

Donald Trump was a fading TV presence when the WGA strike put a dent in network schedules.

Edward Bronstein died in March 2020 while officers were forcibly taking a blood sample after his detention.

A hike can be a beautiful backdrop as you build your connection with someone.