LAist relies on your reader support.
Your tax-deductible gift today powers our reporters and keeps us independent. We rely on you, our reader, not paywalls to stay funded because we believe important news and information should be freely accessible to all.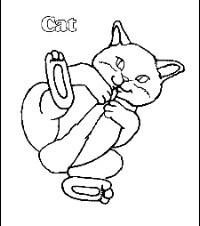 We're animal lovers here at LAist. Dogs always come first, but over the years we've shacked up with a motley assortment of cats, birds, fish, and even some reptiles. Still, we've always been sensitive to those who have suffered from allergies to our dear four, six and eight legged friends. Too bad, we always thought to ourselves, that they had to miss out on the joys of pet ownership because of an unfortunate genetic twist. Until today, we always thought those folks were doomed to face life without a loyal furry, feathery or scaly friend by their side. But then we opened up our copy of the Daily News and we realized how much the world has changed.
Yes indeed. If Simon Brodie has his way, West L.A.'s very own Allerca will be popping out hypo-allergenic felines quicker than you can say "Faster Pussycat." [Editor's note: That is until the pet-crazy City of West Hollywood outlaws genetically-bred animals within its borders] But is the world really ready for a sneezeless kitten? Must we crave such a bizarre mutation? And what of the litany of ethical issues we must address before such an experiment can be completed? Do we have the right to play God with helpless animals? Are genetically modified humans the next step? At what point do we have to ask ourselves if we've become too advanced and dependent on computers? And, most importantly, why would anyone pay 10 large for a kitten? That's some expensive pussy.