This is an archival story that predates current editorial management.
This archival content was written, edited, and published prior to LAist's acquisition by its current owner, Southern California Public Radio ("SCPR"). Content, such as language choice and subject matter, in archival articles therefore may not align with SCPR's current editorial standards. To learn more about those standards and why we make this distinction, please click here.
Slayer & Marilyn Manson @ Irvine Meadows, 08/24/07
Before you read more...
Dear reader, we're asking you to help us keep local news available for all. Your financial support keeps our stories free to read, instead of hidden behind paywalls. We believe when reliable local reporting is widely available, the entire community benefits. Thank you for investing in your neighborhood.
Marilyn Manson and Slayer bashed open our collective brains, and feasted on our souls. We in turn worshiped and thanked them for every second of it. Of course, it's a haul getting one's ass all the way out to the damned Irvine Meadows/Verizon Wireless Amphitheater, but where else can these dudes play? Promoters aren't letting all of us head bangers and moshers into the Hollywood Bowl anytime soon. Pffft... we'd destroy that place.
The stereotypical Slayer/Manson concert-goer is either wearing a black shirt, or no shirt, denim shorts, or black jeans, always long haired, sometimes tattooed, and their arms raised in the air waiting to be raptured by Satan. Our kind of people. But it is ultimately a mixed crowd ranging from a girl dressed as Nazi cheerleader, to children, even the elderly. Everyone was really friendly and excited for the show.
If you didn't have a studded belt, or a chain wallet, getting through the gates was easy. But girls for some reason really got a more thorough frisking, and took twice as long as boys. Just a few yards in there was a pack of impatient looking, long haired dudes. I took my place in the pack, and stood with my arms folded, tapping one foot anxiously, until my girlfriend was finally done being groped by security. As we were approaching the stage in the middle of Slayer's first song we learned that an ambulance had already been called for the first major injury of the night. Nobody seemed surprised.
Slayer hooked it up, because they seemed to know that it's those classic older albums that we're going crazy to hear. They didn't focus too much on showing off their new album, choosing to only play a few songs from it. Our hearts raced each time Tom Araya approached the mic, and went into one of his weird monologues, before screaming "WAR ENSEMBLE!" or "MANDATORY SUICIDE!" And before you're jaw could drop, Kerry King was churning out the riffs while banging his bald tattooed head, and Jeff Hanneman was simultaneously drilling away with the fastest hands this side of Oktoberfest. You couldn't really see Dave Lombardo that well, but when the double bass kicked in, your rib cage felt like it was going to go into cardiac arrest so was impossible to stop feeling his presence. The crowd behaved like they were being electrocuted the entire time, and loving it completely.
When Manson hit the stage, the energy of the crowd was completely different. It was high energy, and the fans were no less passionate. People were in a more of a trance, but still on their feet and pumping at least one fist. That is suiting to the nature of Manson's music, which isn't thrash-based like Slayer and has a slower tempo. Manson is a great showman, and took full advantage of the catwalk, while his band are bathed in thick colors of light as they ground out their thick layered blend of evil.
over 50 photos after the jump
The above photo pass is to thank for all these pictures. But unfortunately Marilyn Manson has a lot of photo rules: No Flash, Photos for only two songs, and No access to the photo pit. Instead me and a bunch of other photog-monkeys had to stand behind the mosh pit. But with the elbows flying we still managed to at least get a few shots.
And now, we present the photo essay:
SLAYER: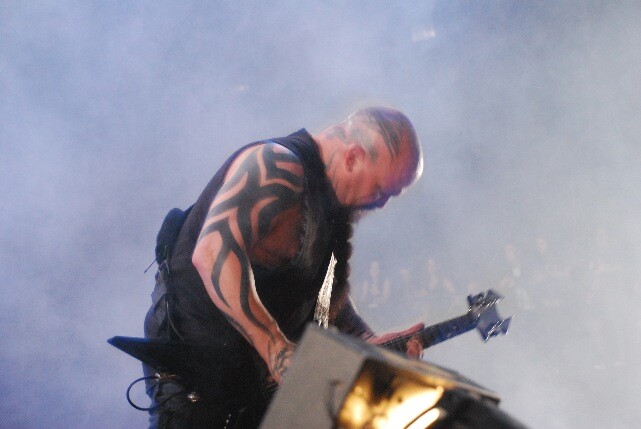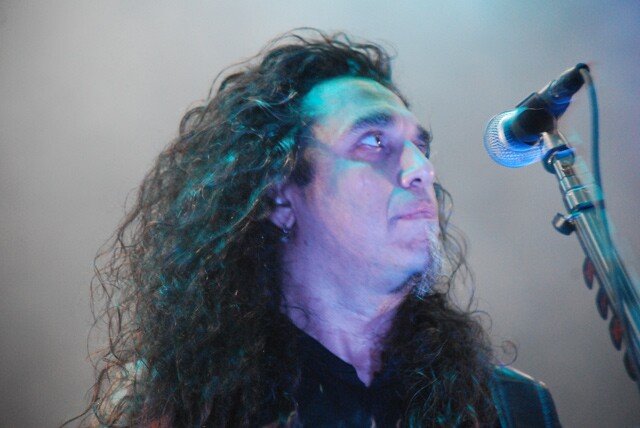 Marilyn Manson (sorry they were dicks about shooting Manson, we only had photo access for Slayer so this is the best we could do):

All Photos By John Wayne Maioriello for LAist