This is an archival story that predates current editorial management.
This archival content was written, edited, and published prior to LAist's acquisition by its current owner, Southern California Public Radio ("SCPR"). Content, such as language choice and subject matter, in archival articles therefore may not align with SCPR's current editorial standards. To learn more about those standards and why we make this distinction, please click here.
Sin City: Digital or 35 MM?
Before you read this story...
Dear reader, we're asking for your help to keep local reporting available for all. Your financial support keeps stories like this one free to read, instead of hidden behind paywalls. We believe when reliable local reporting is widely available, the entire community benefits. Thank you for investing in your neighborhood.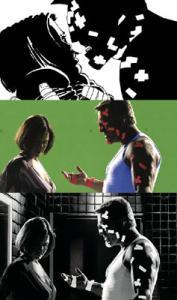 Like most other movie goers this weekend, we saw Sin City. We loved it. As unashamed comic book nerds, the idea of a direct graphic novel adaptation of the Frank Miller classics was simply spectacular to watch. Cinematical thinks "The Hard Goodbye" was the best of the stories and we agree although it did run a little longer than necessary. We can forgive that though because of Carla Gugino. Mmmm, Carla Gugino. We're highly recommending the flick, particularly if you're a fan of low plot, high action, comic style storytelling. Think Kill Bill on acid and with a lot more focus on one style.
The question, though, is how to see it? We caught it in digital format at the cinerama dome but a film loving friend argues that the best way to see a black and white noir flick is in 35 MM so that the natural imperfections in the film grain shine through. We're wondering though if the shocks of color would be as bright or the green screen effects be as effective on traditional film. There are scenes where you get just a hint of color on something and maybe that doesn't come through on traditional film.
Oh well, guess we'll just have to see it again to test it out.
Update: Guess we saw it in 35 MM. Gotta find the Digital.