This is an archival story that predates current editorial management.
This archival content was written, edited, and published prior to LAist's acquisition by its current owner, Southern California Public Radio ("SCPR"). Content, such as language choice and subject matter, in archival articles therefore may not align with SCPR's current editorial standards. To learn more about those standards and why we make this distinction, please click here.
Seven Questions: Sha-hid Ealy, Actor/The Guy from those KFC Ads
Our June member drive is live: protect this resource!
Right now, we need your help during our short June member drive to keep the local news you read here every day going. This has been a challenging year, but with your help, we can get one step closer to closing our budget gap. Today, put a dollar value on the trustworthy reporting you rely on all year long. We can't hold those in power accountable and uplift voices from the community without your partnership.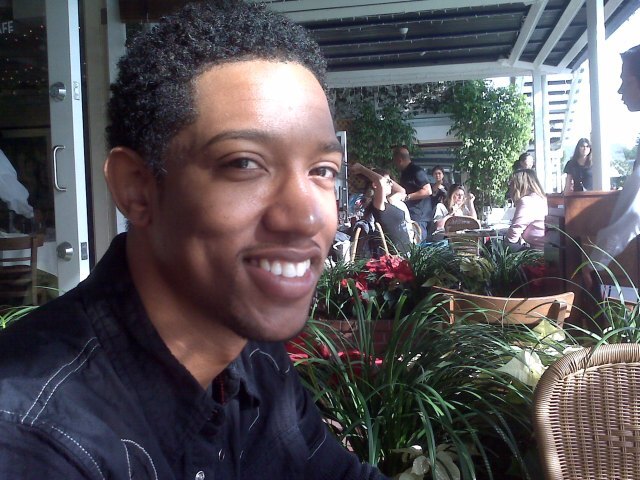 LA has a diverse cast of characters. Whether it's the characters with stirring stories or interesting occupations or the people who are just simply characters, this town has them all. In an effort to get to know some of those characters a little better, we've created "Seven Questions with..." If you have a suggestion for a future Seven Questions subject send us an email.
Today's subject is Sha-hid Ealy.
There are no sure things with the Super Bowl, but there are sure commercials. In some ways, the Super Bowl is one of the quickest ways to become a household name known to man (short of staging a fly-away hot air balloon). Today's subject has a leg-up, being the face of the most highly-trafficked commercial of the NFL post-season BEFORE the big game, and as a result standing out amidst a quieter but equally captive period.
Say "Fiery Wings" to someone and they might not know the context. But say "Colonel, you're on a hot-streak" to a sports fan, and they'll know you're talking about the currently ubiquitous KFC commercial. Leimart Park resident/Charlotte, North Carolina native Sha-hid Ealy probably looked familiar to you before, with commercials ranging from Budweiser to Taco Bell to Nike under his belt. But now, on the eve's eve of Super Bowl, LAist wanted to catch with Ealy and find out what its like to be on Fiery.
1. You are currently the face of KFC's Fiery Grilled Wings campaign which is everywhere a sports-watcher looks - tell us about that?
Yea, its pretty dope to have your face popping up during all your favorite ball games. I'm a chicken and beer dude, so to have a KFC and Budweiser spot going is pretty much my real life. I exude class.
2. Amazingly you were directed by Oscar winning director Errol Morris on the KFC Commercial - what was that like?
Working with Errol was actually a very pleasing experience. First of all, he uses a camera where you look in the lens and you see his face. It was my first time working on that kind of camera, so it threw me off at first. But he has a great sense of humor and was very easy to work with. He allowed me to be myself and that's key for my kind of personality. Hopefully, I'll get to work with him again.
3. How much of the commercial is off-script? Was the "Whoa" or "Colonel You're On A Hot Streak" improvised?
Actually, a lot of improvisations weren't in the final version. I ad-libbed a lot during the shoot, but the stuff they left in were the lines Errol would feed in to us from behind the camera. I would say things like, "Colonel, you put some stank on these wings!" Just to get the crew laughing and lighten up the set. It was mainly about facial expressions that seemed to pop out on camera. At one point they strapped my head in so they could zoom into my eye. It felt freaky, but it worked.
4. Funniest reaction to you being in the commercial from someone you know, and also from someone you don't know?
My golfing buddy Troy called me up one day and said, "Sha-hid, I swear this guy looks just like you in this KFC commercial. Have you seen the commercial I'm talking about?" I said yes, because that is me in the commercial. He flipped out and starting laughing.
One of the times it happened from someone I didn't know was when I was out at Happy Ending Sports bar watching the playoffs. The commercial came on and everyone sitting around my table started pointing and cheering. Of course I bought a round of drinks after that scene.
5. Biggest celebrity you've auditioned against for a role?
I would like to say Will Smith, but that would be a lie so I won't. So, I guess I would have to say....the Wilson brother who is in all the AT&T commercials right now. I've gone against a lot of celebs, but you usually don't know unless you happen to see them at the audition. I've definitely beat out my fair share of C-Listers for commercials (maybe some sprinkled in B-Listers).
6. You produced on "Yo' Momma." What's the best Yo' Momma joke ever?
Its hard to say what would be considered the best Yo Momma joke ever?! But one of my favorites that I made up is (Caution- Earmuffs if you're sensitive) 'You're so black and your teeth so yellow, that when you smile you look like a Pittsburgh Steelers helmet.'
Shout out to Wilmer Valderrama host of 'Yo Momma'. We definitely partied like rockstars while filming that show. Wilmer, holla at me man, it's been too long!
7. What are you dream roles?
My dream roles would be to star in a movie like "Blow" starring Johnny Depp. It was cool and the acting was superb. Plus, I would have looked fly in those 70's clothes. Also, if I could have had a part in "The Hangover" as one of the main guys, that would have been the most perfect role. I'd be a dummy not to mention "Avatar". Who wouldn't want to be one of those blue men chasing around Zoe in a made up jungle? I might have paid them to play that role.
Cruise off the highway and hit locally-known spots for some tasty bites.

Fentanyl and other drugs fuel record deaths among people experiencing homelessness in L.A. County. From 2019 to 2021, deaths jumped 70% to more than 2,200 in a single year.

This fungi isn't a "fun guy." Here's what to do if you spot or suspect mold in your home.

Donald Trump was a fading TV presence when the WGA strike put a dent in network schedules.

Edward Bronstein died in March 2020 while officers were forcibly taking a blood sample after his detention.

A hike can be a beautiful backdrop as you build your connection with someone.