This is an archival story that predates current editorial management.
This archival content was written, edited, and published prior to LAist's acquisition by its current owner, Southern California Public Radio ("SCPR"). Content, such as language choice and subject matter, in archival articles therefore may not align with SCPR's current editorial standards. To learn more about those standards and why we make this distinction, please click here.
Schwarzenegger vs Mountain - Mountain Wins
Support your source for local news!
Today, put a dollar value on the trustworthy reporting you rely on all year long. The local news you read here every day is crafted for you, but right now, we need your help to keep it going. In these uncertain times, your support is even more important. We can't hold those in power accountable and uplift voices from the community without your partnership. Thank you.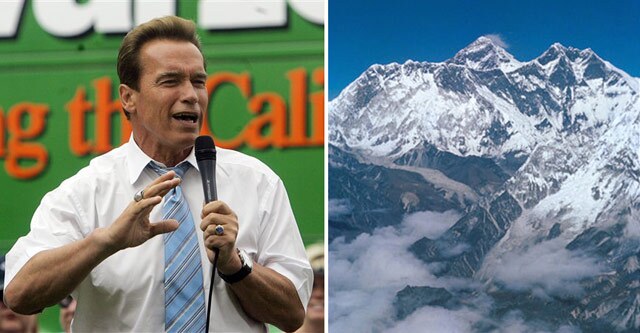 It would have been difficult to call the winner on this one: Sun Valley's Ski Mountain defended its black diamond title this past Saturday against Governer Re-Elect Arnold Schwarzenegger in what many are calling a surprising defeat. The Governor came in strong early in the first round, seamlessly gliding through the many obstacles that Sun Valley Mountain set in his path. Schwarzenegger's speed and power were more than enough to get him through the next couple rounds while Sun Valley neglected to show counterpunches. However Sun Valley's inaction proved prudent since fatigue ultimately got the best of the Governator. Schwarzenegger was defeated with a crushing blow to his right leg that sent him into a world of pain. While we can't say that he walked away from the defeat, he was fortunate to come out of this loss with his fans rallying behind him.
A spokeswoman for the Governor revealed that he will be undergoing surgery to repair his fractured femur and that he will indeed be spending the rest of Christmas with his family and out of competition.
AP Photos
It's been many, many years since we saw this much snow in our mountains. Going up there right now isn't safe, but here are some places where you can enjoy the view and snap a pic.

April Valentine died at Centinela Hospital. Her daughter was born by emergency C-section. She'd gone into the pregnancy with a plan, knowing Black mothers like herself were at higher risk.

A look at years past when snows creeped into our citified neighborhoods, away from the mountains and foothills.

In the face of a drier future, that iconic piece of Americana is on its way out in Southern California.

Bob Gregory, 62, went missing the same day as Sands. His body was recovered near Mount Islip.