Rudy Giuliani's Daughter Supports... Obama for President
LAist relies on your reader support.
Your tax-deductible gift today powers our reporters and keeps us independent. We rely on you, our reader, not paywalls to stay funded because we believe important news and information should be freely accessible to all.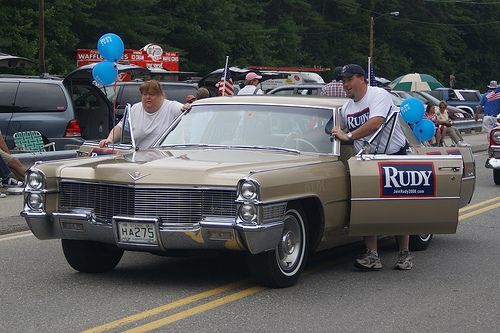 Oh, ouch. That's gotta hurt:
There's one vote that Rudy Giuliani definitely can't count on in his 2008 presidential bid: his own daughter's. According to the 17-year-old Caroline Giuliani's Facebook profile, she's supporting Barack Obama.
But, wait, it gets better:
On her profile, she designates her political views as "liberal" and—until this morning—proclaimed her membership in the Facebook group "Barack Obama (One Million Strong for Barack)." According to her profile, she withdrew from the Obama group at 6 a.m. Monday, after Slate sent her an inquiry about it.
As if Giuliani didn't already have enough to worry about — given his liberal stand on social values and "moral issues" — now his daughter goes and dumps him for one those hated Democrats. This of course raises a few questions: first of all, can we ascribe this lack of support to Rudy's ideology and right-wing policy proposals or does it basically boil down to a daughter's decision to distance herself from her famous father by adopting opposing views? More obviously, can we blame this on the "rocky relationship" Rudy has had with his estranged second wife and two children — Caroline and her 21-year-old brother Andrew?
Either way, it's got to be a blow to your ego when your own daughter won't even feign support for your candidacy (what she actually does in the voting booth is up to her) and an embarrassing finding that isn't likely to sit well with the religious right.

photo by marcn via flickr