'King Tides' Expected To Bring Coastal Flooding And Dangerous Rip Currents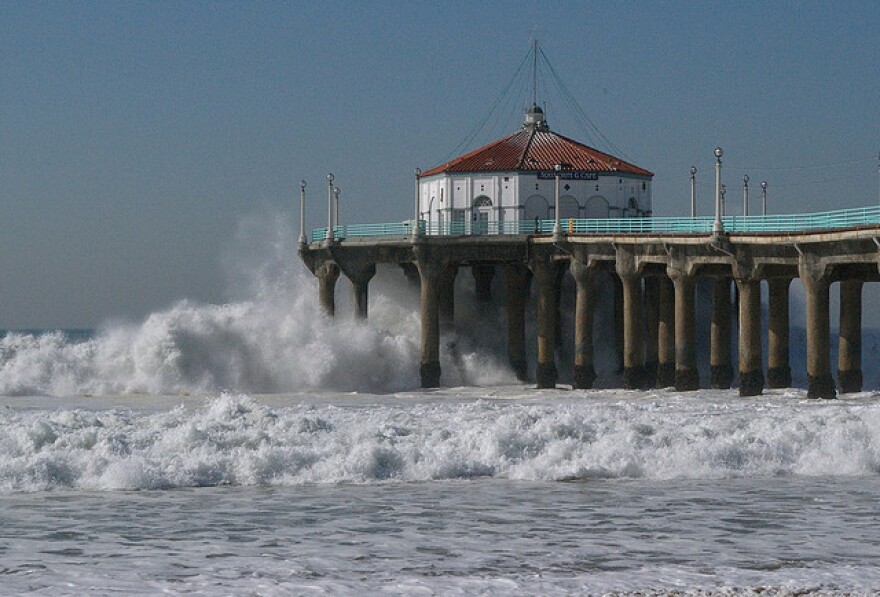 Stories like these are only possible with your help!
Your donation today keeps LAist independent, ready to meet the needs of our city, and paywall free. Thank you for your partnership, we can't do this without you.

Exceptionally high tides and unusually warm water temperatures could cause flooding and strong rip currents to the coast over the next several days. The annual tidal pattern—referred to as "King Tides"—occurs when the sun, moon and Earth align and the Earth is closest to the sun during its yearly orbit, creating much higher-than-normal tides, reports KPCC. The yearly phenomenon, combined with unusually warm water temperatures and strong onshore winds are expected to cause water levels to rise above seven feet beginning today and lasting through Friday, which could cause flooding, high surf and strong rip currents along the coasts, according to the L.A. Times.
"When the predicted height's seven feet, you might expect to add a little more to that tide level — say maybe a half foot or so — and that's when we start to see some problems," Eric Boldt, meteorologist with the National Weather Service, tells KPCC.
The high "King Tides" are expected to increase water levels along the coast of California from San Francisco down to Southern California. The highest tides are expected on Wednesday, but will remain high through until Friday. Coastal flood advisories have been issued for Orange and San Diego counties, where tides are expected to rise two feet higher than normal to around 7.6 feet and flooding of parking lots, coastal streets and structures is expected, reports CBS LA.
"King Tides" are expected to return around December 22 to 24, and again from January 21 and 22. The higher tides combined with storm surges caused by El Niño could threaten low-lying coastal areas with significant flooding, according to KPCC. L.A. County has already begun preparing for possible flooding by creating sand walls and berms to protect public buildings, such as restrooms and lifeguard stations, from storm surges.
"The county has been preparing for weeks now for the El Niño storms this winter combined with the possibility of strong tides at the same time," Carol Baker, a spokeswoman for the Los Angeles County Department of Beaches and Harbors, tells KPCC.
Meanwhile surfers, like this guy below, are preparing to "get pitted" in the high surf: