This is an archival story that predates current editorial management.
This archival content was written, edited, and published prior to LAist's acquisition by its current owner, Southern California Public Radio ("SCPR"). Content, such as language choice and subject matter, in archival articles therefore may not align with SCPR's current editorial standards. To learn more about those standards and why we make this distinction, please click here.
Real-Time Arrival Information Is Coming To Metro Bus Stops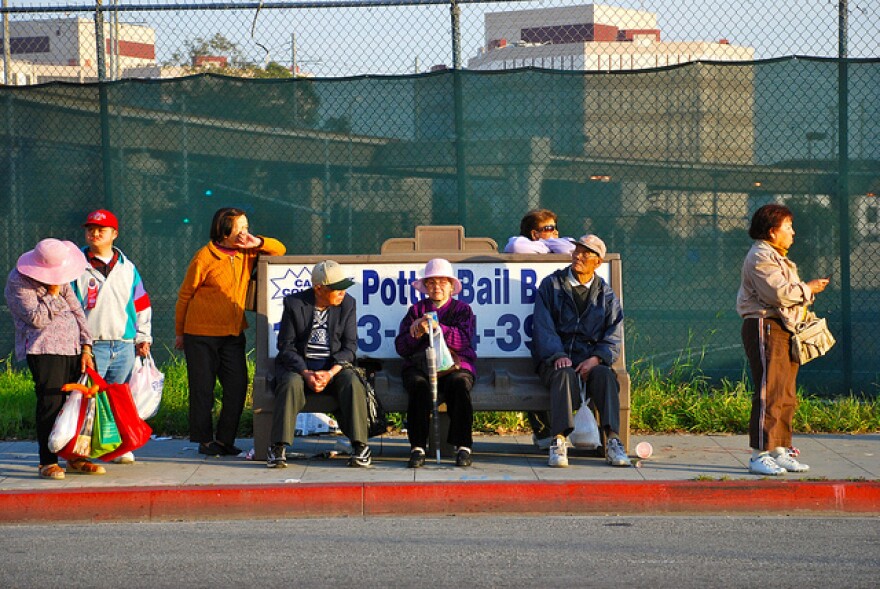 Support your source for local news!
The local news you read here every day is crafted for you, but right now, we need your help to keep it going. In these uncertain times, your support is even more important. Today, put a dollar value on the trustworthy reporting you rely on all year long. We can't hold those in power accountable and uplift voices from the community without your partnership. Thank you.

Soon there'll be less squinting and staring down the street while you wonder where on earth your bus might be.On Thursday, Metro announced that 300 signs displaying real-time arrival information and alerts will be coming to the busiest bus shelters in the county. The new displays will feature audio for visually-impaired riders, and around a third of the signs will be solar-powered.
"Not knowing if or when your bus is coming can be very stressful, so these electronic signs will remove a barrier for new riders and deliver peace of mind to the millions of our neighbors who rely on Metro buses," said Syncromatics CEO Ian Sephton in a release. The company was awarded a $4 million contract from Metro to install the signs.
"Live bus arrival times and service alerts remain out of reach for the 62% of Metro [riders] who don't own smartphones," said Los Angeles City Councilman Mike Bonin, who sits on Metro's board. For those that do have a smartphone, there are a variety of apps that provide real-time arrivals, such as the excellent Transit App.
As anyone who has taken public transportation anywhere knows, it's standing and waiting at the stop that's more aggravating than the amount of time you spend on the bus. These signs should help riders feel better about the wait. "It makes a lot of sense to make the time they spend waiting as comfortable as safe and as certain as possible," UCLA urban planning professor Brian Taylor told KPCC.
According to Metro, the rollout of these signs should be completed by 2018.
Cruise off the highway and hit locally-known spots for some tasty bites.

Fentanyl and other drugs fuel record deaths among people experiencing homelessness in L.A. County. From 2019 to 2021, deaths jumped 70% to more than 2,200 in a single year.

This fungi isn't a "fun guy." Here's what to do if you spot or suspect mold in your home.

Donald Trump was a fading TV presence when the WGA strike put a dent in network schedules.

Edward Bronstein died in March 2020 while officers were forcibly taking a blood sample after his detention.

A hike can be a beautiful backdrop as you build your connection with someone.