Pssst.... The Stanley Cup Starts Tonight in The OC
LAist relies on your reader support, not paywalls.
Freely accessible local news is vital. Please power our reporters and help keep us independent with a donation today.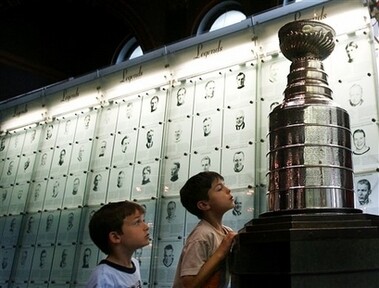 Hey LA, Welcome to the Stanley Cup Finals!
The last time hockey was seen nationally on a channel that you're familiar with was May 19th on NBC. Of course, as everyone knows, that game between the Ottawa Senators and the Buffalo Sabres went into overtime. And somehow, during the overtime, the pucks of hockey were magically transformed into the ponies of the Preakness.
In case you're still wondering who won that series, the Senators scored in overtime to book their ticket to the Finals. Three days later the darlings of the Los Angeles area sports scene, the Anaheim Ducks, dispatched the venerated Detroit Red Wings to set up what should be a titanic battle for sports most honored trophy.
That was six days ago. Six freakin' days ago. Why the wait, sports fans? Well, that very same network who deemed juiced-up equines to be more favorable than the Fastest Game on Earth decided this delay best suited their nebulous interests.
The Finals now get underway May 28th - today. This is a time of the year where even the ground in Ottawa is beginning to thaw. These days, the folks in The OC are just as likely to attend tonight's opener at the Honda Center to be in close proximity to a large chunk of ice as the game itself.
Perhaps you don't have Stanley Cup fever yet. It's ok. I don't blame you. The mess I described above is just one of many reasons why perhaps you have yet to start your Scott Niedermayer George-Clooney-in-Syriana-esque playoff beard.
But I am here to tell you folks that there IS a lot to cheer for in this Stanley Cup Final. The Stanley Cup Playoffs is the most grueling grind in professional sports. Many of these guys have AAA roadmaps carved into their faces from the previous rounds. It takes 16 wins to hoist the Cup in a sport where there is always someone on the ice more than willing to take your head off with a well placed elbow.
NHL players do not get paid for participating in the playoffs. These guys are doing it for free. They do it for the love of the game. They do it for the Stanley Cup.