This is an archival story that predates current editorial management.
This archival content was written, edited, and published prior to LAist's acquisition by its current owner, Southern California Public Radio ("SCPR"). Content, such as language choice and subject matter, in archival articles therefore may not align with SCPR's current editorial standards. To learn more about those standards and why we make this distinction, please click here.
Pssst.... The Stanley Cup Starts Tonight in The OC
Our June member drive is live: protect this resource!
Right now, we need your help during our short June member drive to keep the local news you read here every day going. This has been a challenging year, but with your help, we can get one step closer to closing our budget gap. Today, put a dollar value on the trustworthy reporting you rely on all year long. We can't hold those in power accountable and uplift voices from the community without your partnership.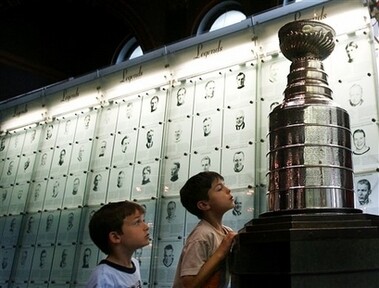 Hey LA, Welcome to the Stanley Cup Finals!
The last time hockey was seen nationally on a channel that you're familiar with was May 19th on NBC. Of course, as everyone knows, that game between the Ottawa Senators and the Buffalo Sabres went into overtime. And somehow, during the overtime, the pucks of hockey were magically transformed into the ponies of the Preakness.
In case you're still wondering who won that series, the Senators scored in overtime to book their ticket to the Finals. Three days later the darlings of the Los Angeles area sports scene, the Anaheim Ducks, dispatched the venerated Detroit Red Wings to set up what should be a titanic battle for sports most honored trophy.
That was six days ago. Six freakin' days ago. Why the wait, sports fans? Well, that very same network who deemed juiced-up equines to be more favorable than the Fastest Game on Earth decided this delay best suited their nebulous interests.
The Finals now get underway May 28th - today. This is a time of the year where even the ground in Ottawa is beginning to thaw. These days, the folks in The OC are just as likely to attend tonight's opener at the Honda Center to be in close proximity to a large chunk of ice as the game itself.
Perhaps you don't have Stanley Cup fever yet. It's ok. I don't blame you. The mess I described above is just one of many reasons why perhaps you have yet to start your Scott Niedermayer George-Clooney-in-Syriana-esque playoff beard.
But I am here to tell you folks that there IS a lot to cheer for in this Stanley Cup Final. The Stanley Cup Playoffs is the most grueling grind in professional sports. Many of these guys have AAA roadmaps carved into their faces from the previous rounds. It takes 16 wins to hoist the Cup in a sport where there is always someone on the ice more than willing to take your head off with a well placed elbow.
NHL players do not get paid for participating in the playoffs. These guys are doing it for free. They do it for the love of the game. They do it for the Stanley Cup.
Anaheim and Ottawa's path to the Final has been largely free from major hiccups. Ottawa easily dispatched a young Pittsburgh team led by the future of the NHL Sidney Crosby. They then overpowered an overmatched New Jersey Devils team that learned that Martin Brodeur can't be expected to stop pucks and put them in as well. The matchup between Buffalo and Ottawa should have been epic, but the Senators swatted aside the Sabres with startling ease.
The small 'm' mighty Ducks have been just that. Mighty bloody hard to play against. Many pundits picked Minnesota to upset the Ducks in the first round. Well, 5 games later the Wild retreated to one of their 10,000 lakes to sooth the burns administered by a scorching hot Ducks team. Up next for the General Manager Brian Burke's team was his old employer: The Vancouver Canucks. The Canucks fared much like the Devils versus the Senators. If All-World goalie Roberto Luongo had a little more offensive support then the Canucks of Vancouver (the city's second favorite obsession behind "horticulture") would have been more than just a minor inconvenience. The Ducks last series against Detroit went 6 games, but Anaheim won the last three games in a row and if you throw out that 5-0 loss, the Anaheim Tasty Fowl dominated a veteran heavy Red Wings squad.
So here we are. Ottawa versus Anaheim. A national capital versus Disneyland. The reasons to tune into this Final are plenty. They will range from the fact that both teams play an entertaining physical, attacking style. How both teams have dominant world class players that can razzle and dazzle. How amazing it is that these giants can do all this stuff while on a sheet of ice.
Yawn.
All that's a given. You can probably read that kind of crap anywhere. I'm going to give you five awesome reasons why you, Joe and Jane Q. Public, will want to watch this series.
5. Forgiving Dany. Did you know the leader scorer in this year's playoffs, Ottawa's Dany Heatley, was convicted of second degree vehicular homicide in Atlanta? He crashed his Ferrari and his dear friend and teammate Dan Snyder was killed. The Snyder family forgave Heatley almost instantly and adopted Dany as the son that they now no longer have. For the Snyder's, watching Dany Heatley play in the Stanley Cup Final will be like watching their departed son skate for hockey's greatest glory.
4. Don freakin' Cherry. United States of America, get ready. Don Cherry has been retained by NBC to team up with Brett Hull to provide between period "analysis". Perhaps "antics" would be a better term to use when describing Don Cherry. He's brash, wears clothes that you think must be a joke, and basically doesn't care what you think. He rambles, is often incoherent, his voice breaks when he gets excited and he often looks completely senile. But he's Don freakin' Cherry. He cries on air when talking about the loss of our troops overseas, he can point something out that no one else would think of, and he's pretty much always right. One way or another you'll love him, or love to hate him.
3. Canada versus U.S. That's right. Some folks north of the border are gearing this up to be a battle of nations. Forget the fact that Anaheim has more Canadian citizens on its roster than the Senators. There are still howls from the Great White North for the Stanley Cup to finally return "home" for the first time since 1993 when Patrick Roy and the Montreal Canadiens triumphed over Wayne Gretzky's Los Angeles Kings. Lost in this logic is that the Stanley Cup actually spends a day with each player on the winning team over the summer. Thus, the Cup would actually spend more time "home" over this summer if the Anaheim Ducks win. So if you need another reason to cheer for the Ducks, think about all those elitist, holier-than-thou Canadians up North that are hoping you fall flat on your face.
2. Kobe Bryant. There is still one professional athlete in LA who is listed at 6'6" and 220 lbs who is competing for a championship. Nope. It's not Kobe Bryant. It's Chris Pronger of your Anaheim Ducks. The average NHLer is around 6'1" and maybe 200 lbs. In other words, Pronger is a giant. He's that guy on the ice who seems out of place, even though he's always out there. This guy is on the ice for over half the game which in hockey is absolutely insane. He has a cannon of a shot. He has a Dave Letterman gap toothed grin. And he'd just as soon skewer you with his stick then let you have a clean look at goalie J.S. Giguere. Oh, and Don Cherry loves him. Therefore, so should you.
1. Ray Emery can kick your ass. Ray Emery, goaltender for the Ottawa Senators, is insane. He beat up Buffalo's goalie Marty Biron. Then, once he dispatched him, he immediately took on Buffalo's tough guy Andrew Peters. This is all from a GOALIE. Even better, Emery did it all with a wide toothy grin. He's clearly insane. Oh did I mention he slashed some French Canadian guy in the face? And that he crashed his white Hummer on the freeway? He then proceeded to sign autographs for the witnesses, thus causing him to miss the team charter. I should also mention that Mike Tyson was his boyhood hero and actually had to be told by management to remove a depiction of Iron Mike from his helmet. Oh, and his fashion sense is the "stuff of legend". No one in the NHL acts like Ray Emery. To be honest, it's actually very refreshing. The game is stocked with demure Canadians, polite Scandinavians, and English challenged Russians. This is the kind of personality that propelled the NBA to the fore (before the law and David Stern ruined all the fun). Much like Don Cherry, you'll either love Ray Emery, or hate that he's cooler than you.
Love 'em or hate 'em, either way you're going to want to tune in.
Give it a shot.
Something tells me you won't be disappointed.
AP photos by Paul Chiasson
Cruise off the highway and hit locally-known spots for some tasty bites.

Fentanyl and other drugs fuel record deaths among people experiencing homelessness in L.A. County. From 2019 to 2021, deaths jumped 70% to more than 2,200 in a single year.

This fungi isn't a "fun guy." Here's what to do if you spot or suspect mold in your home.

Donald Trump was a fading TV presence when the WGA strike put a dent in network schedules.

Edward Bronstein died in March 2020 while officers were forcibly taking a blood sample after his detention.

A hike can be a beautiful backdrop as you build your connection with someone.