Photo Essay: Halloween Earaiser
LAist relies on your reader support, not paywalls.
Freely accessible local news is vital. Please power our reporters and help keep us independent with a donation today.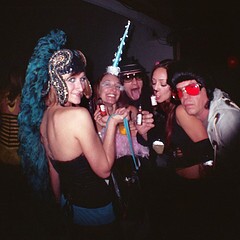 Not all Halloween parties are made the same way. Sometimes you find yourself in some pretentious Hollywood Hills home where nobody is wearing costumes, and at other times you find yourself in some dark dungeon where everyone is just a little to dark and creepy, even for Halloween. In the Heart of K-Town Porn (Yes, they film porn there too), we had a Halloween Earaiser to benefit Eric Borzi, who is in need of special hearing aids that his insurance will not cover. The party was perfect; it was sexy without being too pretentious, it was fun, lively, inexpensive, and oh it was for a good cause. And with John Dill (New York), Wiseacre, and Mr. Caparro manning the decks, we all danced our ghoulish little buns away. From David Beckham to Smurfette, everyone dressed up with creative zest.
More awesome and sexy costumes after the jump...