Palm Springs Satanists or just Bored Kids?
LAist relies on your reader support.
Your tax-deductible gift today powers our reporters and keeps us independent. We rely on you, our reader, not paywalls to stay funded because we believe important news and information should be freely accessible to all.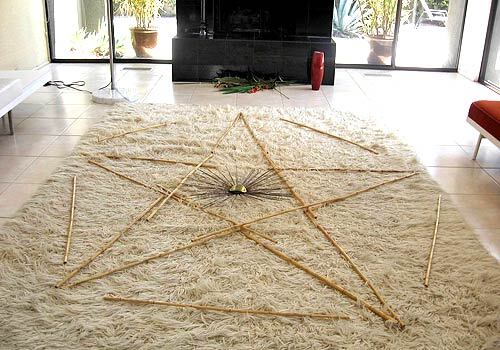 Maybe we should take things like this more seriously, but last week "vandals" broke into a vacation home in Palm Springs and caused some eyebrows to rise when they turned over furniture (very nicely), arranged foliage and sticks to create pentagrams and clog toilets, and wrote words like "Pigz" and "Helter Skelter" on a window and on the fireplace... with soap!
It was right around the 38th anniversary of the Manson Family murders of Sharon Tate, and any time you enter your timeshare and see a pentagram on the fuzzy rug it's gonna freak you out a little.
The Palm Springs Police Department is searching for suspects in the burglary of the Caliente Drive home. On Friday, eight days after the 38th anniversary of the slayings of actress Sharon Tate and her guests by Manson's followers, a Palm Springs cleaning crew found a large pentagram laid out with sticks on a shag-like carpet in the living room of the home.

The burglars also had turned all the chairs upside down and hanged every picture backward. The toilet was filled with straw-like sticks. - LA Times


Ironically, and unrelated, glam rocker Marilyn Manson will be playing with Slayer this Friday at Irvine Meadows.
photo via Palms Springs Police Department