This is an archival story that predates current editorial management.
This archival content was written, edited, and published prior to LAist's acquisition by its current owner, Southern California Public Radio ("SCPR"). Content, such as language choice and subject matter, in archival articles therefore may not align with SCPR's current editorial standards. To learn more about those standards and why we make this distinction, please click here.
Pachyderm Problems Continue, No Love for Robert Culp
Stories like these are only possible with your help!
You have the power to keep local news strong for the coming months. Your financial support today keeps our reporters ready to meet the needs of our city. Thank you for investing in your community.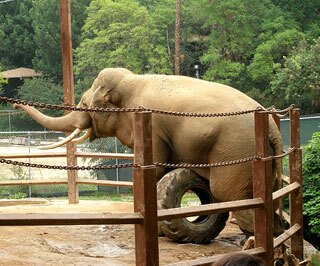 As we reported in January, Robert Culp wants the LA Zoo's current elephant enclosure shut down and all construction on the new enclosure halted, due to alleged pachyderm cruelty. Yesterday, the judge's ruling in the case was made public and he issued a big "no."
Despite claims from former zoo employees and animal activists that LA zoo elephant handlers have a history of abusing the elepehants, Los Angeles Superior Court Judge Reginald A. Dunn said the claims were baseless. The Daily News cites Dunn's ruling:
"This is a ... public policy dispute between the plaintiffs and the defendants on how to run the L.A. Zoo," Dunn stated. "Moreover, there does not seem to be any illegal activity currently ongoing that an injunction should be imposed to stop."
Construction on the new exhibit has resumed and Billy, the lone elephant at the LA Zoo, will continue living in his current enclosure. It is unclear what Robert Culp's next move will be, but pachyderm lovers and animal activists can expect another battle soon. Plans for an elephant breeding program are still under way, yet there are agreed-upon strategies for how the new elephant families will be managed. This controversial issue is sure to land activists and the LA Zoo back in court soon.
Photo by fabooj via Flickr