This is an archival story that predates current editorial management.
This archival content was written, edited, and published prior to LAist's acquisition by its current owner, Southern California Public Radio ("SCPR"). Content, such as language choice and subject matter, in archival articles therefore may not align with SCPR's current editorial standards. To learn more about those standards and why we make this distinction, please click here.
OJ Simpson Being Questioned in Las Vegas of Stealing OJ Simpson Memorabilia in Armed Robbery
Support your source for local news!
Today, put a dollar value on the trustworthy reporting you rely on all year long. The local news you read here every day is crafted for you, but right now, we need your help to keep it going. In these uncertain times, your support is even more important. We can't hold those in power accountable and uplift voices from the community without your partnership. Thank you.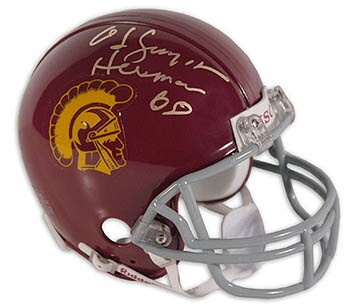 Neither Lindsay Lohan, Paris Hilton, Nicole Richie, or even Britney Spears know how to get themselves into more ridiculous trouble than OJ Simpson who seems to be bent on getting himself thrown in jail.
In a bizarre and breaking story, the former USC Trojan is currently being questioned by the Las Vegas Police for an alleged armed robbery in a locked hotel room involving OJ Simpson collectibles.
Simpson is claiming that the team of people, including himself, that stormed into a room at the Palace Station casino last night, were conducting a "sting operation" to recover his own property.
"Everybody knows this is stolen stuff," Simpson said. "Not only wasn't there a break-in, but [Auction House owner Tom] Riccio came to the lobby and escorted us up to the room. In any event, it's stolen stuff that's mine. Nobody was roughed up." "When they talked to him, Simpson made the comment that he believed the memorabilia was his," [Las Vegas police spokesman, Jose] Montoya said. "We're getting conflicting stories from the two sides."

Simpson is considered a suspect in the case, Montoya said. He was released after he and several associates were questioned, and he remained in Las Vegas.

"We don't believe he's going anywhere," Montoya said. - AP


In a press conference broadcast live on several local LA television new stations, minutes ago, police said that they are questioning Simpson who they say has no attorney present.
It's been many, many years since we saw this much snow in our mountains. Going up there right now isn't safe, but here are some places where you can enjoy the view and snap a pic.

April Valentine died at Centinela Hospital. Her daughter was born by emergency C-section. She'd gone into the pregnancy with a plan, knowing Black mothers like herself were at higher risk.

A look at years past when snows creeped into our citified neighborhoods, away from the mountains and foothills.

In the face of a drier future, that iconic piece of Americana is on its way out in Southern California.

Bob Gregory, 62, went missing the same day as Sands. His body was recovered near Mount Islip.