OJ Simpson Being Questioned in Las Vegas of Stealing OJ Simpson Memorabilia in Armed Robbery
LAist relies on your reader support.
Your tax-deductible gift today powers our reporters and keeps us independent. We rely on you, our reader, not paywalls to stay funded because we believe important news and information should be freely accessible to all.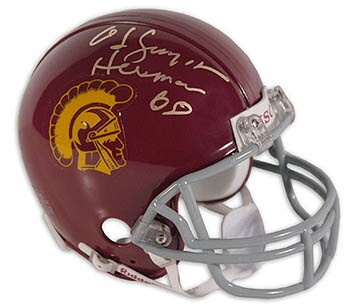 Neither Lindsay Lohan, Paris Hilton, Nicole Richie, or even Britney Spears know how to get themselves into more ridiculous trouble than OJ Simpson who seems to be bent on getting himself thrown in jail.
In a bizarre and breaking story, the former USC Trojan is currently being questioned by the Las Vegas Police for an alleged armed robbery in a locked hotel room involving OJ Simpson collectibles.
Simpson is claiming that the team of people, including himself, that stormed into a room at the Palace Station casino last night, were conducting a "sting operation" to recover his own property.
"Everybody knows this is stolen stuff," Simpson said. "Not only wasn't there a break-in, but [Auction House owner Tom] Riccio came to the lobby and escorted us up to the room. In any event, it's stolen stuff that's mine. Nobody was roughed up." "When they talked to him, Simpson made the comment that he believed the memorabilia was his," [Las Vegas police spokesman, Jose] Montoya said. "We're getting conflicting stories from the two sides."

Simpson is considered a suspect in the case, Montoya said. He was released after he and several associates were questioned, and he remained in Las Vegas.

"We don't believe he's going anywhere," Montoya said. - AP


In a press conference broadcast live on several local LA television new stations, minutes ago, police said that they are questioning Simpson who they say has no attorney present.