This is an archival story that predates current editorial management.
This archival content was written, edited, and published prior to LAist's acquisition by its current owner, Southern California Public Radio ("SCPR"). Content, such as language choice and subject matter, in archival articles therefore may not align with SCPR's current editorial standards. To learn more about those standards and why we make this distinction, please click here.
Gigi Hadid's Dad Going On Trial For That Illegal Bel Air Mega-Mansion [Updated]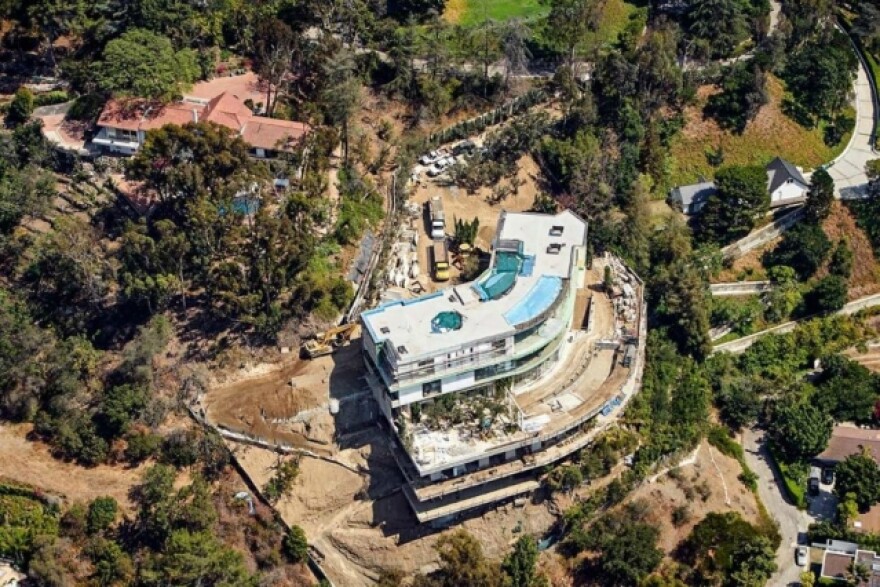 Support your source for local news!
Today, put a dollar value on the trustworthy reporting you rely on all year long. The local news you read here every day is crafted for you, but right now, we need your help to keep it going. In these uncertain times, your support is even more important. We can't hold those in power accountable and uplift voices from the community without your partnership. Thank you.
The ongoing criminal case against Los Angeles mansion developer Mohamed Hadid (father of the Hadid sisters, who have also appeared on The Real Housewives of Beverly Hills) is entering a new chapter. The trial for Hadid is scheduled to begin as early as this week, and is centered around a 30,000 square foot property under construction in the Bel Air hills.
According to Curbed LA, the 30,000-square-foot home at 901 Strada Vecchia in Bel Air's East Gate community was built "without proper permits, failure to bring [the] building into compliance, and [refusal] to comply with building codes". Furthermore, when the city of Los Angeles revoked Hadid's building permits in 2014 and ordered a halt of construction, Hadid continued. "Inspectors with the city's building and safety department reported finding numerous unapproved additions to the property," Curbed adds, "including two concrete decks, three large retaining walls, and a full story below the basement."
Hadid and his fellow defendants are facing misdemeanor charges that may result in up to six months jail time, and a fine of $1,000.
As for the structure itself?
"You can't reward that behavior," Mike Eveloff, board member of Fix the City, a nonprofit land use advocacy group, told the Los Angeles Times. "The city has to make this an absolute red line — you cannot cross it or the structure has to come down."
And the city's municipal code supports his argument. If a structure is found to be in violation of permitting, or a nuisance, it may be torn down without notice.
But Hadid is emphatic in defense of his development.
"Demolish this house? Never!" he told Town & Countrymagazine earlier this year. "That would really cause problems: the trucks, the dirt, the dust, the noise, the hauling. It could take years. That would be insane. ...This house will last forever. Bel Air will fall before this will."
LAist reached out to the Los Angeles City Attorney's office, but they were not immediately available for comment.
[Updated 3:00 p.m.]: "These were serious violations," L.A. City Attorney Mike Feuer said of the case, a statement from his office emailed to LAist notes. "It was essential to hold the defendant accountable for committing them. We have building and safety rules for a reason, and no one is above the law. At the sentencing hearing we'll make our case for strong and appropriate sanctions."
Hadid has pled no contest on all three counts, and his sentencing has been scheduled for June 27.
It's been many, many years since we saw this much snow in our mountains. Going up there right now isn't safe, but here are some places where you can enjoy the view and snap a pic.

April Valentine died at Centinela Hospital. Her daughter was born by emergency C-section. She'd gone into the pregnancy with a plan, knowing Black mothers like herself were at higher risk.

A look at years past when snows creeped into our citified neighborhoods, away from the mountains and foothills.

In the face of a drier future, that iconic piece of Americana is on its way out in Southern California.

Bob Gregory, 62, went missing the same day as Sands. His body was recovered near Mount Islip.