This is an archival story that predates current editorial management.
This archival content was written, edited, and published prior to LAist's acquisition by its current owner, Southern California Public Radio ("SCPR"). Content, such as language choice and subject matter, in archival articles therefore may not align with SCPR's current editorial standards. To learn more about those standards and why we make this distinction, please click here.
Mighty Mighty Morning Show
Support your source for local news!
The local news you read here every day is crafted for you, but right now, we need your help to keep it going. In these uncertain times, your support is even more important. Today, put a dollar value on the trustworthy reporting you rely on all year long. We can't hold those in power accountable and uplift voices from the community without your partnership. Thank you.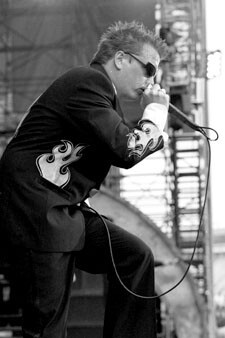 Someday I Suppose, since most of us really Don't Know How to Party, it was bound to happen. Sick of Howard? Are Kevin and Bean just so five minutes ago? Are your mornings just too eclectic? Well, fear not loyal readers, you're about to get a memorable Wake-Up Call. That Rascal King himself, Dicky Barrett, lead singer of legendary Boston ska-punk trailblazers The Mighty Mighty Bosstones, just got his own morning show. Finally. Beginning January 31st, on our very own too-hip for words local rock station indie 103.1, Dicky takes to the airwaves with his very own too-cool for school Noise Brigade.
LAist knows what you're thinking. You dug his daily "Punk Rock Minute" reports, but why did those damn corporate suits have to go and Do Somethin' Crazy like that? Who the hell does Dicky Barrett think he is, and why do we care that he has his own radio show? Kinder Words, kiddies. The guy knows what he's doing. Before coming to L.A. and serving as Jimmy Kimmel's late-night mouthpiece, LAist frequently caught some of Dicky's frequent guest spots on a Connecticut radio station called WMRQ. We've got the Pictures To Prove It and we likey. We likey a lot. And we can't wait to give him a listen, since Almost Anything Goes in the morning radio biz nowadays. Let's Face It.
LAist is actually quite impressed with the little punk rock station these days. They've built up their street cred by signing up punk legends like Steve Jones, Courtney Love and Henry Rollins. They've put on impressive shows and spent countless hours promoting the burgeoning local rock scene.
All Things Considered, that's just The Impression That I Get. And LAist speaks for all of us when we say that we hope the always-nattily attired frontman is wearing a Hell Of A Hat for his L.A. debut.
All you frustrated Bosstones fans out there…who were wondering aloud, Dicky, Where Did You Go? Well, He's Back.
I'll Drink To That.
Cruise off the highway and hit locally-known spots for some tasty bites.

Fentanyl and other drugs fuel record deaths among people experiencing homelessness in L.A. County. From 2019 to 2021, deaths jumped 70% to more than 2,200 in a single year.

This fungi isn't a "fun guy." Here's what to do if you spot or suspect mold in your home.

Donald Trump was a fading TV presence when the WGA strike put a dent in network schedules.

Edward Bronstein died in March 2020 while officers were forcibly taking a blood sample after his detention.

A hike can be a beautiful backdrop as you build your connection with someone.