Mighty Mighty Morning Show
LAist relies on your reader support.
Your tax-deductible gift today powers our reporters and keeps us independent. We rely on you, our reader, not paywalls to stay funded because we believe important news and information should be freely accessible to all.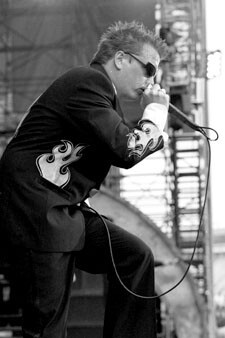 Someday I Suppose, since most of us really Don't Know How to Party, it was bound to happen. Sick of Howard? Are Kevin and Bean just so five minutes ago? Are your mornings just too eclectic? Well, fear not loyal readers, you're about to get a memorable Wake-Up Call. That Rascal King himself, Dicky Barrett, lead singer of legendary Boston ska-punk trailblazers The Mighty Mighty Bosstones, just got his own morning show. Finally. Beginning January 31st, on our very own too-hip for words local rock station indie 103.1, Dicky takes to the airwaves with his very own too-cool for school Noise Brigade.
LAist knows what you're thinking. You dug his daily "Punk Rock Minute" reports, but why did those damn corporate suits have to go and Do Somethin' Crazy like that? Who the hell does Dicky Barrett think he is, and why do we care that he has his own radio show? Kinder Words, kiddies. The guy knows what he's doing. Before coming to L.A. and serving as Jimmy Kimmel's late-night mouthpiece, LAist frequently caught some of Dicky's frequent guest spots on a Connecticut radio station called WMRQ. We've got the Pictures To Prove It and we likey. We likey a lot. And we can't wait to give him a listen, since Almost Anything Goes in the morning radio biz nowadays. Let's Face It.
LAist is actually quite impressed with the little punk rock station these days. They've built up their street cred by signing up punk legends like Steve Jones, Courtney Love and Henry Rollins. They've put on impressive shows and spent countless hours promoting the burgeoning local rock scene.
All Things Considered, that's just The Impression That I Get. And LAist speaks for all of us when we say that we hope the always-nattily attired frontman is wearing a Hell Of A Hat for his L.A. debut.
All you frustrated Bosstones fans out there…who were wondering aloud, Dicky, Where Did You Go? Well, He's Back.
I'll Drink To That.