Sheriff's Department Calls L.A. County Cockfighting Ring Bust The Largest In U.S History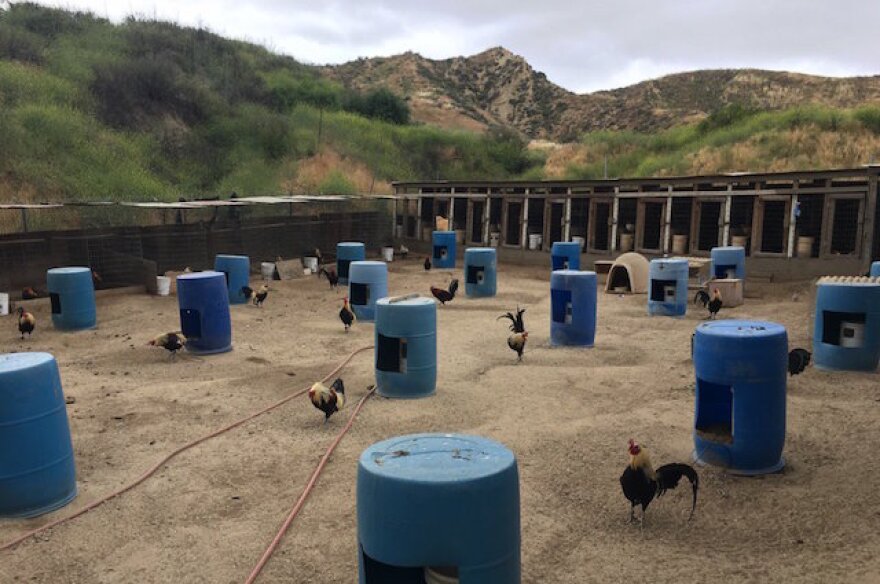 LAist relies on your reader support.
Your tax-deductible gift today powers our reporters and keeps us independent. We rely on you, our reader, not paywalls to stay funded because we believe important news and information should be freely accessible to all.
Approximately 7,000 birds were recovered Monday from northern L.A. County in what Sheriff's Department deputies described as one of the largest cockfighting ring busts ever.
"As far we know, it is the largest seizure of illegal cockfighting fowl in U.S. history," Sheriff's Department Sergeant Bob Boese told LAist. According to Boese, the approximately 7,000 birds ranged in value "from a cost of $50 to thousands of dollars, depending on the pedigree."
Deputies raided the remote canyon property in the unincorporated area of Val Verde on Monday, uncovering roosters with injuries consistent with cockfighting, as well as "mobile cockfighting rings, syringes, steroids and 'slasher' weapons, which were strapped to a rooster's claws during a fight," ABC7 reports. Ten people were detained at the property, which lies west of Santa Clarita and was previously raided in 2007.
Cockfighting is illegal in every U.S. state, with California's Penal Code 597 declaring that "engaging in, sponsoring, and selling equipment for or watching cockfighting" can be ruled as a misdemeanor or a felony. Officers from the L.A. County Department of Animal Care and Control assisted the LASD in Monday's raid but declined to comment on the welfare of the recovered birds, the Santa Clarita Valley Dispatch reports. LAist reached out to the L.A. County Department of Animal Care and Control for comment, but did not immediately hear back.