This is an archival story that predates current editorial management.
This archival content was written, edited, and published prior to LAist's acquisition by its current owner, Southern California Public Radio ("SCPR"). Content, such as language choice and subject matter, in archival articles therefore may not align with SCPR's current editorial standards. To learn more about those standards and why we make this distinction, please click here.
Man Arrested With Fuses, Grenade At John Wayne Airport [UPDATED]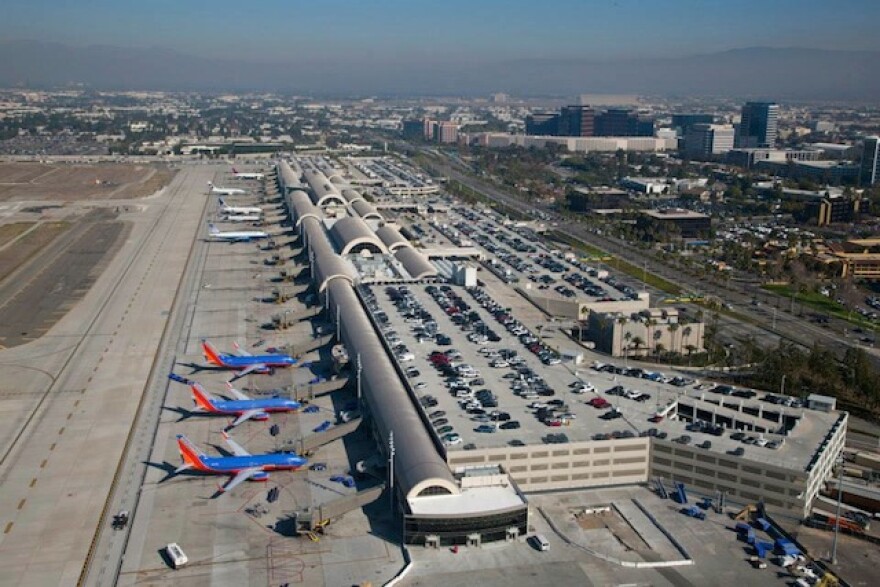 Before you read more...
Dear reader, we're asking you to help us keep local news available for all. Your financial support keeps our stories free to read, instead of hidden behind paywalls. We believe when reliable local reporting is widely available, the entire community benefits. Thank you for investing in your neighborhood.
Chances are, if you put artillery fuses or grenades in your luggage, the airport officials are going to catch it.
A 27-year-old year old man was arrested yesterday for allegedly trying to bring three military artillery fuses and a sting ball grenade in his luggage, prompting a 90 minute shutdown of Terminal C.
The devices were discovered in the man's bag, which was checked to a flight from John Wayne Airport to Denver. Transportation Security Administration staff screened the luggage after 2 p.m. Tuesday, Orange County Sheriff's Lt. Jeff Hallock told City News Service and promptly alerted the bomb squad.
The discovery prompted an evacuation of Gate 21 and shut down Terminal C. All 130 passengers aboard the Frontier Airlines flight were escorted off the flight, including the suspect, CBS 2 reports.
The man, whose name has not been released, had nothing suspicious in his carry-on luggage.
He was arrested on suspicion of possessing a weapon in a prohibited area of the airport. The grenade is the type that projects rubber pellets, officials said. It and the fuses were not in danger of detonating if they had remained undetected, they say.
Military officials were summoned to take possession of the devices Hallock said. Airport operations were back to normal by about 3:30 p.m., although several flights were delayed.

Gregory Salyer (Photo via OCSD)
UPDATED, 2:12 P.M. Authorities have released the suspect's name: Gregory Salyer, 23, of Kentucky. Salyer, who was recently discharged from the military, was also found with a small knife in his carry-on bag along with about 300 steroid and Adderall pills, CBS reports. Initial reports said that "nothing suspicious" was found in his carry-on luggage.
No word on what Salyer had planned with all that.
Related:
Southern California Has 3 of the Nation's "Scariest" Airports
Suspected Drunk Driver Jumps Curb, Plows Fence, And Crashes Into Plane At John Wayne Airport