LAist relies on your reader support.
Your tax-deductible gift today powers our reporters and keeps us independent. We rely on you, our reader, not paywalls to stay funded because we believe important news and information should be freely accessible to all.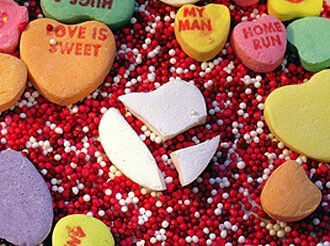 Valentines Day is in just mere hours and for those of us who want to celebrate the holiday in true love fashion here is a short list of love or anti-love movies, perfect or the occasion. No Meg Ryan and Julia Roberts here.
True Romance- This cross-country love story between southerners Clarence and Alabama, ending in Los Angeles, is brilliantly violent but loving at the same time. True Romance has a perfect cast with Brad Pitt playing a small part as well as a dirty fight scene between James Gandolfini and Patricia Arquette.
Alabama – "If you gave me a million years to ponder, I would've never guessed that true romance and Detroit would ever go together."

Kill Bill Vol.2- Another Tarantino film, this is one of the best revenge movies of all time, and what is Valentines Day without at least a few thoughts of revenge on that old high school boyfriend who made out with that skank at prom….wait. Maybe that's just me, but whatevs, Kill Bill kicks ass as we follow Uma, the Bride, in her quest for vengeance against those that killed her unborn child and loved ones on her wedding day.
The Bride- "When will I see you again?"
Bill: "You know, that's the name of my favorite soul song from the '70s."

Sid and Nancy- This bio of the Sex Pistols bassist Sid Vicious and his girlfriend Nancy Spungen follows their volatile heroin fueled relationship, which ends in a violent stabbing.
Nancy- "If I asked you to kill me, would you?"
Sid- "I don't know. How would I do it? I couldn't live without ya."
Fatal Attraction- What happens when a hot one-night stand goes awry? Boiled bunnies.
Alex – "I won't be ignored Dan!"
Natural Born Killers- Written by Quentin Tarantino and directed by Oliver Stone, this 1994 love story following two psychopathic serial killers making their way across the United States can't be beat. Especially when Mallory says stuff like,
"That the worst fuckin' head I ever got in my life! Next time don't be so fuckin' eager!" after shooting a man she's had sex with.
Ahh Love….Happy Valentine's day!
Photo by Sister72