This is an archival story that predates current editorial management.
This archival content was written, edited, and published prior to LAist's acquisition by its current owner, Southern California Public Radio ("SCPR"). Content, such as language choice and subject matter, in archival articles therefore may not align with SCPR's current editorial standards. To learn more about those standards and why we make this distinction, please click here.
Living In Sin: Wifely Action
Support your source for local news!
Today, put a dollar value on the trustworthy reporting you rely on all year long. The local news you read here every day is crafted for you, but right now, we need your help to keep it going. In these uncertain times, your support is even more important. We can't hold those in power accountable and uplift voices from the community without your partnership. Thank you.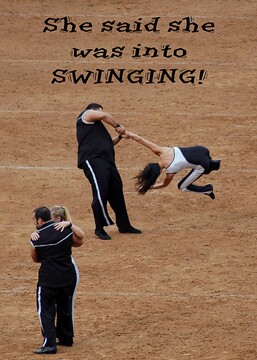 Every week in Living in Sin,Jen Sincero provides advice to LA's sexually confounded. Sign up for her newsletter and have it sent to you every week. Ask Jen your questions: all are posted anonymously.
Dear Jen,
We're an attractive married couple in our late 30's and I, the husband, am writing this. Like most men, I would love to engage in a threesome with an attractive woman and my wife. My wife would be interested (aside from the fact that she'd probably have some firm ground rules on penetration) and has a "short list" of people, celebs, porn stars that she would get it on with.
The best way to get involved in a threesome is to scout for potential prospects, right? Where would a couple in the NYC area find a "swingers" party, first just to watch couples having sex (a turn on), and then maybe later to get involved?
Plus, any other ideas on how to get my wife interested? She loves sex and even watches porn with me, but is not really into the threesome idea unless the perfect person is involved. She doesn't have many close women friends, and I think it would have to be an outsider the first time anyway. Your thoughts?
- Three's Company

Dear Company,
Oh that I had a nickel for every time some guy wrote in asking how he can convince his girlfriend/wife/any woman, really, to get it on with another chick. It's like watching parents attempt to get their kid to eat Brussels sprouts. There you all are, eagerly sliding a steamy plate of girl on girl porn in front of them, standing back, eyebrows raised and fingers twiddling with anticipation, hoping, just praying that they'll take the bait.
Meanwhile, your wife is ho hum. Sounds interesting, I guess, but she has to be Angelina Jolie and I have to be in the mood. Can you please pass the salt? Then she forgets it was ever mentioned while your heart skips a beat every time she speaks to another woman at the supermarket. Do women even realize the power they have? Do they have any idea that they've erased each and every other thought from your minds by not throwing a lamp at you and screaming "pervert!" at the mere suggestion of such a thing?
I know I'm going a tad overboard, but I've received hundreds letters like yours and nary a one from a lady asking how to get her man to have a threesome. Isn't heterosexuality a cruel joke? All this plotting and negotiating and ho humming while the majority of gay male couples I know have their asses eaten out by a long line of strangers pool side at Palm Springs on a regular basis.
The good news is she's not opposed to it. The bad news is her list is short and contains people you'll have to become a movie start to meet. If she's game, taking her to swingers clubs is a great idea. I just googled "swingers clubs NY" and found pages of possibilities for you. There are also a slew of dating sites if you google "swingers". However you choose to go about it, I suggest that you let her lead the way, pick the woman and decide where you can and can not stick it (which you seem to be very open to). When it comes to convincing someone to do something, there's only so far you can go before you become an irritant. So make some suggestions, calmly call her attention to the possibility when it arises and then leave it alone. You want to get your threesome, you just don't want to ruin your twosome trying.
It's been many, many years since we saw this much snow in our mountains. Going up there right now isn't safe, but here are some places where you can enjoy the view and snap a pic.

April Valentine died at Centinela Hospital. Her daughter was born by emergency C-section. She'd gone into the pregnancy with a plan, knowing Black mothers like herself were at higher risk.

A look at years past when snows creeped into our citified neighborhoods, away from the mountains and foothills.

In the face of a drier future, that iconic piece of Americana is on its way out in Southern California.

Bob Gregory, 62, went missing the same day as Sands. His body was recovered near Mount Islip.