This is an archival story that predates current editorial management.
This archival content was written, edited, and published prior to LAist's acquisition by its current owner, Southern California Public Radio ("SCPR"). Content, such as language choice and subject matter, in archival articles therefore may not align with SCPR's current editorial standards. To learn more about those standards and why we make this distinction, please click here.
Living In Sin: Magic Melons
Our June member drive is live: protect this resource!
Right now, we need your help during our short June member drive to keep the local news you read here every day going. This has been a challenging year, but with your help, we can get one step closer to closing our budget gap. Today, put a dollar value on the trustworthy reporting you rely on all year long. We can't hold those in power accountable and uplift voices from the community without your partnership.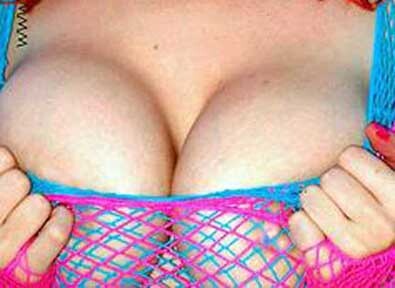 Sex is something that drives us, empowers us and gets us into really stupid situations with people we have no business seeing naked. Jen Sincero is the bestselling author and sexpert with the carnal knowledge you need. Ask her your questions (all are posted anonymously). Cuz there's no such thing as being too good in bed.
Dear Jen,
I have a question. Sometimes I think I might be able to have an orgasm from someone sucking my nipples. Do you have any experience with this?
- My Nipples Rule

Dear Nipples,
I'm sorry to say I don't. Unlike you, instead of teetering on the throbby edge while someone is smoking my areolas, I'm trying to figure out how to get him off of me so I can get to the kitchen. Because nipple play makes me thirsty. Insanely so. Pretty much one little suck and all I can think about are hoses, water coolers, clear running streams – sexy things like that. I'd have to breast feed wearing a camel pack.
I'd say there are a couple of things at work in your case. One is that you're reacting to Oxytocin, which is a hormone related to breast feeding, bonding and uterine contractions. It's secreted when someone sucks on your nipples, as well as when you have an orgasm, and can make you feel all sexed up and happy. I'm still amazed that someone hasn't figured out how to extract it, cut it with speed and sell it at raves.
Also, people can do pretty much anything they to want if they put their minds to it. If you wanted to have an orgasm while sitting in an economics seminar, for example, you could. The brain is our biggest sex organ, so whatever you latch onto up there can get you excellent results down there. In fact, I've taught myself to have an orgasm with zero physical stimulation. Hands free. I just get a filth fest going on in my brain, concentrate real hard, and there she blows. I'm confident that with a little hard work and a good lesbian gang bang fantasy or two, you could make your knobs go to 11 as well.
My question for you is, why are you still at the "sometimes I think I might" phase? Whyfore have you not affixed someone to your magic melons until the mighty threshold is crossed to find out for sure? I think that sounds like an excellent way to spend an afternoon. And a great trick to have up your sexual sleeve...
Cruise off the highway and hit locally-known spots for some tasty bites.

Fentanyl and other drugs fuel record deaths among people experiencing homelessness in L.A. County. From 2019 to 2021, deaths jumped 70% to more than 2,200 in a single year.

This fungi isn't a "fun guy." Here's what to do if you spot or suspect mold in your home.

Donald Trump was a fading TV presence when the WGA strike put a dent in network schedules.

Edward Bronstein died in March 2020 while officers were forcibly taking a blood sample after his detention.

A hike can be a beautiful backdrop as you build your connection with someone.