This is an archival story that predates current editorial management.
This archival content was written, edited, and published prior to LAist's acquisition by its current owner, Southern California Public Radio ("SCPR"). Content, such as language choice and subject matter, in archival articles therefore may not align with SCPR's current editorial standards. To learn more about those standards and why we make this distinction, please click here.
LAPD to Accept 9-1-1 Text Messages In a Few Years
Before you read more...
Dear reader, we're asking you to help us keep local news available for all. Your tax-deductible financial support keeps our stories free to read, instead of hidden behind paywalls. We believe when reliable local reporting is widely available, the entire community benefits. Thank you for investing in your neighborhood.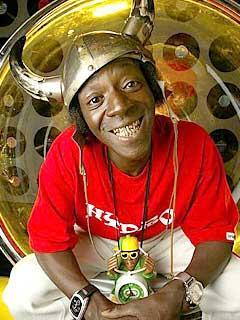 In the wake of the most recent King-Harbor tragedy, where concerned witnesses called Los Angeles County Sheriff's Department 9-1-1 to report that the medical staff was doing nothing about a woman dying on the floor of the hospital, only to be told that 9-1-1 would not dispatch any help, comes a plan by the LAPD to improve their handling of 9-1-1 calls.
Yesterday officials told the L.A. Police Commission that they were beginning to raise money to pay for a system that would allow them to receive text messages, photos and video calls of emergency.
Even though receiving text messages, photos, and videos is simple for an individual like you and your neighbors, the LAPD call center is barraged with more than 2 million calls a year. They only just started being able to take cell phone calls.
We pity the fool who has to respond to some kid texting in with "ROBBRZ N MY HOSE STILN", not to mention crafty criminals who might want to try to cripple the system by flooding it with false texts to lure emergency personnel away from the true scene of the crime.
Connecticut-based PowerPhone last year developed Incident Link Multimedia software, which allows cellphone photos and video to be delivered to 911 call centers. The technology is now being used in call centers in Colorado and Alaska. LAPD Assistant Chief Sharon Papa said the first phase of the system — soliciting photos from certain 911 callers — could be up later this year. But it could take three years or more to complete the project. No price tag has yet been established. - LA Times


You'd think that with all the gazillions AT&T has made since deregulation, and the fact that most people now have at least two phones, and the quality of cell phones are still horrible, even in huge cities like LA, that a big corporation like that might want to sponsor whatever the costs would be for such a text-911 program.Just sayin.

photo via Flava Flav's myspace