This is an archival story that predates current editorial management.
This archival content was written, edited, and published prior to LAist's acquisition by its current owner, Southern California Public Radio ("SCPR"). Content, such as language choice and subject matter, in archival articles therefore may not align with SCPR's current editorial standards. To learn more about those standards and why we make this distinction, please click here.
LAistory: Cross Roads of the World
Support your source for local news!
Today, put a dollar value on the trustworthy reporting you rely on all year long. The local news you read here every day is crafted for you, but right now, we need your help to keep it going. In these uncertain times, your support is even more important. We can't hold those in power accountable and uplift voices from the community without your partnership. Thank you.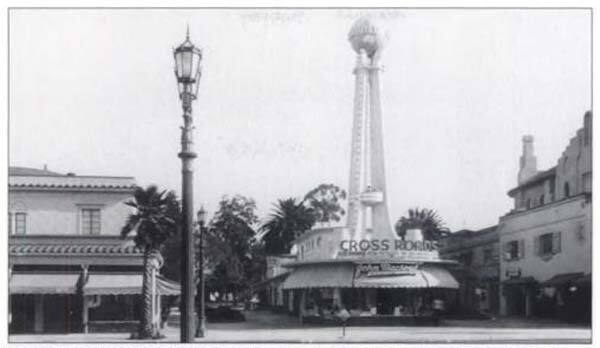 Shopping "experiences" like those Rick Caruso has developed in Los Angeles certainly give locals a lot to grouse about, but aside from the perils of modern living (see: Muffin tops, American Girl, and Uggs), these outdoor hyper-designed environments aren't anything new. Of course we can go back hundreds and hundreds of years and note that shopping outdoors in a village-esque atmosphere was a way of life--mainly because you lived in that village--but we can also go back to the 1930s to look at was once a glorious architectural and entrepreneurial vision that was much celebrated right here in LA.
Situated at 6671 Sunset Boulevard in the part of town we can't help but call Hollywood, The Cross Roads of the World was built in 1936 and designed by Robert V. Derrah. Iconic if only for its cheery neon sign and the heavens-bound 55-foot spire topped with a globe, those of us who have ever just whizzed by in our cars with no reason to stop might not have realized that its oddly-shaped central building is in fact the core component unifying all the neighboring buildings on the block. Go around the block (it stretches from Sunset to Selma, with an entrance off Las Palmas), or get out of your car and get close-up on foot to really take a gander--and you'll notice all the different styles of buildings here at the Cross Roads.

Around the corner you'll see some of the fanciful buildings | Photo by grifray via Flickr
The central building with the spire isn't so much just rounded, but rather is actually styled and built like a cruise ship. It is done in what is considered the Streamline Moderne style, which is according to ArtSlant, "a late branch of Art Deco, that put an emphasis on curving forms, long horizontal lines, and oftentimes nautical elements." The 1930s was considered the "Golden Age of Travel" and sea voyages on big, beautiful, sleek ocean liners highly romanticized and often evoked in the art and architecture of the time. Maybe you've seen this "Nautical Deco" style before--like the Coca Cola Headquarters here in Los Angeles, which just happens to have been designed by Derrah, around the same time he did the Cross Roads. The out-buildings, however, are not sea-faring, but rather are done as a sort of global tribute to architecture, emulating "a European Village with Spanish, medieval, English, Oriental, French, and Cape Cod styles" (De Wolfe 2). It was imagined by its creator, Mrs. Ella Crawford, as being an experience like "taking a trip around the world" that would serve as "a cultural [and] business center" (De Wolfe 2).

The Tower: Omar Omar/Flickr
But what on earth is--or was--the Cross Roads?Some people like to call the Cross Roads of the World Los Angeles' first shopping mall, but then they'd be neglecting Downtown's glorious Mercantile Arcade building, which opened for business in 1924. (It's now being remodeled and repurposed as residential lofts, natch.) But Cross Roads was indeed a shopping mall. In fact, as planned, the "structures were originally designed with bay windows to enhance the display of the merchandise and to appeal to the pedestrian, with inviting entry ways and system of walkways that tied the complex together in a smooth transition from one country to another," (De Wolfe 2).
While the Cross Roads was a spectacular shopping complex and tourist attraction, how it came to be is very curious. Mrs. Crawford was the widow of an infamous man named Charles Crawford, known as anything from a prominent West Coast brothel and casino operator nicknamed "Goodtime Charlie", to "the Gray Wolf of Spring Street," to a prominent local politician, to an organized crime boss, or as the "model for some of Raymond Chandler's juicier villains" (Rasmussen). According to a detailed articled about Crawford by Cecilia Rasmussen published in 1999 in the LA Times, "[Charles Crawford's] notorious viciousness and cunning helped take public corruption to a new level in Los Angeles city government in the 1920s." Crawford, however, became most well known in 1931 as a corpse; he and newspaper man Herbert Spencer were shot and killed by former Deputy District Attorney David Clark. The incident took place in Crawford's real estate office, which just happened to be located at 6665 Sunset Boulevard.
The murders and Clark's trial were major headline fodder in Los Angeles in 1931. Prosecutors were having one hell of a time pinning the rap on Clark, as well as finding witnesses or people with information about the crime.
According to Rasmussen:
At his trial, Clark testified that both killings were in self- defense. Spencer was angry with him, he said, for using his judicial campaign as a platform from which to hammer those involved in local vice and graft. Aware of the bad feeling, Crawford had attempted to act as a peacemaker and invited Clark and Spencer to meet in his office. Fearing a trap, Clark stopped and bought a gun, overdrawing his bank account to make the purchase. At the meeting, Crawford tried to make a deal with Clark, asking for his help in framing the police chief and assuring him of a victory in the coming election. But when Clark refused and threatened to expose him, Crawford pulled a gun. Clark responded by drawing his own newly purchased weapon and shooting both Crawford and Spencer to death--or so he testified.
Mrs. Crawford was present in the courtroom when Clark was acquitted, but had no comment to make. According to Ken Schessler's West Hollywood Babylon, the Clark trial had another claim to fame, because it was the first use of microphone during a trial in the state of California. Clark, for the record, ended up killing again in the 1950s--this time "a good friend's wife"--and "a few days after his arrest, he died in the county jail of a heart attack." Many speculate that following the trial, Mrs. Crawford's wish was to wipe away the negative taint of her husband's former office and the scene of his murder, as well as his long-standing nefarious reputation, by replacing it with something pleasant and attractive that would draw people in. The result was the Cross Roads of the World.

A vintage photo shows Cross Roads in its early years | Via YesterdayLA
When it opened on October 29th, 1936, the Cross Roads of the World was a major attraction in Los Angeles. Having connections to local movie studios, Crawford secured performers contracted to Universal who represented a variety of nationalities, like Cesar Romero, Binne Barnes, Wendy Barry, Boris Karloff, Henry Armetta, Misca Auer, and George Murphy, among others, who appeared at the shopping center's grand opening celebration. A 1936 LA Times article about the new center singled out its "galaxy of beautiful buildings" as well as the ocean-liner centerpiece, which was to "house a number of unique shops" with a place for libations "in the glass-inclosed [sic] rotunda" ("Architects' Ideas"). Crawford certainly hoped this mercantile oasis, with its "tree-shaded patio" offering a "picturesque, restful rendezvous for shoppers and sight-seers," would redeem the Crawford name ("Architects' Ideas"). To further add to the complex's charm in the era before Los Angeles was a web of neighborhoods and zip codes,the LA Times reported: "Shops and studios located in the block occupied by the Crossroads of the World will be known, not by their local addresses, but through their identification with the international shopping center. Their mail will not be addressed to a number on Sunset Boulevard or Las Palmas [A]venue. Instead, their street addresses will be 'The Crossroads of the World,' Hollywood, Cal." (It is unclear if that ever happened, and if so, for how long.)
Of course, though it all sounds positively lovely, by the 1960s the Cross Roads was no longer such a sparkling gem. The negative association Crawford had sought to obliterate resurfaced particularly as the iconic complex became a home base for many major players in the recording industry. Per Wikipedia:
In the 1960s, the Crossroads buildings housed many tenants involved in the Song poem music industry scam business. Liberace's brother, George, was one such entrepreneur with an office at the Crossroads. Jimmy Webb, noted songwriter, sold the rights to his classic song "MacArthur Park" to another one of these con-men, and was known to sleep on the floor of his office when he was broke and homeless. In the late-1960s, one of the offices was occupied by a porn magazine that tried out young hopefuls by photographing them in the nude. It was here that an unknown John C. Holmes went one day and showcased his unusually large "endowment", leading to the start of his notorious career in adult films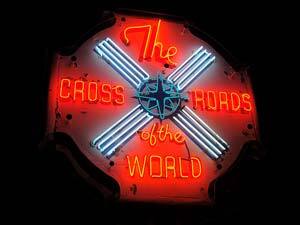 Photo: rolando.pujol/Flickr
By the 1970s, the Cross Roads had largely fallen into a sad state of disrepair. Cross Roads was purchased in 1977 by Morton La Kretz (whose generous donation to his alma mater, UCLA, allowed for the construction of their La Kretz hall recently) It was "such a mess," according to La Kretz, speaking about the lengthy and difficult restoration process the complex underwent for nearly 3 years following the purchase. In a 1986 LA Times article about the building's 50th anniversary, La Kretz's daughter Margaret explained "When we purchsed the property, it was badly run down with tenants living in the offices, people sleeping the hallways. It took us about three to four years to upgrade it" (De Wolfe 2). La Kretz's purchase ostensibly "sav[ed] it at the auction block from developers who wanted it for high-rise construction" (De Wolfe 1). At the time, it seems vestiges of Hollywood's Golden Era that had fallen into under-use (or misuse) were beginning to appear as blights on the landscape, and developers had a different vision for Hollywood--one which, if we fast forward to closer to Cross Roads' 70th anniversary in 2006, seems to have been realized, but only in partnership with preservation.

Disney, FL version. mrkathika/Flickr
Cross Roads was described as being "dilapidated and deserted" and of no interest to anyone in the 70s, and it took a lot of time and money for La Kretz and his daughter to bring back to life (Simross). It earned a second life as office space, housing over the years a variety of tenants, including the Hollywood Arts Council, fashion and entertainment industry businesses, and sound and recording outfits, and the religion of Eckankar, among others. In the early 1980s Cross Roads was "listed on the National Register of Historic Places and [had been] previously elected a Los Angeles Historic Cultural Monument" (DeWolfe). On the backlot of Disney's California Adventures, you might notice one of the many Los Angeles-inspired buildings is from the Cross Roads, or spot the replica at Disney's Hollywood Studios in Florida (Yesterland). Further cementing its role in local lore was its multiple use in film and television shoots; combined with its other legacies and restored charms, still reliant on the once-upon-a not-so-pretty-time lore of its origins, Cross Roads still finds itself associated with the darker side of Los Angeles. As Rasmussen explains:"Despite Ella Crawford's efforts to erase the horrifying crime scene and her husband's thuggish image, Cross Roads of the World--a 2 1/2-acre make-believe oasis with a sultry allure--is today best known as one of the locations for the film noir hit L.A. Confidential."
References (offline or not otherwise cited)
About.com: Cross Roads of the World
"Architects' Ideas Vie" LA Times Oct. 29, 1936
Big Orange Landmarks: HCM #134, Cross Roads of the World
"Clark Defense Produces Mystery Gun at Trial." LA Times Aug. 12, 1931
"Clark Obtains Bail Release." LA Times June 4, 1931
Crossroads of the World, HCM #134, in Hollywood
DeWolfe, Evelyn. "Cross Roads to Fete 50th Anniversary." LA Times Oct. 29, 1986
Hollywood Arts Council
"June Taylor Quizzed in Double Killing." LA Times June 5, 1931
"Novel Addresses Used by Shops." LA Times Oct. 29, 1936
Organizing LA
Rasmussen, Cecilia. "Mall Is Legacy of '20s Crime, Corruption." LA Times Oct. 3, 1999.
Simross, Lynn. "Hollywood: Building the Reality While Rebuilding the Dream." LA Times Nov. 9, 1980.
"Stars From All Nations to Be Present at Opening." LA Times Oct. 29, 1936
Wilson, William. "Art Review: When LA Was a Low-Rise." LA Times March 1, 1976
LAistory is our series that takes us on a journey to what came before to help us understand where we are today.
Check out our other entries in the series:
Val Verde
Thelma Todd's Roadside Cafe
An eclectic house in Beverly Hills
Echo Park's Bonnie Brae House
Marineland of the Pacific
Grand Central Air Terminal
LA's Own Wrigley Field
How LA got its name
The wreck of the Dominator
The 1925 "Hollywood Subway."
The Pink Lady of Malibu
Lions Drag Strip
Disneyland...when it was cheap to get in
The ugliest building in the city
Union Station
Union Station's Fred Harvey Room
A Smelly Mystery at another train station
The Egyptian Theatre
Pilgrimage Bridge
The "It" Girl, Clara Bow
Elias J. "Lucky" Baldwin
Get Involved!
Houdini's House
Spanish Kitchen
The Platinum Blonde
Chutes Park
Fatty Arbuckle
The Brown Derby
Griffith Park
The Outpost Sign
It's been many, many years since we saw this much snow in our mountains. Going up there right now isn't safe, but here are some places where you can enjoy the view and snap a pic.

April Valentine died at Centinela Hospital. Her daughter was born by emergency C-section. She'd gone into the pregnancy with a plan, knowing Black mothers like herself were at higher risk.

A look at years past when snows creeped into our citified neighborhoods, away from the mountains and foothills.

In the face of a drier future, that iconic piece of Americana is on its way out in Southern California.

Bob Gregory, 62, went missing the same day as Sands. His body was recovered near Mount Islip.