This is an archival story that predates current editorial management.
This archival content was written, edited, and published prior to LAist's acquisition by its current owner, Southern California Public Radio ("SCPR"). Content, such as language choice and subject matter, in archival articles therefore may not align with SCPR's current editorial standards. To learn more about those standards and why we make this distinction, please click here.
LAistory: Thelma Todd's Roadside Cafe
Before you read more...
Dear reader, we're asking you to help us keep local news available for all. Your tax-deductible financial support keeps our stories free to read, instead of hidden behind paywalls. We believe when reliable local reporting is widely available, the entire community benefits. Thank you for investing in your neighborhood.
LAistory is our new series that will take us on a journey to what came before to help us understand where we are today. We began with Val Verde, the "Black Palm Springs" and now we go to Thelma Todd's Roadside Cafe.
This December 16th, it will have been seventy-three years since Thelma Todd was found dead at 29, in the garage of her home. The car she was sitting in was still on. The exact circumstances of her death remain a mystery.
Thelma Alice Todd was born on July 29th 1905 in Lawrence, MA. She was a lively child, always good at academics, and she wanted to be a schoolteacher. In college, her mother (who wanted her to be more than a "schoolmarm") encouraged her to participate in beauty pageants. In 1925, she won the Miss Massachusetts title, and was subsequently offered movie roles. She had a gift for comedy (though she also did drama and horror roles) and starred in over 130 movies. Transitioning easily from silent to talkie films, she worked with such venerated actors as Buster Keaton, Laurel and Hardy, Zasu Pitts and the Marx Brothers. Her bombshell look earned her the moniker, "The Ice Cream Blonde."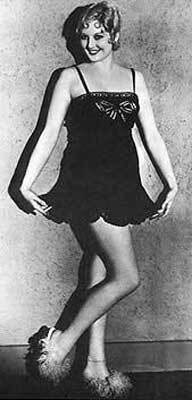 Like many in the industry, Thelma lived fast. She had so many car crashes, the studio eventually insisted that she have a driver. She was married briefly in 1932 to 1934 -- a party guy, Pat DiCicco. Their chief entertainment appeared to be drunken brawls, one of which landed Thelma in the hospital for an emergency appendectomy.
In the early thirties, Todd bought a piece of property on what is now called the Pacific Coast Highway, facing the ocean and built a structure that would double as her home (in the upstairs apartments) and Thelma Todd's Sidewalk Cafe, which was downstairs. The Cafe was a great success, catering to the entertainment and underworld crowds.
There are few facts about the death of Thelma Todd that anyone can agree on. She had purchased and was running the cafe with her boyfriend, director, Roland West. They lived above the cafe in adjoining bedrooms.
The evening before her death, he admitted that they had been fighting. It was a Saturday, and that night, Thelma was driven to a party being held for her in Hollywood at Cafe Trocadero. It was hosted by Stanley Lupino and his daughter Ida. Her ex, Pat DiCicco had requested to be seated next to her, but he arrived with a date and immediately attached himself to another group. Thelma was humiliated and fought with him. She proceeded to get quite drunk and confided to Ida she was seeing a rich businessman.
Meanwhile, back at the Cafe, West locked up. as was his habit, at two am. Todd left the Trocadero sometime before three. Though people claim to have seen or heard from her early the next day -- a pharmacist at 9:30 am, and a close friend claimed to have received a phone call, where she identified herself as "Hot Toddy, " (a well-known nickname) to talk about a party -- none of these instances can be verified.
It wasn't until Monday morning around ten-thirty am, that the maid found Thelma, slumped over at the wheel of her 1932 Lincoln Phaeton. Eventually, her death was ruled a suicide, though everyone said that 29 year old Todd was in good spirits.
Inconsistent facts quickly came to life. The coroner determined she died between five and eight am on Sunday. She was still wearing her party clothes from Saturday night, though she had peas and carrots in her stomach -- which weren't served at Trocadero. There were no signs of struggle -- he fingernails were undamaged -- but her nose was broken. Her sandals were clean, but the police determined that anyone climbing the outside staircase would have had dirty shoes.
A number of theories arose. The most sensational was that Lucky Luciano had been pressing Thelma to turn her club into a gambling joint. When she refused, he had her offed. It could have been an accident. Thelma, having been locked out of the house, went up to the garage and turned on the car to keep warm (or to go someplace) and fell asleep. But West said that she wasn't shy about waking him up when she got home and a key to the house was found on her person. There was a rumor that West confessed on his deathbed claimed that he had unknowingly locked Todd in the garage. After her funeral, Todd was cremated, leading people to wonder if there had been a cover-up by the notoriously corrupt District Attorney's office.
Whatever happened, Hollywood lost a star and gained a mystery.
Thelma Todd's Sidewalk Cafe (now the home of Paulist Productions -- CLOSED TO THE PUBLIC) 17575 Pacific Coast Highway
Present day photos by Jacy Young for LAist