LAist Interview: Pigeon John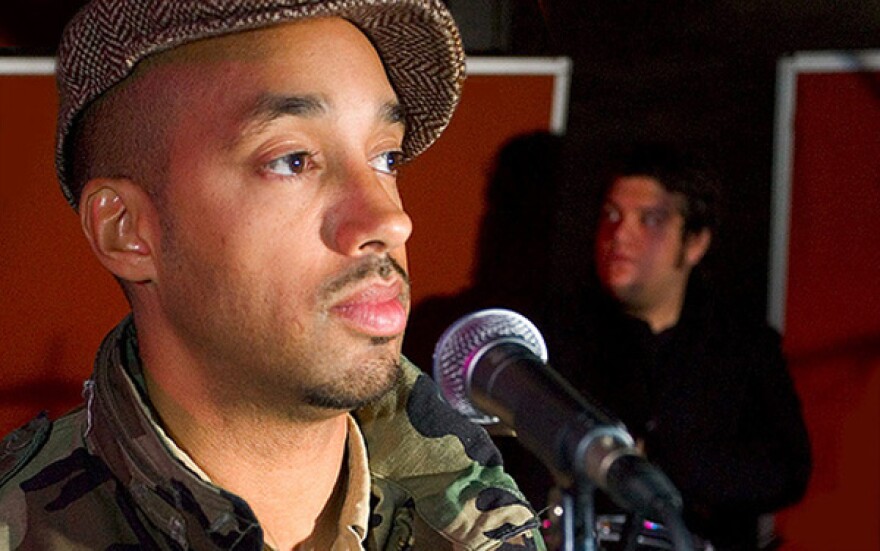 LAist relies on your reader support, not paywalls.
Freely accessible local news is vital. Please power our reporters and help keep us independent with a donation today.
The first time i saw Pigeon John he was the main act at "the Shack" in Anaheim. Sundays were rap nights, and before i knew it the rowdy crowd of criminals was being charmed by this rapper toting an acoustic guitar, and making wise-cracks at the audience. Pigeon John has come a long way since those days years ago, he is now signed by Quannum Projects, considered one of Los Angeles's most popular rappers, and just played a show this last Monday at Safari Sam's. After losing in an arm wrestling match at the show, he agreed to answer some of our stupid-ass questions.
Whats the best and/or worst thing about being Pigeon John?
Good question, Mr. Sneaky. Very splendid indeed! I'd say (over coffee, in the morning, outside, sitting alone) the best thing about being PJ is the shoes. The shoes come from everywhere and they make me feel like the young Sammy Davis Jr., if you will. They glisten on the dusky sidewalks of L.A. They keep me company. Now the worst thing about being the Pigeon is the vats of depression that spill on me in the morning....the huge puddles of despair that I fight to leap over...and the little dark guy in the corner that wants to ruin my life....slowly.
Where are your favorite cities to do shows, and where does LA rank?
Whittier, CA is my favorite city in the world to play. They're number one. There's Memphis, Orlando, Boulder and Seattle too. L.A. Is always fun, but the fun comes at a price. I get real nervous when I headline shows in Lost Angels. The weight of trying to blow up leans in on you all day. Show LA or more precise, Hollywood would rank at number 15 in the places I like to play.
Where's the best place to buy clothes in LA?
Another great question Sherlock Holmes! That's 2 for you and none for me. The best place to shop for clothes would be Wasteland on Melrose. They have one in SF as well. Vintage, classic, endless amounts of anything you'd ever think of thinking of thinking about. Its cheap too. Great, sleek shoes laughing at you and the slacks dance around on their hangers....the hats float.
What happened with you and L.A. Symphony?
Wow, you're really going for it aren't you? Is your name Dracula? Do you want blood? Me and LAS went our separate ways in 2003 when I had to make a decision to do LAS or PJ full time. I was missing Symph shows because I'd be out touring alone....so it had happen I guess. I always wished we all could come and go and schedule tours around each other, keeping our identities as well as keeping the group alive...but I guess you can't have your cake and eat it too. Or we didn't think we could. We could've though....we strangled each other out of wanting to do it anymore. Oh well.
What non-hiphop influences do you draw upon?
Rock and Roll is great. Jazz delivers. Electronic kills. Old Country is rad. The Streets and The Strokes dance in my head a lot. Bob Dlyan intimidates me. Stevie Wonder is untouchable. D'Angelo too. (Where's is he now? Please come out with another album coke head!). Honeycut is our Bread. The list goes on and on. I have very big ears and eyes.....Charles Bukowski is King. I try and draw solely from people that are way ahead of me....I try not to hang around the playground too much. Crabs in a bucket.
The obligatory: How did you get the name Pigeon John?
Jesus gave it to me. I was walking through Inglewood one day when out of nowhere Jesus rolled up on me in a '77 Cutlass Supreme...4 doors, grey. He hopped out and handed me a dead pigeon. He whispered "Please have a good time, you're really bumming me out." I watched him sink back into the cushioned seats and drive, quickly away. And that's when it happened, the pigeon started shaking violently and became awake, picked up and flew away. I don't think I had a choice....its was "pigeon" or die.