This is an archival story that predates current editorial management.
This archival content was written, edited, and published prior to LAist's acquisition by its current owner, Southern California Public Radio ("SCPR"). Content, such as language choice and subject matter, in archival articles therefore may not align with SCPR's current editorial standards. To learn more about those standards and why we make this distinction, please click here.
LA Auto Show 2006: Interior Design Studios Aim to Change the Way We Think About GM Vehicles
Before you read this story...
Dear reader, we're asking for your help to keep local reporting available for all. Your financial support keeps stories like this one free to read, instead of hidden behind paywalls. We believe when reliable local reporting is widely available, the entire community benefits. Thank you for investing in your neighborhood.
2007 Chevy Malibu shown above...no seriously, that's a Malibu
On Monday, in a sneak preview of what you can see this weekend at the LA Auto Show, LAist was invited to get an inside look at what GM Design has been working on for the past five years. We took a gander at what's coming up in GM's future lineups (next year and beyond). David Rand, Executive Director of Interior Design, was eager to show to us and explain the new direction that General Motors is taking in order to capture a quickly changing market.
The American driver is becoming tired of the same external features of a luxury vehicle. GM executives realized five years ago that commuters were beginning to spend more of their day inside of their vehicle traveling to work and that it was quickly becoming their second living room. It is for this reason that GM made it a corporate initiative to focus more attention on making their car interiors globally competitive.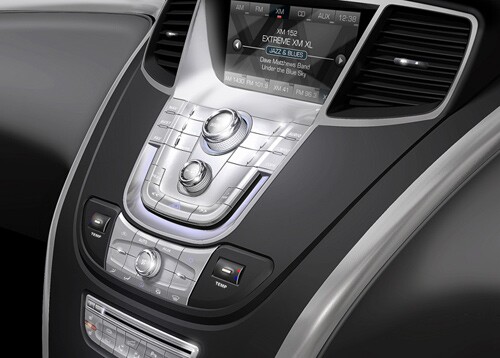 Integrated Center Stack
They have been working on integrating radios and other controls into what are called Integrated Center Stacks (shown above), which give designers the ability to tailor the types of controls available to the consumer better, as well as customize how the buttons feel and are positioned. Gone are the cheap radios that used to come standard with all GM vehicles, instead there are high quality sound components integrated beautifully, free from the confines of a black metal rectangle.
Integrated components focus on texture for "blind driving", as well as unique responses and lighting. Cluster displays (speedometer, tach, etc) now feature gorgeous designs that enhance their functionality and add to the driving experience. Designers also focus on choreographed lighting on heads up displays (including animations and sequential fading of lights), as well as colored ambient lighting throughout the vehicle. A lot of the upholstery is stitched onto the interior of the car in order to relieve the driver of the sense that his or her car was stamped out of a mold on an assembly line. There is more of an organic and familiar luxury feel to all of the classes, Saturn and Cadillac alike.
GM has put a lot of stock in 11 major design studios located in America, Europe and Asia to bring more life to their vehicle interiors. It makes sense to say that while the outside of a car still captures our attention initially, that impressive feeling we get from experiencing the interior of a coworker's luxury car for the first time is what really sends our minds buzzing. They are obviously onto something.
David Rand, Executive Director of GM Design Interiors