This is an archival story that predates current editorial management.
This archival content was written, edited, and published prior to LAist's acquisition by its current owner, Southern California Public Radio ("SCPR"). Content, such as language choice and subject matter, in archival articles therefore may not align with SCPR's current editorial standards. To learn more about those standards and why we make this distinction, please click here.
John Vanderslice - An SFer Who Hearts LA
Our June member drive is live: protect this resource!
Right now, we need your help during our short June member drive to keep the local news you read here every day going. This has been a challenging year, but with your help, we can get one step closer to closing our budget gap. Today, put a dollar value on the trustworthy reporting you rely on all year long. We can't hold those in power accountable and uplift voices from the community without your partnership.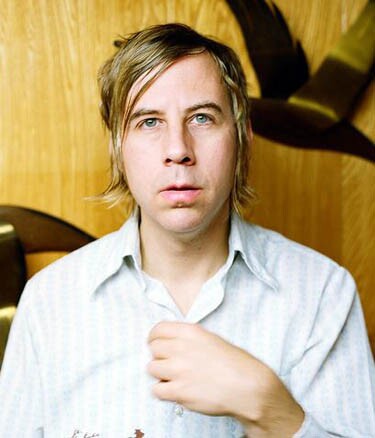 John Vanderslice is playing tomorrow night at the Largo. St. Vincent, who we interviewed this morning, is opening for him. It's sold out and even the scalpers are all, sucks to be you.
They were both really funny and very smart. Of the two, Mr. Vanderslice seemed to enjoy answering the questions while Ms. Vincent seemed to enjoy eluding them in witty ways.
Vanderslice was originally in the band mk Ultra, had an infamous solo hit immediately afterwards with "Bill Gates Must Die", and when not playing his own music or producing in his low low priced nirvana of a recording studio, Tiny Telephone, collaborates and tours with the Mountain Goats.
I was lucky enough to catch him via email where we discussed how he could possibly hate Bush less than Stalin, his opinions about how Britney Spears should steer her career, if I'm crazy, and how GG Allin has influenced his art.
You might be as well known for your production skills and your recording studio and the way you toil over the records you make. Perfectionism some would assume. However when people meet you they say that you're extremely friendly and generous. Aren't people who are anal supposed to be introverted and lacking social graces?
Well I bet there are tons of slothful assholes in the world! It's true i am highly socialized, and generally very gracious, but no more so than anyone brought up in the south by a good mother.
Do you find it odd that people fawn over you for putting 100% into your projects? Do they expect producers and artists to half- ass their art? Is it the equivalent to when Sen. Biden called Sen. Obama "clean" and "articulate"?
Well I'm very surprised when people tell me i'm hard-working. I am usually scheming on how to do the least amount of work at any given time and wriggle out of pending obligations.
That Biden comment was one of the better gaffes of the year, he is seriously unhinged. Remember when he told a poor fellow in New Hampshire his IQ was higher?

John Vanderslice "Exodus Damage"
"Pixel Revolt" is somewhat mellow, precise, and grown-up with lots of deep sounding strings like cellos and stuff. And sparse. But warm. You realize that radio stations aren't at all interested in playing good music like this, yet you have chosen to record an entire album of it - why?
Well, I only care about hearing what i want to hear. How could it be any other way?
Britney Spears is beginning her comeback. Don't you think she should be working with someone like you in your studio and put out a quality, adult, record that would earn her the respect that she has lost over the years?
Oh god no, she needs the Matrix or more Timbaland. I would kill to work with Timbaland.
I'm no expert but when I first heard Arcade Fire's "My Body is a Cage" the first thing that I thought was, "that's some amazing production - they made a very intimate song grand in a matter of minutes, slowly building and stretching the ceiling." Am I crazy?
You are not crazy!! At least according to this question. This is a seriously good band.
Name a few cds in the last few years that you had nothing to do with that you consider to be beautifully recorded albums.
Joanna Newsom: Ys
Rufus Wainright: Poses
Radiohead: Hail to the Thief, Amnesiac, Kid A, OK Computer
anything by Thcad Blake, Jon Brion, Mitchell Froom, Scott Solter, John Congleton, Steve Albini
Broadcast: Tender Buttons
Clipse: Hell Hath No Fury
The Books: Lemon of Pink
God, there's so many!
In general i like records with style, as opposed to "hi-fi" stuff.
In your interview with Annie Clark, she had you list several world leaders from most nefarious to least nefarious. Your rankings from worst to least was: Stalin, Hitler, GW Bush, Pol Pot, etc. Why so easy on the president? Did Stalin lie about going to war, did Stalin have secret black-ops prisons, did he try to redefine torture, did he out one of his spies because of her husband writing the truth in the newspaper, did Stalin rig the elections, under Stalin's rule did fuel triple in price?
Are you kidding about Stalin? Some historians tally him up for 40 million deaths. The great purge alone would vault him above Bush. The GULAGs make us look like amateurs when it comes to imprisoning and torturing perceived enemies. That doesn't mean that Bush shouldn't be shot in the head, but we need to keep perspective.
Stalin didn't need to lie because all power was focused in the executive branch in the USSR. If Bush had that kind of power, it'd be a different story.
Do you think that with more people listening through headphones again, thanks to iPods, that the sound quality of music will start to improve since people are listening in more ideal situations?
Absolutely. I love seeing people walking around listening to music. Apple needs to improve the quality of the amplifiers in the iPod though.
Annie also asked you about the obvious influence that GG Allin had on your career, but don't you agree that The Murder Junkies is one of the best names ever for a backing band?
A guy I know played one show as GG's drummer. My friend had one ice cold beer next to his kit to enjoy during the gig and GG promptly stuck it up his ass. True story.
Hillary, Barack, or Al?
Oh man we're in trouble. Not sure if it matters, I think the shadow government is firmly in place.
Are you one of those San Francisco guys who has a good time in LA and then goes back home to San Francisco and tells all your friends that it was smoggy and trafficky when deep down you had the time of your life?
No! I used to live here. LA has wonderful recording studios and engineers, that makes it heaven on earth to me. Also, don't forget i like movies even more than music. I would have killed to go to a pool party at Ernst Lubitsch's house.
I have a pretty nuanced view of cities and places. I've recently fallen in love with Tucson, a city I never enjoyed before. I don't care for some places that EVERYBODY likes. I really dislike London (I used to live there) and think Paris is overrated. Now send in those angry emails!!!!
Where do you like to eat when you come to LA?
Wherever they take me. The night of the show it'll be at the Largo. I only really want taquerias and sushi.
"Continuation" and "Exodus Damage" seems cinematic to us - like they would work well in a film. Is that an insult to say to a musician?
God no, not to me. I have written an entire record about movies (Cellar Door).
Which are you better at: Dance Dance Revolution or Guitar Hero. Don't lie.
DDR!!!
"Farewell Transmission" reminds me ever so slightly of a Kurt Cobain outtake while listening to Randy Newman's "Sail Away" album for some reason. If Randy wanted to record in your studio, please tell me you would charge him more than the $550 a day for the studio and one engineer.
We are $550 a day for rich and poor alike. Sliding scales are horrible, just look at airlines. Imagine a sales clerk asking you how much you make before he tells you how much a paper shredder costs?
Apple and VW are ahead of the curve on this.
You have the coolest sounds on "Angela" - can you explain how you got some of those sounds. One of them almost sounds like the original Pong home game. Am I a psychic?
Some of it is the wonderful Melotron that Matt Cunitz played. Some of it is a highly collectible pedal called "The Space Station."
John Vanderslice with special guest St. Vincent tomorrow night at the Largo
Cruise off the highway and hit locally-known spots for some tasty bites.

Fentanyl and other drugs fuel record deaths among people experiencing homelessness in L.A. County. From 2019 to 2021, deaths jumped 70% to more than 2,200 in a single year.

This fungi isn't a "fun guy." Here's what to do if you spot or suspect mold in your home.

Donald Trump was a fading TV presence when the WGA strike put a dent in network schedules.

Edward Bronstein died in March 2020 while officers were forcibly taking a blood sample after his detention.

A hike can be a beautiful backdrop as you build your connection with someone.