This is an archival story that predates current editorial management.
This archival content was written, edited, and published prior to LAist's acquisition by its current owner, Southern California Public Radio ("SCPR"). Content, such as language choice and subject matter, in archival articles therefore may not align with SCPR's current editorial standards. To learn more about those standards and why we make this distinction, please click here.
It's Playoff Season Folks!
Before you read more...
Dear reader, we're asking you to help us keep local news available for all. Your financial support keeps our stories free to read, instead of hidden behind paywalls. We believe when reliable local reporting is widely available, the entire community benefits. Thank you for investing in your neighborhood.
NFL playoffs are here! Which means that Superbowl XLII is right around the corner. This year's Superbowl is going to be played in Arizona on February 3, 2007 and it was recently announced that Tom Petty will be playing the halftime show.
As a native of Pittsburgh, PA, I often say that I bleed black and gold. Truth is, professional football for me is what college football (or fill-in-the-blank any sport you want) for other people I know. Los Angeles is endlessly in talks about getting a professional football back and, to be honest, it seems amazing to me that a city with a much money as Los Angeles can't get their act together to get a team.
This fall, I was lucky enough to have the opportunity to go to two Steeler home games in Pittsburgh and looking back on pictures from those trips, I felt compelled to share some of my favorite pictures. I know it's not LA-centric, but it does absolutely show a love of sports and the people who attend these games. If you have taken photos from a recent trip home or to see a game in Los Angeles and want to share them with the good readers of LAist, please submit them to our featured pool on flickr.
A few fun Pittsburgh sports facts. Did you know that the Steelers are the only professional football team without cheerleaders (something about being pure football fans) and also Pittsburgh is the only city in America where all of their sports teams have the same colors (black and gold).
See more photos of die hard fans and the women that love them after the jump!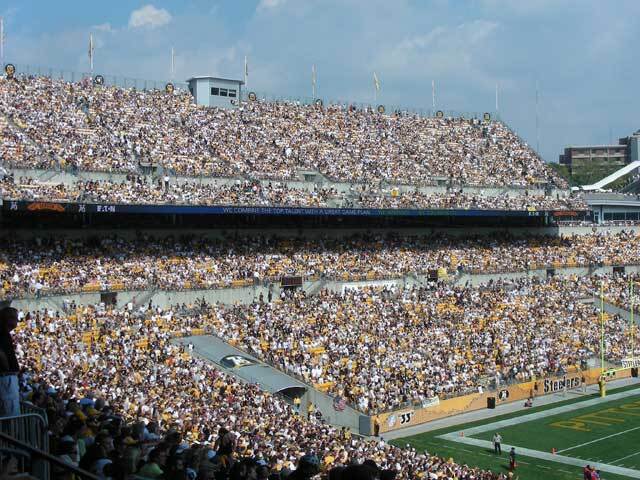 A couple that cheers together, stays together.
All photos by Sloane Berrent for LAist.