This is an archival story that predates current editorial management.
This archival content was written, edited, and published prior to LAist's acquisition by its current owner, Southern California Public Radio ("SCPR"). Content, such as language choice and subject matter, in archival articles therefore may not align with SCPR's current editorial standards. To learn more about those standards and why we make this distinction, please click here.
Is Vegas Just A Bad Place For Televised Events?
Support your source for local news!
Today, put a dollar value on the trustworthy reporting you rely on all year long. The local news you read here every day is crafted for you, but right now, we need your help to keep it going. In these uncertain times, your support is even more important. We can't hold those in power accountable and uplift voices from the community without your partnership. Thank you.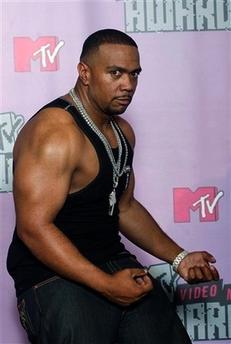 It has been two days, and the dust still hasn't settled from the embarrassing MTV Video Music Awards, which both the media and public seem to agree was the worst one ever. The reasons for the disastrous show range from the lackluster performance of Britney Spears to the confusing jumble of special performance spaces to the unhinged antics of Kanye West, Kid Rock, Tommy Lee, et al. But I know better. I also know the identity of the true culprit of this year's lousy show.
It's Las Vegas' fault.
Vegas already goes around eatin' up all of LA's Kobe beef (high-end Vegas restaurants drain most of the prized meat in this part of the country), prime Farmers Market fare (Vegas chefs get dibs on some of the best produce because they buy it bulk), Broadway shows (many have contracts stipulating if they set-up shop in Vegas they can't do the same in LA) and big conventions (which you already knew). So it's no surprise that LV thought it could match cities like LA and NY as a major TV event host. Boy, did they get that one wrong.
Vegas is where the world goes to embarrass itself, and adding television cameras to the equation is rarely a good idea. First, a disclaimer: I love Las Vegas. I really do. The Four Seasons has one of the best breakfasts ever, and I still look back fondly on my all-night binges of roulette with a bunch of Japanese businessmen at the MGM Grand. But the bottom line is that the reason Vegas is the country's most popular convention city is because Nevada is the Amsterdam of prostitution and debauchery, with Vegas being its Red Light District. How many companies would continue to hold their conventions in the town if the shareholders received a live video feed of the COO giving a sixty-nine to a co-ed by the Rio pool? That's why what happens in Vegas is supposed to stay there, not be broadcast live in front of a national audience. Hold a television event there, and expect everyone involved onstage, backstage and outside to be drunk, high, or both.
That's not always a bad thing. The Vegas Real World signaled the transition of the show from "Seven Young Adults Trying to Make It The World" into "Seven Hot Co-Eds Getting Their Freak On," which helped the show's rating skyrocket and perhaps even contributed to the network's current focus on ditzy-girl reality shows instead of music videos.
Even Angelenos traveling to what is essentially their own back yard can't help but act a fool as soon as the sight of the strip comes into view. Hell, even organized crime lost its shit in Vegas. How could we expect the VMAs not to?
Remember, earlier this year the NBA held its All-Star game in Vegas for the first time, and it was a travesty. The news headlines were salacious. The NBA players, their entourages and fans had gotten out of control. It didn't matter that the All-Star game was held in LA, Denver and Houston the prior years and went off without a hitch. What did matter was that as soon as it was announced the game was being held in Vegas, every hooker from Georgia to Montreal booked direct flights into town. Vegas just does that. It brings out the inner degenerate in everyone, regardless of race or creed.
That's why I'm willing to give this year's lousy VMAs one last pass. Because I'm assuming everyone involved was in some way under the influence. But celebrity publicists take note...the next time one of your high-profile clients is invited to attend a televised event in Sin City, don't let them go unless you're prepared to see them on television kissing Criss Angel.
Photo courtesy of AP
It's been many, many years since we saw this much snow in our mountains. Going up there right now isn't safe, but here are some places where you can enjoy the view and snap a pic.

April Valentine died at Centinela Hospital. Her daughter was born by emergency C-section. She'd gone into the pregnancy with a plan, knowing Black mothers like herself were at higher risk.

A look at years past when snows creeped into our citified neighborhoods, away from the mountains and foothills.

In the face of a drier future, that iconic piece of Americana is on its way out in Southern California.

Bob Gregory, 62, went missing the same day as Sands. His body was recovered near Mount Islip.