LAist relies on your reader support.
Your tax-deductible gift today powers our reporters and keeps us independent. We rely on you, our reader, not paywalls to stay funded because we believe important news and information should be freely accessible to all.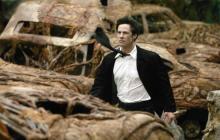 Speaking of Starring LA, Constantine opens this weekend with Los Angeles, Sunset Boulevard in particular, as it's major backdrop (well when Keanu Reeves isn't spending time in Hell). Hank Steuver in his review of the film says, "Hollywood really believes it's got a lock on the infernal...in the Goth mind-set of who-knows-how-many screenwriters, there can apparently be nothing creepier than a dive/dance bar populated by the demonic undead, in which you'll find your Lestats, your Lost Boys, your Catherine Deneuves."
To which we say, huh? Maybe we're just confused but doesn't The Lost Boys take place in the fictional town of Santa Clara (i.e. Santa Cruz) and what, exactly, does Catherine Deneuve have to do with hellbound movies based in Los Angeles? Dive bars in Los Angeles no less (full disclosure: she could very well be the starring demon in "The Devil Wears Prada" or some such film but we're not much up on our Catherine Deneuve beyond Indochine). Actually, we're scratching our heads a bit so maybe you can help us out. While we figure out which day we're going to see Keanu underact his way to another big box office weekend, you can tell us what other movies with hell-focused plots are based in Los Angeles.
We're probably just misreading his point though because we're thinking that the gothic architecture of New York City has been much more common in those kinds of flicks and a film critic obviously knows that.
But our question remains: When has the devil come west?