This is an archival story that predates current editorial management.
This archival content was written, edited, and published prior to LAist's acquisition by its current owner, Southern California Public Radio ("SCPR"). Content, such as language choice and subject matter, in archival articles therefore may not align with SCPR's current editorial standards. To learn more about those standards and why we make this distinction, please click here.
Hollywood is Hell
Support your source for local news!
The local news you read here every day is crafted for you, but right now, we need your help to keep it going. In these uncertain times, your support is even more important. Today, put a dollar value on the trustworthy reporting you rely on all year long. We can't hold those in power accountable and uplift voices from the community without your partnership. Thank you.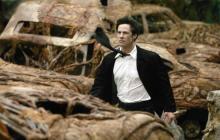 Speaking of Starring LA, Constantine opens this weekend with Los Angeles, Sunset Boulevard in particular, as it's major backdrop (well when Keanu Reeves isn't spending time in Hell). Hank Steuver in his review of the film says, "Hollywood really believes it's got a lock on the infernal...in the Goth mind-set of who-knows-how-many screenwriters, there can apparently be nothing creepier than a dive/dance bar populated by the demonic undead, in which you'll find your Lestats, your Lost Boys, your Catherine Deneuves."
To which we say, huh? Maybe we're just confused but doesn't The Lost Boys take place in the fictional town of Santa Clara (i.e. Santa Cruz) and what, exactly, does Catherine Deneuve have to do with hellbound movies based in Los Angeles? Dive bars in Los Angeles no less (full disclosure: she could very well be the starring demon in "The Devil Wears Prada" or some such film but we're not much up on our Catherine Deneuve beyond Indochine). Actually, we're scratching our heads a bit so maybe you can help us out. While we figure out which day we're going to see Keanu underact his way to another big box office weekend, you can tell us what other movies with hell-focused plots are based in Los Angeles.
We're probably just misreading his point though because we're thinking that the gothic architecture of New York City has been much more common in those kinds of flicks and a film critic obviously knows that.
But our question remains: When has the devil come west?
Cruise off the highway and hit locally-known spots for some tasty bites.

Fentanyl and other drugs fuel record deaths among people experiencing homelessness in L.A. County. From 2019 to 2021, deaths jumped 70% to more than 2,200 in a single year.

This fungi isn't a "fun guy." Here's what to do if you spot or suspect mold in your home.

Donald Trump was a fading TV presence when the WGA strike put a dent in network schedules.

Edward Bronstein died in March 2020 while officers were forcibly taking a blood sample after his detention.

A hike can be a beautiful backdrop as you build your connection with someone.