This is an archival story that predates current editorial management.
This archival content was written, edited, and published prior to LAist's acquisition by its current owner, Southern California Public Radio ("SCPR"). Content, such as language choice and subject matter, in archival articles therefore may not align with SCPR's current editorial standards. To learn more about those standards and why we make this distinction, please click here.
Here's What You Need To Know About Tuesday's L.A. City Election
Before you read more...
Dear reader, we're asking you to help us keep local news available for all. Your tax-deductible financial support keeps our stories free to read, instead of hidden behind paywalls. We believe when reliable local reporting is widely available, the entire community benefits. Thank you for investing in your neighborhood.
Ah yes, it's time for a Los Angeles city primary. On March 3, we have one of those rare elections where a single vote makes a big difference.
HOW DO I VOTE
So you're probably thinking, "Where the hell do I vote, and when?" (OK, maybe you're thinking, "What is this celery doing in my kale juice! I want my $9 back!" Bear with us.) Polls are open Tuesday, March 3, from 7 a.m. to 8 p.m., and you can find your polling place here by inputting your address. If you're not registered, or not registered at your current address, it's too late to register for this election, but you can register here and be eligible to vote starting with the next election, which is a city runoff vote in May.

L.A. City Hall (Photo by i_hate_my_screen_name via the LAist Featured Photos pool on Flickr)
WHAT'S ON THE BALLOT
On the ballot Tuesday are two important amendments to the city's elections laws, plus primaries for the even-numbered L.A. city council seats, and the LAUSD and L.A. Community College District boards. (If you're not in the city of L.A., you may have other local issues and candidates on your ballot.) The League of Women Voters has a helpful, nonpartisan guide to all the elections, candidates and positions on the ballot. If you're trying to figure out whom to vote for, the L.A. Times has considered, left-leaning endorsements. Here are endorsements from the L.A. County Democratic Party, and here are endorsements from the county's Republicans.
BIG CHANGE IN L.A. VOTING
The most important choice on the L.A. city ballot this time around is actually the one that affects the timing of city elections. In two ballot measures, city voters have the chance to put the city's elections on the same ballot as state and federal elections starting in the year 2020, rather than separate in "off-years" like they currently are. The change will increase turnout significantly. The current low-turnout elections in off-years bring out those obsessed with city politics—neighborhood activists and city employees especially—and sometimes give a little help to candidates with local support and less funding, but they leave out many who are affected by day-to-day city policies. Both public policy wonks and the city's biggest business and labor interests back the change, although sitting council members' terms would be lengthened by 18 months to bridge the gap to the new election date, giving them a whopping 5.5 year term. Interestingly, Mayor Eric Garcetti has stayed mum on the issue lately, which is ironic because he studied ways to increase turnout after the last city election, saying, "City Hall works better when we the people's voice is strong."
CITY COUNCIL GENDER BALANCE MAY SHIFT
There are more than 50 candidates up for positions on the L.A. city council and the LAUSD board, plus there are elections for the L.A. Community College District board. The city council has had an awful gender balance lately — 14 of the 15 council members are men, which is historically unusual on the L.A. city council — and voters have a chance to address that by nominating some women. The election lacks an overarching citywide theme, but voters remain concerned about transportation and dense development, plus the perennial issue of the city council's comically high salaries, which far exceed the pay for council members in other big cities.
BACK TO SCHOOL
Meanwhile at the school district, charter schools are the hot topic, and candidates are championing reform after the district's $1 billion iPad fiasco. At the college district board, little-known trustees control a multi-billion dollar budget, and their role will be more important than ever as the Obama administration moves to subsidize community college tuition — half of the college district's students fall under the poverty line.

Outgoing longtime city councilmen Tom LaBonge (left) and Bernard Parks (photos via CD4 and CD12 websites)
TWO INFLUENTIAL CITY FIGURES ARE OUT
Voters in a couple districts will get to nominate successors to two major city figures who are forced out this year by term limits: Councilman Bernard Parks, the former LAPD chief who represents South L.A., and Councilman Tom LaBonge, who represents influential, wealthy chunks of Los Feliz, Hollywood, mid-city and Sherman Oaks.
In district four, LaBonge's exit has thrown a highly engaged constituency into an all-out melee, attracting 14 candidates, all keen to address the district's concerns about traffic, giant condo developments and McMansions. Among those who have a chance at winning are education activist Tomas O'Grady, who polled a surprisingly high 31% running against LaBonge for this seat in 2011; Sheila Irani, a former LaBonge aide with an MBA from UCLA and the Times' endorsement; Teddy Davis, a former aide to Mayor Antonio Villaraigosa and Governor Gray Davis who won an Emmy as a political journalist a few years back; and Jay Beeber, a neighborhood activist who was an important player in getting rid of the city's red light cameras. The leading fundraiser in the race is David Ryu, a mental hospital executive, so he has a shot too. Oh yeah, and there's also some dude who calls himself a "vapor advocate."
In district eight, Parks has been organized labor's biggest enemy on the city council for the last 12 years, fighting ballooning city salary and pension costs, and attracting a fierce but failed attack from city unions in 2011. There are four candidates for his seat, in a district where joblessness, lousy economic development and police brutality are big concerns. The biggest fundraiser in the race, and the L.A. Times' favorite for the seat, is Marqueece Harris-Dawson, a nonprofit executive who says government projects are the best hope to bring jobs to the district. Local Democratic groups, however, have thrown support behind Bobbie Jean Anderson, a longtime neighborhood activist, ex-public defender's office employee, political aide and former LAPD commissioner who also has Parks' endorsement.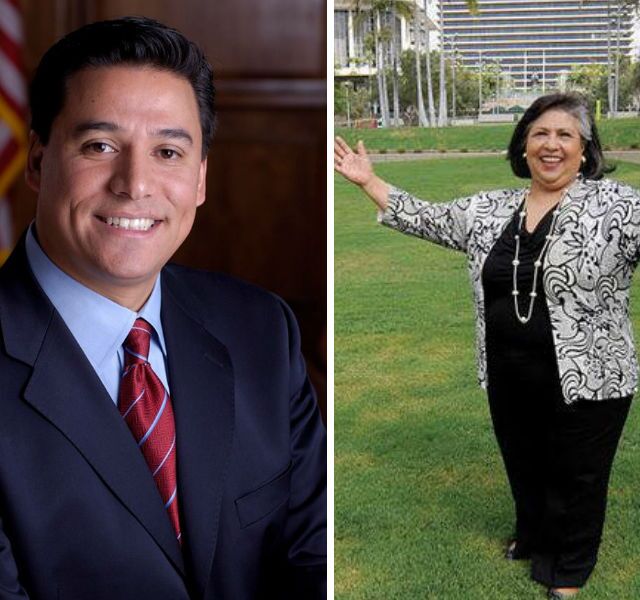 City council candidates Councilman Jose Huizar and former Supervisor Gloria Molina (photos via candidates' Facebook pages)
MOLINA TAKES ON EASTSIDE'S HUIZAR
The race that figures to be the most bloody is in the 14th district. Incumbent Councilman Jose Huizar, who represents downtown, Highland Park and Boyle Heights and has been nagged by allegations of wrongdoing over the years (there was a sexual harassment complaint, now settled, and an investigation over union payments for which he was never charged), faces a powerful challenger, former L.A. County Supervisor Gloria Molina. They're jousting over two old chestnuts of L.A. politics: development and traffic, both hot topics downtown — and topics that play to Huizar's strengths, as his terms on the council have coincided with both a boom in downtown development and the gentrification of Highland Park. But this probably won't be their final showdown: the two are well-established players, so both will probably make it through Tuesday's election to May's city runoff election.
That's it! Get out and vote, and tell your pollworkers, "Namaste."