This is an archival story that predates current editorial management.
This archival content was written, edited, and published prior to LAist's acquisition by its current owner, Southern California Public Radio ("SCPR"). Content, such as language choice and subject matter, in archival articles therefore may not align with SCPR's current editorial standards. To learn more about those standards and why we make this distinction, please click here.
Have Facebook & Twitter Updates Gone Too Far?
Before you read more...
Dear reader, we're asking you to help us keep local news available for all. Your tax-deductible financial support keeps our stories free to read, instead of hidden behind paywalls. We believe when reliable local reporting is widely available, the entire community benefits. Thank you for investing in your neighborhood.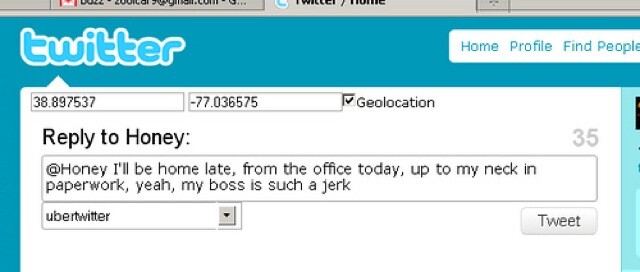 Photo by Zoolcar9 via Flickr
Our society can now be characterized with the phrase TMI (too much information), according the Daily Breeze. Facebook, status updates, Twitter, and other social media sites all share a part in this trend toward "oversharing" and privacy disregard.
"People report in studies that they care deeply about privacy," said Ryan Calo, a fellow at Stanford Law School's Center for Internet and Society, in an interview with the paper. "But then people don't seem to act in a way that protects their privacy."
Case in point, the Daily Breeze ledes with this shocking Facebook status from a guy in Kentucky: "This goes out to any girl that ive ever been with. I got tested today for Herpes and i came out positive." And when asked about the comment he confirmed it was sincere.
In an effort to understand this willingness to share everything at all times I decided to see what Facebook/Twitter updates I could find that may prove that, as a whole, we need to step back and reevaluate the shrewdness of privacy.
Around 9:55 a.m. this morning @TrendyOrDare complains about not having privacy "I wish I had some headphones and some privacy" so instead he tweets it to the world.
Or around 10:26 a.m. @AuthenticNieceS said "ok so i was in my mums bathroom cupboard lookin for conditioner.... why i see strawberry flavored condoms in there? I AINT PUT THEM THERE!"
Some times these things just make you stop and think, was that really necessary?
Around 9:50 a.m. @JesSTD retweeted @DPKoopa: "I have a confession....I've got like 90% of the STDs. But this is my year! I'm gonna get catch 'em all!"
But what is even more shocking than the tweets is that, most of the time, it is fairly easy to track down the author of such comments. Most people have pictures, links to their facebook, websites, or blogs, and a complete history of everything they have done and where.
Mashable.com posted a story on Twitter marriage proposals and even found footage of a man changing his relationship status at the altar.

Photo by The Intrepid Traveler via Flickr
But what we put on the Internet carries farther than we think. Robert Ellis Smith, publisher of Privacy Journal, told the Daily Breeze, "Facebook involves lots of young persons who either are not old enough to give meaningful consent or have not had enough life experience to know the consequences."Students should be aware that employers look at their Facebook/Twitter/blogs even before they go into an interview, and thus already have preconceived ideas of the kind of person they are.
But jobs are not the only thing that can be affected. The American Academy of Matrimonial Lawyers reported that 81 percent of the lawyers have involved evidence from Facebook, Myspace, Twitter, and even Match.com sites in divorce cases.
Divorce Attorney Leslie Matthews stated in an article with the Associated Press, "People don't yet quite connect what they're saying in their divorce cases is completely different from what they're saying on Facebook. It doesn't even occur to them that they'd be found out."
The consequences of privacy indiscretion are far reaching, but bottom line privacy is about safety. A YouTube video posted by amfam said that in "2009 1.7 million online households experienced identity theft related to social media." The video also warned against even submitting a birthday let alone a street address on Facebook.
All someone has to do is piece together the hundreds of updates, tweets, and comments made in public domain and a person's whole identity and information is frighteningly accessible. But we continue to live in denial of this reality and according to Calo there is disconnect between what people say about privacy and how they actually act.