Goodbye to the birthplace of the Mai Tai?
LAist relies on your reader support, not paywalls.
Freely accessible local news is vital. Please power our reporters and help keep us independent with a donation today.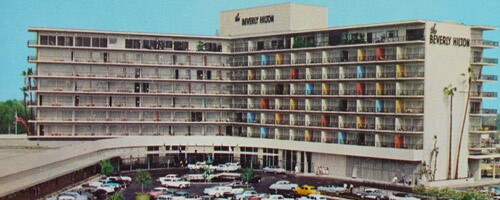 As has been noted elsewhere, the LA Business Journal is reporting that Trader Vic's may soon be history. The bar and restaurant at the Beverly Hilton, which are rumored to be where the Mai Tai was invented, will be replaced by luxury condos and more hotel rooms, if the developer gets approval.
The original hotel structure, by noted mid-century architect Welton Beckett, will remain, kind of. Somehow the hotel will lose 96 hotel rooms even as three new towers — one 15 stories, two 13 stories — are built; they'll loom over the existing 8-story building. (As a side note, who deliberately builds a 13th floor?)
We hate to see landmarks threatened, even though the highlight of our one visit to Trader Vic's was the wombat-sized rat in the parking lot. Plus we had to share our vintage postcard of the Beverly Hilton (above). The text on the back sounds like it was written by Donald Trump:
The Beverly Hilton - Beverly Hills, California - the most sumptuous hotel in the world. Features 450 air-conditioned rooms, sunken swimming pool, cabanas, smart shops, four distinctive restaurants, five superb cocktail lounges and parking for 1,000 cars.
Would you miss Trader Vic's if it were razed?