This is an archival story that predates current editorial management.
This archival content was written, edited, and published prior to LAist's acquisition by its current owner, Southern California Public Radio ("SCPR"). Content, such as language choice and subject matter, in archival articles therefore may not align with SCPR's current editorial standards. To learn more about those standards and why we make this distinction, please click here.
Fred Thompson Gets His Close-Up
Before you read this story...
Dear reader, we're asking for your help to keep local reporting available for all. Your financial support keeps stories like this one free to read, instead of hidden behind paywalls. We believe when reliable local reporting is widely available, the entire community benefits. Thank you for investing in your neighborhood.
The former Tennessee senator Fred Thompson got into his first GOP presidential debate this afternoon in Michigan. He waited until this late date to save money and create a gameplan before entering the race.
Unfortunately after his weak appearance in the debate today, and the fact that he looked like death warmed-over, Republicans have to be disappointed that their new Reagan was far from camera-ready.
No, we're not an image-obsessed nation. And in LA, what someone looks like is second only to the quality of their character. When pretty much everyone on the stage believes in the same thing (support of the war, no new taxes, business as usual in regards to the environment education and health care) you can't help but do things like count the number of wrinkles in the old guy's forehead.
It might even make you pause the debate and dig up your camera.
This is the face of the GOP. The golden boy. The hero. Can't vote for Rudy cuz he believes that women have the right to decide what happens with their bodies, can't vote for Mitt cuz he's a damn Mormon who spent time in Massachusetts for some reason, can't vote for McCain because he's insane, and can't vote for Ron Paul because we like to be the world police, dummy.
So everyone waited for their closer to arrive from the bullpen and there he is. Game Over.
The debates today showed that not even guys who have no chance of winning were scared or impressed by what Thompson had to say.
In fact it inspired Mr. Pointy to send a shout-out to his peeps in Diego because as long as you followed Fred Thompson, nothing you could say would sound bad.
Mike Huckabee took advantage of it by being the anti-Thompson; adorable to big Fred's tough, intellectual to Fred's gruffness.
It was cute.
Sadly nothing Fred Thompson could do was cute. He just looked freakish up there with those bags and lines. Someone give the lighting and makeup people at Law & Order some Emmys because for some reason even McCain looked fine,
Rudy looked fine
And of course Mitt looked fine, he looks prettier than most girls.
Even pretty girls.
So then we waited for big Fred to smile. We drank whenever we caught someone smiling. Huckabee... drink.
McCain. We say... MCCAIN
drink... Mitt?
Drink. That dude Tancredo who we can't even believe is still doing this...
drink. Rudy...
Oh thats a good one. drink. Ron Paul?
Easy grampa. I don't think the founders are gonna let us drink on that one. Fred?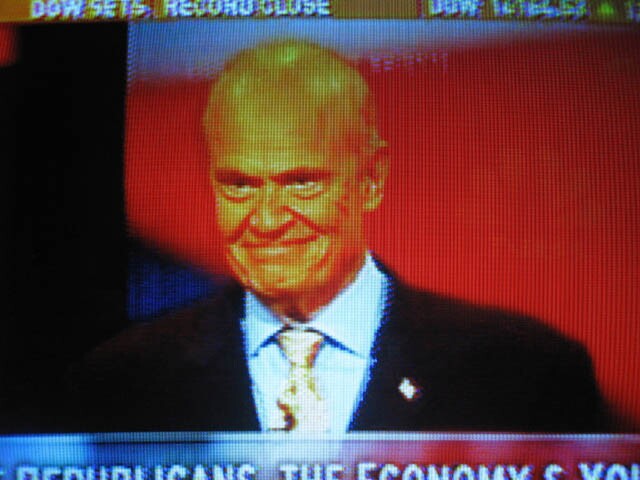 Nice. ok drink.
Now where were we? Oh yeah. Looks like its gonna be Mitt by a landslide. We tried to find even a bad frame from that guy and nothin. He's in. The left is throwing a black dude and a woman after them and the right are gonna fight back with a Mormon.
We can see why you had your hopes on this guy, but even Al Gore could beat that right now.
The Debate reruns tonight at 6pm on MSNBC