This is an archival story that predates current editorial management.
This archival content was written, edited, and published prior to LAist's acquisition by its current owner, Southern California Public Radio ("SCPR"). Content, such as language choice and subject matter, in archival articles therefore may not align with SCPR's current editorial standards. To learn more about those standards and why we make this distinction, please click here.
13 Over-The-Top Desserts In Los Angeles
Support your source for local news!
Today, put a dollar value on the trustworthy reporting you rely on all year long. The local news you read here every day is crafted for you, but right now, we need your help to keep it going. In these uncertain times, your support is even more important. We can't hold those in power accountable and uplift voices from the community without your partnership. Thank you.
Some may say that we are living in the dark age of dessert, but there's plenty of creativity cropping up in the world of sweets. It's certainly not as technique-driven as what you might find wrapping up a nine-course tasting menu at Chicago's Alinea. But in terms of creativity, sheer indulgence and accessibility, the time is now, especially if you're an average Joe on the hunt for absurd, over-the-top offerings. Here are some of the wackiest desserts around town.

Cookie shots (Photo by Krista Simmons/LAist)
Cookie Shots at Platine
When we heard that Platine Cookies in Culver City had knocked off Dominique Ansel's genius shooters, we couldn't have been more excited. They are served with cookie-infused milk that's poured into a dark chocolate-lined cookie shot glass. The cookie is baked into this shape by using what looks like a giant canelé mold. The dough is still the slightest bit chewy, but its structure as a vessel for liquid remains intact from the hardened chocolate on the inside of the glass. The shot can be served warm or at room temp, but who can turn down a warm cookie when it's offered, right? It's ridiculous and delicious all at the same time.
Platine Cookies is located at 10850 W Washington Blvd, Culver City, (310) 559-9933
Ritz Cracker Bars at The Cafe At The Line
Roy Choi is the godfather of modern fusion, so it seems fitting that he'd dabble in crazy desserts like the Sriracha chocolate bars at Chego and the newer Ritz bars at the Cafe at the Line Hotel. Both tap into that fabulous combo of savory and sweet, with the Sriracha bar having just the right amount of heat to keep you coming back for more. The Ritz Bar seems like something a stoner might have created considering that it includes butter toffee crust with Ritz crackers, saltines, cornflakes, semisweet chocolate and pecans, but the smorgasbord of snack foods totally works.
The Cafe At The Line is located at 3515 Wilshire Blvd. in Koreatown, (213) 381-7411

The Cronuts™at Dominique Ansel in New York (Photo by Marc Yearsley/Gothamist)
Cronuts
Chef Dominique Ansel, the creator of the Cronut, a cream-filled, croissant-donut hybrid that went viral and has drawn huge lines in New York since its inception, came to L.A. for a one-day pop-up shop at Barney's, and naturally drew quite a crowd. There are plenty of knock-offs of his classic creation around town. We have a list of the best here, but we have to say that none are quite as good as the original—especially if you can hop the queue because a friend has pre-ordered them and you didn't have to wait in line.
Cronuts are available at available at various locations. Here's our list of where you can find some of the best in town.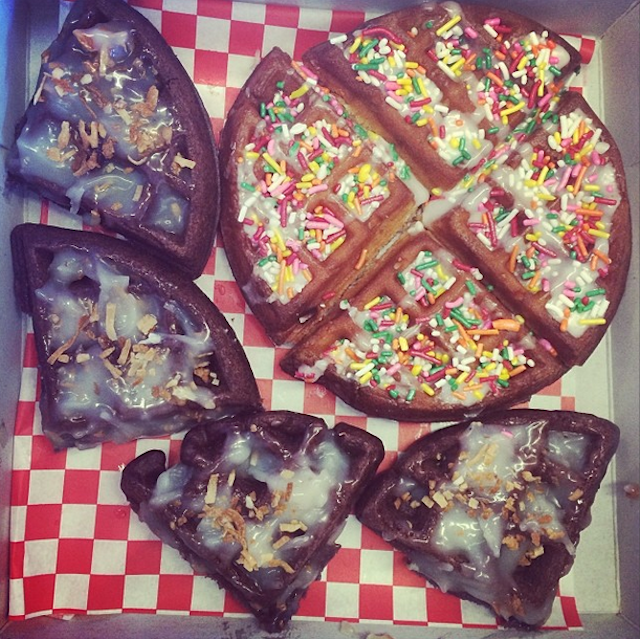 DK's Donuts' Wow-nut creations (Photo via DK's Donuts' Instagram)
Waffle Donuts at DK's Donuts
DK's Donuts in Santa Monica is whipping up their own version of Chicago's Waffle Cafe treat dubbed the "WOW-nut." The dough of the WOW-nuts are a blend of waffle-and-donut batter. There's yeast in the dough which makes donuts rise and sets it apart from just regular waffles. DK's Donuts owners take the batter and put it in a cast-iron waffle maker and then deep fry them like donuts. It surfaced in April and combines our love for decadent things—deep-fried goodness (waffles, in this case) that are smothered in glaze and toppings. It's truly beautiful. —Jean Trinh
DK's Donuts is located at 1614 Santa Monica Blvd, Santa Monica, (310) 829-2512
The Kitchen Sink at Culina Modern Italian
Culina Modern Italianat the Four Seasons has a relatively restrained menu, save for their over-the-top dessert called The Kitchen Sink. It does indeed live up to its name, and piles pretty much every dessert item you could ever want—ice cream, sorbet, meringues, candies and cookies—into one bowl. It's definitely meant to be shared.
Culina Modern Italian is located at 300 S Doheny Dr, Los Angeles, (310) 860-4000

Photo courtesy of Donut Friend on Facebook
Build Your Own Donut at Donut Friend
Donut Friend applies Chipotle and Subway's popular concept of DIY customization to donuts, allowing you to play sugar god. The shop is the brainchild of rock n' roll biz pro Mark Trombino, a drummer turned producer whose name is on projects from bands like Jimmy Eat World and Blink-182. When one or more of the nearly two dozen donut selections won't do, dream up your own by picking your own donut base (we'd recommend skipping the dry chocolate cake) plus filling plus glaze plus topping. Some popular flavor combos have been the gluten-free donut filled with fig jam, with a honey glaze topped with pistachios and the classic cake donut stuffed with lime curd, drizzled with lemon and sprinkled with Sichuan spice.
Donut Friend is located at 5107 York Blvd, Los Angeles, (213) 995-6191
The Larder Bar at The Larder At Tavern
When it comes to picnicking, the Larder is definitely one of our favorite spots. And though their boxes come with plenty of delightful items, a must-add is their $22 chocolate bar made by Valerie. We know—we turned up our nose at the price point at first too. But it's a massive block that's filled with some of the best ingredients—all from California. Think sweet dried figs and apricots and Marcona almonds dipped in rich, luxurious milk chocolate. We're pretty sure there are unicorn horns and rainbows in there, too.
The Larder is located at 8500 S San Vicente Blvd, Los Angeles, (310) 278-8060

The strawberry tomato basil smoothie with romaine lettuce is shockingly good (Photo by Krista Simmons/LAist)
Strawberry Tomato Basil Shake at Stamp Proper Foods
Stamp Proper Foods blends up a strawberry tomato basil smoothie with romaine lettuce that is shockingly good. When we first read the menu we were secretly hoping to make a snarky Instagram update about how juicing has gone too far, but honestly, it's delicious—the perfect balance of sweet and savory. Plus, it's the perfect way to right the wrongs of the many sweets you'll be eating after this post.
Stamp Proper Foods is located at 4500 Los Feliz Blvd., Los Feliz, (323) 953-5181
Brown Bread Ice Cream at Scoops
The folks at Scoops are notorious for coming up with some crazy flavor combinations, but their palates are so darn good that they're usually winners. The brown bread, made uber-malty and toasty by using old-school Grape Nuts cereal, is a personal favorite. They also have a suggestion board so that customers can have creative input on the menu (our favorite? "the smell of a baby's head"), and offer interesting nondairy options like today's Cinnamon Molasses Tahini.
Scoops is located at 3400 Overland Ave, Los Angeles, (323) 405-7055
Beer Floats at Golden State
Beer floats are hardly a new thing, but you can't argue with the combo of two of our greatest Earthling creations: beer and ice cream. The Golden State—which also happens to be the purveyor of one of our favorite burgers in L.A.—makes an excellent version. For $8, you'll get a spoonful of the aforementioned Scoops brown bread ice cream splashed into a pint of Old Rasputin. We also suggest doing a DIY and grabbing a pint of Eagle Rock's dark Solidarity ale and mixing it with McConnell's ice cream. It's the perfect makings for Friday movie night.
Golden State is located at 426 N Fairfax Ave, Los Angeles, (323) 782-8331

Photo by Krista Simmons/LAist
Cupcake Topped Ice Cream
Sprinkles has turned themselves into an iconic L.A. cupcake empire, with their vending machine and Grove locations having lines at all hours of the night. (Move over Pink's!) Though the ice cream shop that's attached to their Beverly Hills location does offer some too-sweet options, it would be a mistake not to mention them when it comes to over-the-top desserts. Their scoops come with a cupcake top garnish and other fixins too, if you'd like.
Sprinkles has various locations. Visit their website here for more info.
Sweet Grilled Cheese Sammies at Greenspan's
Greenspan's Grilled Cheese may have taken a while to open, but it was worth the wait. Chef Eric Greenspan does the American classic justice with its savory iterations, as well as in dessert land. The Elvis, made with white bread, banana, and peanut butter cream cheese, is a heart attack waiting to happen, but man is it good.
Greenspan's Grilled Cheese is located at 7465 Melrose Ave, Los Angeles

Photo courtesy of Del Rey Deli on Facebook
The Elvis Pie at Del Rey Deli
Speaking of The King, Del Rey Deli does their own tribute with a pie that'll take you over the moon. It starts with a graham cracker crust that's topped with peanut butter mousse, bananas, banana cream and chocolate ganache in a graham cracker crust. It's super rich, so plan to share with at least a few friends.
Del Rey Deli is located at 8501 Pershing Dr, Playa Del Rey, (310) 439-2256
How to get the best eggs in town without leaving your yard.

Beautiful views aren't the only thing drawing Angelenos to the region

Gab Chabrán reflects on growing up in L.A. in a Latino home that doesn't celebrate Thanksgiving and the traditions they formed instead.

Oklahoma-style smash burgers and Georgian dumplings make for some excellent cheap bites in Glendale

Husband and wife Felix Agyei and Hazel Rojas combine food from their heritages, creating a marriage of West African and Filipino cooking

Baby Yoda cocktails. Boozy Dole Whips. Volcanic tiki drinks. If you can dream it, they're probably mixing it somewhere on property.