Throw-Down-Goliath Nacho Hot Dogs
LAist relies on your reader support.
Your tax-deductible gift today powers our reporters and keeps us independent. We rely on you, our reader, not paywalls to stay funded because we believe important news and information should be freely accessible to all.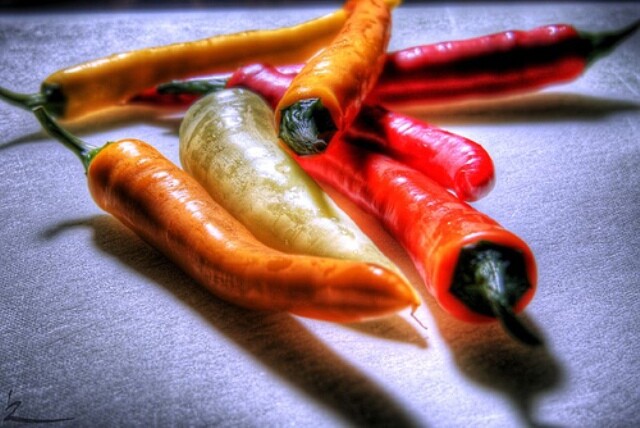 Did any of you catch Bobby Flay's Throwdown the other night? It's the show where he goes to different cities across the world and challenges some legendary food purveyor that his version of whatever traditional city food they're making will win a blind taste test. Usually, he loses, cause I mean COME ON: can anybody really make a cheese steak better than a Philly native? What about fish n' chips from some grotty bar in the East End? Bobby Flay put ancho chili powder in his fish batter, which is cool, but it ain't Brit-ish.
Well, turns out he visited Pink's - yup, the classic hot dog stand on La Brea whose insanely long lines forced LAist to rail against their yes-better-than-average-but-NOT-worth-that-line dogs a few weeks back.* And did he manage to put in at least respectable effort versus that colossus of home-town hotdogginess?
Um, yeah. He won. Mostly by virtue of his Nacho Hot Dogs, which seemed to wow the judges with flavor and freshness (not that there's anything WRONG with hot dogs coated in bacon). He also wowed the crowd with his New York Dog, which paired a roasted red pepper relish with caramelized onion sauce and horseradish mustard, and a Texas Dog topped with homemade barbecue sauce, coleslaw, and a pickle spear.
So, of course we had to MAKE these Goliath-slaying hot dogs. Not once, not twice, but three times we fed the Nacho Dogs to our various Hungry Masses, and we even threw together his Grilled Tomato Salsa (recipe below!) at the famed 1st Annual LAist Memorial Day BBQ In Honor of L. Ron Hubbard.** That's right, total on-the-spot party cooking! Everybody was wondering why there were tomatoes on top of the keg (a fine Craftsman brew from Pasadena), but then we sliced through them with a pocket knife, put them face-down over the flames, and let them grill away happily next to the Dodger Dogs and Hebrew Nationals.