This is an archival story that predates current editorial management.
This archival content was written, edited, and published prior to LAist's acquisition by its current owner, Southern California Public Radio ("SCPR"). Content, such as language choice and subject matter, in archival articles therefore may not align with SCPR's current editorial standards. To learn more about those standards and why we make this distinction, please click here.
Throw-Down-Goliath Nacho Hot Dogs
Support your source for local news!
The local news you read here every day is crafted for you, but right now, we need your help to keep it going. In these uncertain times, your support is even more important. Today, put a dollar value on the trustworthy reporting you rely on all year long. We can't hold those in power accountable and uplift voices from the community without your partnership. Thank you.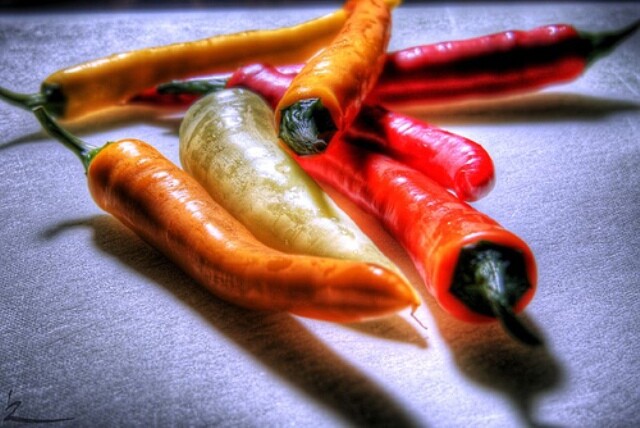 Did any of you catch Bobby Flay's Throwdown the other night? It's the show where he goes to different cities across the world and challenges some legendary food purveyor that his version of whatever traditional city food they're making will win a blind taste test. Usually, he loses, cause I mean COME ON: can anybody really make a cheese steak better than a Philly native? What about fish n' chips from some grotty bar in the East End? Bobby Flay put ancho chili powder in his fish batter, which is cool, but it ain't Brit-ish.
Well, turns out he visited Pink's - yup, the classic hot dog stand on La Brea whose insanely long lines forced LAist to rail against their yes-better-than-average-but-NOT-worth-that-line dogs a few weeks back.* And did he manage to put in at least respectable effort versus that colossus of home-town hotdogginess?
Um, yeah. He won. Mostly by virtue of his Nacho Hot Dogs, which seemed to wow the judges with flavor and freshness (not that there's anything WRONG with hot dogs coated in bacon). He also wowed the crowd with his New York Dog, which paired a roasted red pepper relish with caramelized onion sauce and horseradish mustard, and a Texas Dog topped with homemade barbecue sauce, coleslaw, and a pickle spear.
So, of course we had to MAKE these Goliath-slaying hot dogs. Not once, not twice, but three times we fed the Nacho Dogs to our various Hungry Masses, and we even threw together his Grilled Tomato Salsa (recipe below!) at the famed 1st Annual LAist Memorial Day BBQ In Honor of L. Ron Hubbard.** That's right, total on-the-spot party cooking! Everybody was wondering why there were tomatoes on top of the keg (a fine Craftsman brew from Pasadena), but then we sliced through them with a pocket knife, put them face-down over the flames, and let them grill away happily next to the Dodger Dogs and Hebrew Nationals.
You gotta throw together some good guac to go on top of those dogs (recipe...below), and make sure you pack the jalapenos, the cheese (cheddar!), blue corn tortilla chips (to crush up and sprinke on top), minced red onion and this easy salsa: take grilled tomatoes (4 large tomatoes will make enough salsa for a sizable hot dog party) off the Weber. Chop them up and try to get rid of as many seeds as possible. Throw into a large bowl with about one quarter of minced red onion, a tablespoon of minced chipotle in adobo sauce, a dash or two of red wine vinegar, and lots of salt and pepper.
For the guacamole, smash up four large avocados. Add a tablespoon or two of freshly squeezed lime juice, another quarter of that minced red onion, one large diced jalapeno, a handful of minced cilantro, and salt and pepper. That's a pretty basic recipe, but you can jazz it up more if you'd like: I also usually add a few pinches each of garlic powder, cumin, and cayenne; I'll also add another tablespoon of that chipotle in adobo (since you've already opened the can for the salsa, you might as well keep using it).
Once your dog is toasty and your buns are warm, stack on the ingredients: dog, then guacamole, then salsa, then onions and cheese. Garnish with pickled jalapenos, crushed blue corn chips, and a sprig or two of cilantro.
*No, we don't think the Throwdown people got the idea based on our post, as complimentary as that might be. It looked like they filmed the episode last July, and through the Magic of Television Editing Process, it took this long to show the episode. We continue to flatter ourselves that we have our finger on the Collective Pulse of a Culinary Nation, however.
**No, not REALLY, although you could say we all basked in the cheery blue glow of ol' L. Ron's real-estate patronage.
Photo by inkyfingerz via flickr
Cruise off the highway and hit locally-known spots for some tasty bites.

Los Angeles-based restaurant owners rejoice as a new ordinance makes its way to the city council.

The new season of LAist Studios' WILD podcast is a fictional rom-com set in Southeast L.A. Diners play a big role in fostering conversation between the shows' two hosts this season. Here are host Erick Galindo's must-visit L.A. diners — whether you like breakfast or not.

The new season of LAist Studios' WILD podcast is a fictional rom-com set in Southeast L.A. Donuts play a big role in episode two of the show. Here are some of our favorite, wildly creative, and iconic donut shops in Los Angeles.

Cheap Fast Eats visits one of L.A.'s most distinctive neighborhoods for some nighttime bites.

How to get the best eggs in town without leaving your yard.