Simply Wrong Food: The Bacon Cheddar Gordita Crunch
Stories like these are only possible with your help!
You have the power to keep local news strong for the coming months. Your financial support today keeps our reporters ready to meet the needs of our city. Thank you for investing in your community.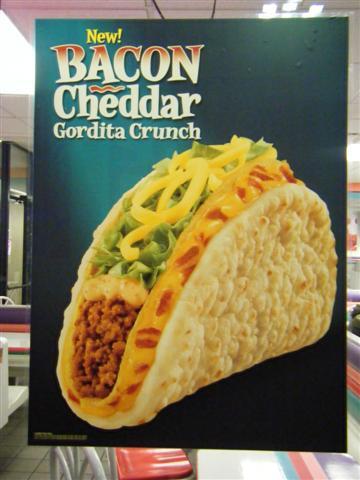 You know how deep fried Mars bars were supposedly invented by drunken chip shop workers? I think that is how Taco Bell's Bacon Gordita Crunch came about. Now don't get us wrong, here at LAist we are bacon people. In fact, we are official Facebook fans of bacon, and it doesn't get any more real than that. We have eaten bacon in ice cream, covered in chocolate, and illegally wrapped around hot dogs. But some things simply don't go with bacon and one of them is tacos.
Then there is the Zesty Southwest Cheddar sauce, an abomination to all that is right in the world of gastronomy. The mother sauces of Paris would curdle in horror at the thought. In fact, even McDonald's "secret sauce" would hang its head in shame.
Finally, the whole idea of the gordita is perplexing. Someone must have noticed the glue-like properties of the cheese sauce and spent all night trying to find things to glue together, It's a crunchy taco! It's a soft taco! It's two tacos in one. It's 600 fat-laden calories!
Now add these three things together and you have probably the worst thing I have ever put in my mouth in the name of LAist. And I have eaten duck tongues for you people!