This is an archival story that predates current editorial management.
This archival content was written, edited, and published prior to LAist's acquisition by its current owner, Southern California Public Radio ("SCPR"). Content, such as language choice and subject matter, in archival articles therefore may not align with SCPR's current editorial standards. To learn more about those standards and why we make this distinction, please click here.
Lunch at Katsuya: LAist Quick Pick
Before you read more...
Dear reader, we're asking you to help us keep local news available for all. Your financial support keeps our stories free to read, instead of hidden behind paywalls. We believe when reliable local reporting is widely available, the entire community benefits. Thank you for investing in your neighborhood.
Food bloggers Potatomato must have their Foodie Batphone connected to my psyche: after finishing a delightful and surprisingly inexpensive lunch at the new Phillip Starck-designed Katsuya in Hollywood, I jumped on the Internet to see what the bloggers had to say about this upscale sushi restaurant/bar/lounge. And what do you know, but those intrepid foodies had cased the joint only days before me.
Katsuya is one of those places that I would normally consider a little too chi-chi for everyday dining. If the boss wants to take the team out for cocktails? Maybe. Mom and Dad are in town and looking for a ritzy Hollywood dining experience? Sure thing. But a normal night out on the town? I can get good sushi for under $50 (based on a two-person meal, plus alcohol) in plenty of places in this town. I don't need to spend a cool hundred for arty decor and louche, high-fashion fellow diners.
But I read a review on Chowhound that made me reconsider my approach to Katsuya. Why not try out the lunch menu (I work within walking distance) and experiment with some of the hot dishes, instead of gorging on sushi (cause you know how sushi can be a real wallet-killer). I, too, was pleasantly surprised by Katsuya as a solid lunch choice.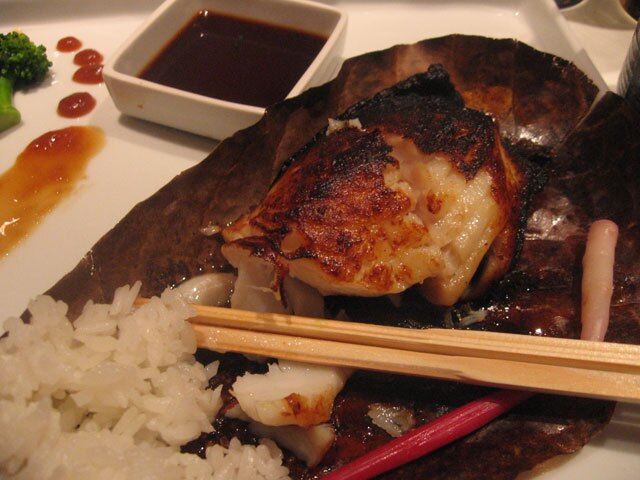 The slab of baked miso cod, a meal that comes complete with salad, soup, rice, and side veggies, is a perfect little luxury without being an expense: only $12 for a beautifully presented, filling, healthy, and exquisite-tasting meal. Thanks for the recommend, Chowhounders! There are lots of other savory lunch picks on the menu, including very reasonably-priced teriyaki meals and sushi specials. If you stick with water, you could easily get out of Katsuya at lunch time for under $15. Of course, it's hard to resist the sushi and the sake, but I still bet you that even a $30 splurge (where was that expense account again?) would make you a very full and happy Katsuya patron.
My companion went for the cajun-style halibut cheek with mustard sauce, which, while slightly more expensive for a much smaller portion of fish ($14), was redeemingly delicious. The chefs at Katsuya seem totally at home handling delicate cuts of fish, and I am glad to say that both of our meals were perfectly cooked: falling apart at the touch of a fork, moist, and seasoned with a light touch. The texture and taste of both the cod and the halibut were highlighted, rather than masked with heavy spices. The tastiest bit of the cod was the skin, charred to a crispy texture and rich with gooey fish fats (hey man, where do you think all those Omega-3's come from?).
I wouldn't say this was a meal that could satisfy a grown man on his lunch break: a side of rice or a sushi roll would definitely be necessary (luckily my lunch date had my rice and fish to nibble on as well -- that cod was a serious meal!). But luckily Katsuya is also not stingy with the appetizers: we wanted some edamame to stimulate our palates, and thankfully the kitchen portions out those soybeans by the bucketful.
The service was Hollywood-attentive (oh thank you, fabulous and attractive waiter for your exhaustive pitch of the specials and recommended plates!), and, well, I don't need to tell you that the space itself is quite luxe. The lunch service started hopping around 1pm, and the dining room was filled with happy industry and local types.
I'll be quite honest with you, even $15 for lunch is still a bit rich for my blood, but Katsuya is definitely worth a monthly splurge, and it looks like it would be great for a sophisticated date or outing with co-workers.
6300 Hollywood Blvd
Hollywood, CA 90028
Phone: (323) 871-8777