Halloween Party Time: Hotter than Hades
LAist relies on your reader support, not paywalls.
Freely accessible local news is vital. Please power our reporters and help keep us independent with a donation today.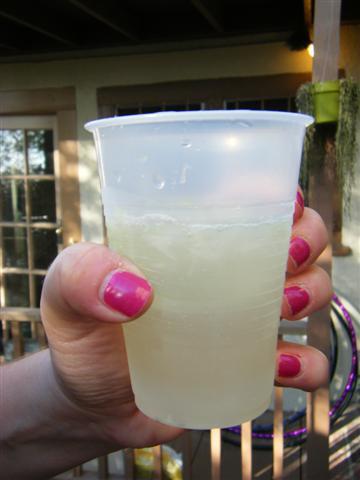 When we got tired of orange, sugary, pumpkin-related party foods, somehow spiciness became a popular Halloween party theme. Maybe it has something to do with the fires of hell. Why question it? Just enjoy!
This drink is made with Cachaça (ka-SHA-sa), which is a Brazilian spirit classified as rum, but distilled with pure cane juice rather than molasses. It is the main ingredient in the mojito-of-the-future, the Caipirinha (kai-pur-EEN-ya).
The Cucumber Jalapeno Caipirinha
2 oz. Leblon Cachaça
1/8 inch Jalapeno
3/6 lime (cut in wedges/pieces)
2 Slices of english cucumber (1⁄4 thick each)
3⁄4 oz. Agave nectar
Muddle all ingredients in a shaker, then add ice and Leblon Cachaça. Shake vigorously and strain into a martini glass. Garnish with a cucumber (or a jalapeno, or a little tiny pitchfork).
Photo by Elise Thompson for LAist. Hand model's identity will not be revealed even under threat of torture.