Halloween Party Time: Hotter than Hades
Stories like these are only possible with your help!
Your donation today keeps LAist independent, ready to meet the needs of our city, and paywall free. Thank you for your partnership, we can't do this without you.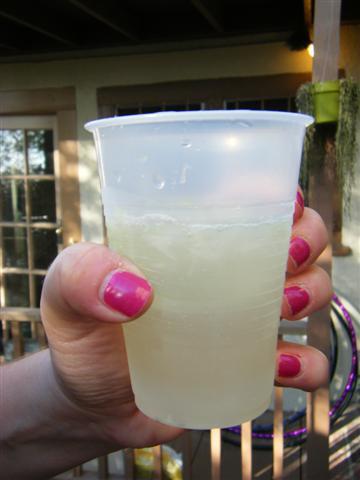 When we got tired of orange, sugary, pumpkin-related party foods, somehow spiciness became a popular Halloween party theme. Maybe it has something to do with the fires of hell. Why question it? Just enjoy!
This drink is made with Cachaça (ka-SHA-sa), which is a Brazilian spirit classified as rum, but distilled with pure cane juice rather than molasses. It is the main ingredient in the mojito-of-the-future, the Caipirinha (kai-pur-EEN-ya).
The Cucumber Jalapeno Caipirinha
2 oz. Leblon Cachaça
1/8 inch Jalapeno
3/6 lime (cut in wedges/pieces)
2 Slices of english cucumber (1⁄4 thick each)
3⁄4 oz. Agave nectar
Muddle all ingredients in a shaker, then add ice and Leblon Cachaça. Shake vigorously and strain into a martini glass. Garnish with a cucumber (or a jalapeno, or a little tiny pitchfork).
Photo by Elise Thompson for LAist. Hand model's identity will not be revealed even under threat of torture.