This is an archival story that predates current editorial management.
This archival content was written, edited, and published prior to LAist's acquisition by its current owner, Southern California Public Radio ("SCPR"). Content, such as language choice and subject matter, in archival articles therefore may not align with SCPR's current editorial standards. To learn more about those standards and why we make this distinction, please click here.
Checking in at Covell, Los Feliz's Newest Wine Bar
Before you read this story...
Dear reader, we're asking for your help to keep local reporting available for all. Your financial support keeps stories like this one free to read, instead of hidden behind paywalls. We believe when reliable local reporting is widely available, the entire community benefits. Thank you for investing in your neighborhood.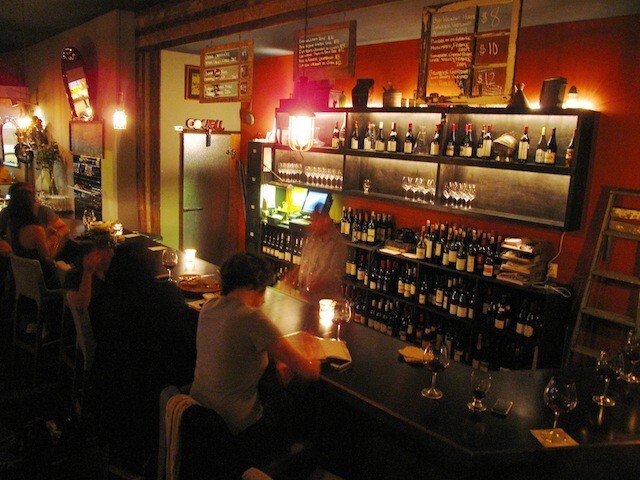 Photo by tonx
By Pamela Chelin, special to LAist
Having built it with his own two bartending hands, 30-year-old Oklahoma native Dustin Lancaster has created a polished yet rustic ambience he calls "flea market chic" with his new hit Los Feliz wine bar, Covell. On any given night, it is packed with locals, celebs, and those who have driven to Los Feliz exclusively to enjoy its latest hip, but attitude-free drinkin' spot. Covell's momentum hasn't slowed since its July 2nd opening, with some patrons frequenting the delightful wine bar up to 4 times a week -- talk about alcoholism....er, I mean, customer loyalty.
Last Thursday evening, as I strolled through the packed Covell, I spotted Lancaster walking into the women's restroom. The men's restroom, however, was empty. What was going on? Was he going to powder his nose? He laughed and explained, "Someone has to tidy up the bathrooms and that someone is me."
That is quintessential Lancaster, paying attention to absolutely every detail in the bar.
Lancaster, a California Institute of the Arts theatre graduate, opened Covell (named after a street in Oklahoma where he bought his mother a house -- a picture of which hangs on a wall behind the bar) with his earnings from being an actor. Having spent close to three and a half years managing Silver Lake hot spot Cafe Stella, where he tended bar for over four years, Lancaster decided to venture out and star in his own project, creating the kind of charming and soulful establishment he felt was missing in his own neighborhood of Los Feliz.
And, that is exactly what he has done.
As soon as you walk through its cozy, outdoor front patio and enter into the dark and dimly lit space, you feel like you are a guest at an intimate, but playful cocktail (if cocktails were made of wine and beer) party. With its open and warm atmosphere, you can arrive alone and mingle easily with other guests or you can bring your own guest(s) and have your own private soiree. Adding to the relaxed vibe is Covell's seemingly hodgepodge decor (a vintage Indian Motorcycle hanging on a wall, "wallpaper" comprised of cast-off encyclopedia pages, old cameras resting upon makeshift shelves made out of books and a group of antique keys dangling on a wall) which somehow works fluidly to create homey, yet stylish surroundings.
Photo by tonx
While there is often a pretentiousness to wine aficionados, you won't find that here. That goes against Lancaster's principles. He is not exclusionary and he doesn't believe you have to necessarily play by the "rules". "I understand why the rules are in place," he says. "Certain varietals compliment certain meats and fishes. And, the rules are that you drink lighter bodied wines before fuller bodied wines. I often follow them myself. But, I also believe in just drinking what makes you feel good. If you want red wine with fish, do it. If you want a heavy wine followed by something light, do it."
Beyond Lancaster's expertise and relatable demeanor, his staff are similarly down to earth and wine knowledgeable. Manager and wine director Matthew Kaner was plucked from Silverlake Wine, a popular East side wine store, where he was the manager for 3 years. "We just want people to smile," says Kaner. "That is our main goal. We want people to be happy." Kaner has his own 2007 syrrah entitled AM/FM (from a wine making project he shares with a friend) which he serves at Covell. There are only 12 bottles left, though, so grab some while you can. Soon, he will be introducing a cabernet sauvignon and a grenache blanc.
Glasses of wine range from $7 for white and $9 for red right up to $42.50 for Cornas by Thierry Allemand. If beer is more your flavor, there are 8 microbrews on tap ($7-$8 per glass).
While the Covellian spirit is laid back, the service is professional, enthusiastic and attentive. Bartender Shaughn Buchholz (whom you may recognize from his 2 seasons on television show Scrubs) pays customers the kind of personal attention that one rarely receives in LA. When I dropped by Covell for the second time, Buchholz remembered what I had ordered on my first visit. And, despite how packed the bar was, Buccholz was focused upon each customer he served as if there was no one else there.
One regular Covell customer, David Rosoff, General Manager of the wildly popular Mozza eateries, concedes he rarely drinks outside of his own neighborhood, but says Covell inspires him to venture into Los Feliz. "As far as I am concerned, this (Covell) is the only wine bar in Los Angeles. The rest of them try, but this is the only place that gets it right, like the wine bars in Europe." Rosoff also says, "real wine bars are not restaurants." And, Covell exemplifies that tradition by its food offerings. If you do become peckish as you imbibe, there is limited, but just enough food available to satisfy your gastronomic needs. Along with your wine, you can say "cheese" or "charcuterie" ($18 a plate), or you can chow down on a croque monsieur ($9), pesto mozzarella salad ($10), and/or brownies ($5).
Despite Covell's success, Lancaster reveals that when he opens the bar at 5pm every afternoon, he becomes nervous that nobody will show up. Perhaps his anxiety helps to retain his humility and to keep him working hard, but rest assured Lancaster need not worry about anything. He has built it. And, they have come.
Just as I am saying goodbye to Lancaster, we hear a smash. Someone has dropped a glass. Within seconds, Lancaster rushes off to take care of it. Of course.
Bar Covell: 4628 Hollywood Boulevard, Los Angeles, CA, 90027
By Pamela Chelin, special to LAist