This is an archival story that predates current editorial management.
This archival content was written, edited, and published prior to LAist's acquisition by its current owner, Southern California Public Radio ("SCPR"). Content, such as language choice and subject matter, in archival articles therefore may not align with SCPR's current editorial standards. To learn more about those standards and why we make this distinction, please click here.
Aijuswanaseing
Today on Giving Tuesday, we need you.
Dear reader, we're asking you to help us keep local news available for all today on Giving Tuesday. Your financial support keeps our stories free to read, instead of hidden behind paywalls AND will be matched dollar-for-dollar! Let your support for reliable local reporting be amplified by this special matching opportunity. Thank you for investing in your neighborhood.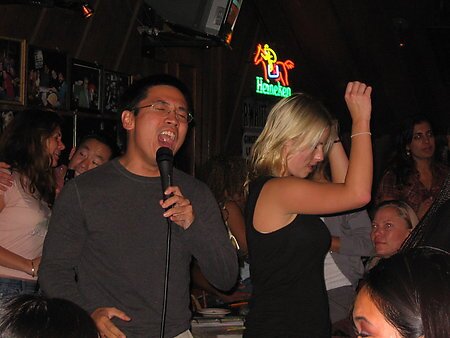 With the robust music scene here in the City of Angels, LAist always tries to keep you abreast of all the talent to grace our local venues, in particular the diamonds in the rough that don't necessarily have the name recognition of a Top 40 act but still maintain the purity of their musical genius.
There's another group of performers that doesn't get often mentioned but is also a vital part of the musical landscape here. They don't have the originality of many of the cherished acts performing at the El Rey or Spaceland, but they make up for it in sheer joy of performing and love of music. I'm talking, of course, about LA's finest karaokers.
Since the explosion of American Idol, it seems that everybody is looking for their big break to get their vocal talents skewered by one Simon Cowell. Not so for our karaoke singers. There's no Clay Aiken or Kelly Clarkson wannabes here – though there are many people that can definitely sing better than Justin Guarini. It's not about hitting perfect pitch or showing off range; rather, it's about the performance, the connection with the audience, feeling the music pulsate your soul as you belt out penetrating lyrics like "A mulatto/An albino/A mosquito/My libido/Yeah".
The LA karaoke scene covers the spectrum, from Eastern-style private rooms with Cantonese pop songs to Western-style bars with stages and even live backup bands, depending on your tastes and sense of exhibitionism. I happened to be spending this past Saturday night at Caffe Brass Monkey in Koreatown with about 250 of my closest friends. Well, at least by the end of the night they became my closest friends. Throw in some inflatable guitars and screens throughout the bar carrying the song lyrics and we might as well have been at Lollapalooza. Whether it was Starship's "We Built This City", Sir Mix-a-Lot's "Baby Got Back", or The Killers' "Mr. Brightside", it was drunken showmanship music at its apex.
Let's face it, a lot of you out there sing in the shower or bang those air drums in the car while sitting in traffic on the 10 on your way to work. Don't be embarrassed. Embrace those deep seated passions to express yourself. Everyone's got a voice that needs to be heard. So share it with us! Where do you go to sing? And what's your go to song?
Caffe Brass Monkey
3440 Wilshire Blvd.
Los Angeles, CA 90010
10 am-2 am daily (karaoke starts at 9 pm)