This is an archival story that predates current editorial management.
This archival content was written, edited, and published prior to LAist's acquisition by its current owner, Southern California Public Radio ("SCPR"). Content, such as language choice and subject matter, in archival articles therefore may not align with SCPR's current editorial standards. To learn more about those standards and why we make this distinction, please click here.
5 Delicious Pop Tarts You Need To Try In Los Angeles
Support your source for local news!
The local news you read here every day is crafted for you, but right now, we need your help to keep it going. In these uncertain times, your support is even more important. Today, put a dollar value on the trustworthy reporting you rely on all year long. We can't hold those in power accountable and uplift voices from the community without your partnership. Thank you.
When pop tarts started, well, popping up a few years back, we were excited to see some of L.A.'s best pastry chefs taking on the ubiquitous boxed breakfast treat—and taking it to the next level. Their grown-up versions had us at first bite, and the best part is that they weren't just a passing trend. Pop tarts are still going strong, and there are some seriously delicious versions all over town. Here are some of our favorites. Tell us yours in the comments section.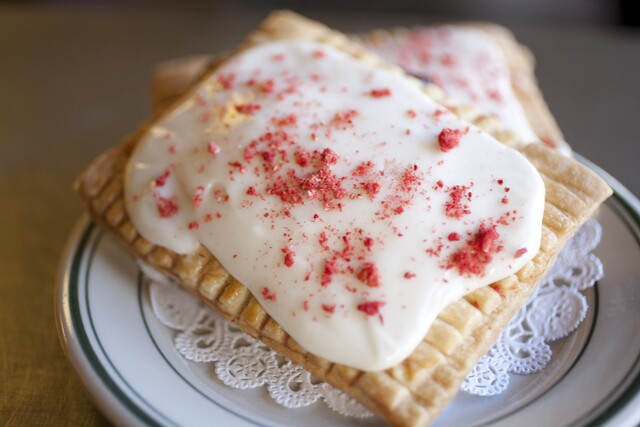 Strawberry pop tart from Nickel Diner. (Photo courtesy of Nickel Diner)
Nickel Diner
The strawberry pop tarts at Nickel Diner were the first we ever tried outside the box, and it was a luscious introduction. The dough is buttery but light, giving way to sweet strawberry jam inside and pink-sprinkled frosting. "I would eat boxes of Pop-Tarts as a kid and think, 'These could be so much better,'" says co-owner Monica May, who also serves up seasonal flavors, like the popular pumpkin in the fall. Currently, you'll find blueberry-meyer-lemon and chocolate-banana on that tempting dessert plate they bring around at the end of your meal.
Nickel Diner is located at 524 Main Street; (213) 623-8301

Mango pop tart from Dia de Campo (Photo by Valentina Silva/LAist)
Dia de Campo
One of the best versions we've tried recently is the mango pop tart at Dia de Campo in Hermosa Beach. Available on the brunch menu, it can be ordered as an appetizer or dessert, but it's best to share because it's giant. Cinnamon sugar dough is stuffed with big chunks of fresh mango and then sprinkled with more cinnamon and sugar before it goes in the oven. It's then finished off with a handful of candied walnuts and served with a side of chilled Greek yogurt that's been mixed with honey and spices. Cut into it and watch and watch all that warm sweet mango goodness pour out. Oh yeah!
Dia de Campois located at 1238 Hermosa Ave, Hermosa Beach; (310) 379-1829. Brunch is served on weekends from 11 am - 2 pm.

Bacon date pop tarts from C+M at LACMA (Photo courtesy of C+M)
C+M at LACMA
LACMA is a great place to expand your cultural horizons—and eat great food while you're at it. On-site coffee bar C+M (Coffee and Milk) is the perfect spot to indulge in deep, artsy conversation, a cup of Intelligentsia coffee (or maybe a boozy milkshake), and some really delicious pastries. The pop tarts, which are as refined as you might expect from a Patina Group restaurant, are baked daily and come in two flavors: lemon lavender and bacon date, which is topped with morsels of bacon. Both combine sweet and savory elements are small enough that you can eat the whole thing yourself.
C+M at LACMA is located at 5905 Wilshire Blvd; (323) 857-6000

Strawberry pop tart from Four Cafe (Photo by Valentina Silva/LAist)
Four Cafe
The pastry case at Four Cafe, which has locations in Beverly Grove and Eagle Rock, isn't huge, but the delightful display of cookies, cupcakes, and brownies still makes for some tough choices. When we really want to do it up, we go for the pop tart. The flavors of the sizable baked treat are seasonal—maple brown sugar usually shows up during fall and winter, and right now, strawberry is in play. The flaky crust is filled with sweet, house-made preserves and cream cheese, and coated with a thick layer of pretty pink frosting. It's decadent enough to share three ways.
Four Cafe is located at 519 S Fairfax Ave; (323) 272-3993 and 2122 Colorado Blvd.; 323-550-1988

Apple cinnamon pocket tart from Semi Sweet Bakery (Facebook)
Semi Sweet Bakery
A pop tart by any other name still tastes so good. At Downtown's Semi Sweet Bakery, owned by Bouchon and Nickel Diner alums, they call their version Pocket Tarts and serve three varieties: strawberry, apple cinnamon, and PBJ. The outside is flaky and a little bit crumbly, and the finished product has a perfectly proportioned filling-to-crust ratio. It's the kind of baked treat you start craving not long after the last bite. And, hey, if you don't like pop tarts, you can always go for a Ding-A-Ling, their version of a Ding Dong.
Semi Sweet Bakery is located at 105 E 6th Street; (213) 228-9975. They tend to sell out, so get there early.
Valentina Silva is a freelance food and culture writer. You can watch her eat her way through L.A. via Instagram and follow her on Twitter.
Cruise off the highway and hit locally-known spots for some tasty bites.

Los Angeles-based restaurant owners rejoice as a new ordinance makes its way to the city council.

The new season of LAist Studios' WILD podcast is a fictional rom-com set in Southeast L.A. Diners play a big role in fostering conversation between the shows' two hosts this season. Here are host Erick Galindo's must-visit L.A. diners — whether you like breakfast or not.

The new season of LAist Studios' WILD podcast is a fictional rom-com set in Southeast L.A. Donuts play a big role in episode two of the show. Here are some of our favorite, wildly creative, and iconic donut shops in Los Angeles.

Cheap Fast Eats visits one of L.A.'s most distinctive neighborhoods for some nighttime bites.

How to get the best eggs in town without leaving your yard.