This is an archival story that predates current editorial management.
This archival content was written, edited, and published prior to LAist's acquisition by its current owner, Southern California Public Radio ("SCPR"). Content, such as language choice and subject matter, in archival articles therefore may not align with SCPR's current editorial standards. To learn more about those standards and why we make this distinction, please click here.
15 Criminally Underrated Burgers In Los Angeles
Today on Giving Tuesday, we need you.
Dear reader, we're asking you to help us keep local news available for all today on Giving Tuesday. Your financial support keeps our stories free to read, instead of hidden behind paywalls AND will be matched dollar-for-dollar! Let your support for reliable local reporting be amplified by this special matching opportunity. Thank you for investing in your neighborhood.
Some burgers have all the luck—they end up on every "best of" list (including our own). Of course, we love these iconic burgers, but as any food-obsessed Angeleno knows, there are countless lesser-known and very delicious burgers in town. Some even have cult followings, but we think they should be celebrated on a wider scale. To help us find the most underrated burgers in town, we consulted LAist readers—here are some of the best. As always, let us know your favorites in the comments.
The Cheddar Burger at The York:
We're always perplexed when we don't see the York's Cheddar Burger on best burger lists. The way the soft brioche bun collapses onto the juicy, hand-packed patty when you wrap your hands around it is just so perfect. The chuck and sirloin blend is played up with sharp accents, like the slightly spicy harissa aioli, rocket and pickled onions. It doesn't hurt that the plate is loaded with a giant pile of crispy hand-cut fries.
The York is located at 5018 York Boulevard; (323) 255-9675

Cheeseburger from A1 Burger (Photo by Valentina Silva/LAist)
The Cheeseburger at A1 Burger
There's always a line at Leimert Park's A1 Burger, the turnaround is slow, and there are no tables to speak of. Still, the burgers at this old-school stand are worth the trouble. The standard cheeseburger is a study in proportions— a sizable slab of peppery grilled beef is complemented by a thick slice of tomato, plenty of dill pickle slices, chopped raw onions, and a big dollop of mayo (beware if you don't like mayo). The cheese is American, and the bun is of the basic store-bought variety, but somehow it all works out.
A1 Burger is located at 2915 W Vernon Avenue; (323) 290-1174

The cheeseburger at Republique (Photo by Krista Simmons/LAist)
The Cheeseburger at Republique
You might not think of Walter Manzke's French Californian restaurant as a casual spot to grab a burger, but drop by during lunchtime and you'll find a more casual crowd gathering for a midday meal. In most cases, said meal consists of their classic burger served with a side of Manzke's perfect fries. The burger's flavors and composition are basically a gourmet take on an In-N-Out burger, with thousand island, grilled onions, iceberg lettuce, and a thick slice of tomato being the only accoutrements. The difference here is the quality of the dry-aged beef, as well as the perfect poppyseed brioche bun. Like all the baked goods at Republique, it's a thing of beauty. Unlike the SoCal fast food joint, however, there are no substitutions or secret menu tweaks, but trust us when we say you won't want to make them anyway. —Krista Simmons
Republique is located at 624 South La Brea Blvd., Los Angeles, (310) 362-6115

The Bone Marrow Burger at Black Hogg (Photo courtesy of Black Hogg)
The Bone Marrow Burger at Black Hogg
The star of Chef Eric Park's ROOTS menu at Black Hogg is the Bone Marrow Burger. It used to only be offered during early dinner hours, but proving too popular for such a limited run, it's now available all night long. A house blend of beef makes for a thick, tasty patty, which is topped with caramelized and pickled onions, and sandwiched by a grilled bun. Then there's that roasted marrow, which comes still attached to the bone—it's your responsibility to spread on all that decadence.
Black Hogg is located at 2852 Sunset Boulevard; (323) 953-2820
World Famous Burger at Hinano Cafe
Venice Beach's Hinano Cafe is famous for being Jim Morrison's favorite hangout in the '60s. And while that might be what draws the tourists, locals will tell you that it's the burger—okay, and the cheap cold beer—that keeps the place packed. The confidently titled World Famous Burger comes dressed with lettuce, tomato, onion, mayo, mustard and relish on a seeded bun with your choice cheddar or swiss. Those in the know add a split, grilled hot link to the pile and maybe even some chili.
Hinano Cafe is located at 15 W Washington Boulevard; (310) 822-3902

The Oaks Gourmet Market burger (Photo by Krista Simmons/LAist)
The Dry Aged Burger at The Oaks Gourmet Market
It's sort of shocking that The Oaks' burger isn't on every single best of list, with it's 1/2 pound of ridiculously flavorful, juicy dry-aged beef sandwiched between brioche buns. It's topped with applewood smoked bacon, peppery arugula, tomatoes, red onions, and oozy tallegio cheese. The real kicker is the smear of housemade jalapeño and pineapple compote, which gives the burger a sweet and spicy kick that takes it over the edge. You might need a cigarette afterwards—it's that good. —Krista Simmons
The Oaks Gourmet is located at 1915 N Bronson Ave, Los Angeles, (323) 871-8894

The Vaka from Vaka Burgers (Photo by Valentina Silva/LAist)
The VaKA from the VaKA Burgers Truck
When he put his VaKA Burger concept on wheels, Chef Aaron J. Perez proved that a food truck could still cause a stir in Los Angeles. Perez and his tight crew serve up a small menu of gourmet burgers with toppings like truffle oil and fig goat cheese. The best might be the VaKA, a grown-up version of a Western Bacon Cheeseburger made with an airy beer-battered onion ring, provolone cheese and bacon jam. The housemade smoky-sweet barbecue sauce is the kicker.
Follow VaKA Burgers' route on their Facebook page

The cheeseburger at The Munch Box (Photo by Cathy Chaplin/GastronomyBlog.com)
Cheeseburger at The Munch Box
There are a few reasons to go to The Munch Box in Chatsworth: The bright yellow building is a fantastic example of Googie architecture, the service is kind, and the burgers are an old-fashioned treat. For a mere $3.40, the cute and compact cheeseburger comes on a soft white bun with diced onions, tomato, pickles, and a Thousand Island dressing—food writer Cathy Chaplin likened it to a classic McDonald's hamburger. The patty is thin, so big eaters might want two.
The Munch Box is located at 21532 Devonshire Street, Chatsworth; (818) 998-9240

The House Burger from Fusion Burgers (Photo by Valentina Silva/LAist)
House Burger at Fusion Burgers
The owners of this casual Highland Park eatery got their start in an Umami kitchen. And while the menu is similar to that of their old employer, some might argue that the execution is actually better. The House Burger is a delectable example of what Fusion Burgers does—the hand-packed patty is an expertly seasoned blend of skirt steak and short rib layered with pancetta, housemade dressing, oven-dried tomatoes and cheddar. The Portuguese bun is soft and sweet. Get the pickle plate, too!
Fusion Burgers is located at 5933 York Boulevard; (323) 257-8705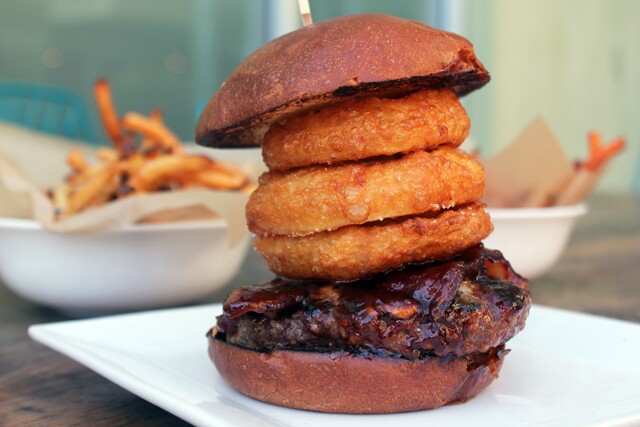 The Paniolo Burger at Pono Burger (Photo by Valentina Silva/LAist)
The Paniolo Burger at Pono Burger
Chef Makani Gerardi is serious about ingredients, using only organic, grass-fed beef, and local farmers' market produce at her Santa Monica restaurant. Seasoned with a housemade dry rub and kosher salt, ever 1/3 lb. patty is grilled in a wood-burning oven, creating a unique smoky flavor. Of the four signature burgers offered, the Paniolo is a standout. Three buttermilk-and-beer-battered onion rings tower atop Niman Ranch bacon, smoked cheddar, and a killer barbecue sauce made with Kona coffee and bourbon. Don't worry, it squishes down quite practically.
Pono Burger is located at 829 Broadway, Santa Monica; (310) 584-7005
Bacon Cheeseburger at Michael's Burger
Michael's Burger in Canoga Park delivers the quintessential and quite nostalgic Southern California burger that many native Angelenos grew up with. The Bacon Cheeseburger is a basic 1/4 patty on a sesame seed bun with lettuce, tomato, onion, and thousand island dressing. It's good to the last bite, and you can even get an order of fried mushrooms or zucchini. It's that kind of place.
Michael's Burgeris located at 7225 Topanga Canyon Boulevard; Canoga Park (818) 704-8893

Cheeseburger from Jim's Burgers (Photo by Valentina Silva/LAist)
Cheeseburger at Jim's Burgers #10
Around since 1972, Jim's Burgers is a classic (and affordable) charbroiled burger joint, a once ubiquitous sight in L.A. that's slowly, and sadly, fading. A Boyle Heights tradition, the restaurant has a retro look, big booths, and one of the coolest Mid Century Modern signs in town. The burger doesn't boast arugula or grass-fed anything—it's just a 1/4 pound patty on a sesame bun with a crispy wedge of lettuce, tomato, onions, pickles, American cheese and dressing. You might as well get an Orange Bang to go with it.
Jim's Burgers #10 is located at 1901 E. 1st Street; (323) 269-4001
Alehouse Burger at Library Alehouse
Along with 29 craft beers on tap, downtown Santa Monica's Library Alehouse offers one heck of a burger. Served on a glistening brioche bun, the signature Alehouse Burger has a prime chuck patty, caramelized onions, arugula, garlic aioli, and gorgonzola cheese. The cook is consistently precise, and be still your beating heart, they even offer curly fries on the side.
Library Alehouse is located 2911 Main St, Santa Monica; (310) 314-4855

Spiced Lamb Burger from Badmaash (Photo courtesy of Badmaash)
Spiced Lamb Burger at Badmaash
It's nice to live in an era when even an Indian restaurant turns out an outrageously good burger. Badmaash, currently the city's only Indian Gastropub, does a succulent lamb burger made with a lamb leg meat patty, red onion, lettuce, roma tomatoes, and a lovely cilantro and paprika spiced mayo that's splattered on. The flavors are decidedly Indian, and thus wholly unique for an L.A. burger. Try it once, and you might find it's still on your mind days later.
Badmaash is located at 108 W 2nd Street; (213) 221-7466
Bar Burger at Cafe Stella
The burger at Silver Lake's Cafe Stella is kind of a secret. You can only get it at the bar, and you have to know to ask for it. Served on a wooden board with little cups of ketchup, dijon mustard and aioli, the burger looks cheeseless, but it's not—there's some Roquefort mixed into that hearty, lightly charred and very juicy patty. The bun is grilled but soft enough that it doesn't get in the way of the flavor. A sweet roasted tomato and butter lettuce top it.
Cafe Stella is located at 3932 Sunset Boulevard; (323) 666-0265
Valentina Silva is a freelance writer who edits her own blog Eastside Food Bites. Watch her eat her way through L.A. on her Instagram.