This is an archival story that predates current editorial management.
This archival content was written, edited, and published prior to LAist's acquisition by its current owner, Southern California Public Radio ("SCPR"). Content, such as language choice and subject matter, in archival articles therefore may not align with SCPR's current editorial standards. To learn more about those standards and why we make this distinction, please click here.
Fiction Nominees - Four Strong Women & A Stuttering Bloke
Before you read more...
Dear reader, we're asking you to help us keep local news available for all. Your tax-deductible financial support keeps our stories free to read, instead of hidden behind paywalls. We believe when reliable local reporting is widely available, the entire community benefits. Thank you for investing in your neighborhood.
The LA Times has nominated five books in each of nine different categories for the 2007 Los Angeles Times Book Prizes. In the weeks leading up to the Festival of Books where the winners will be announced, LAist will take a quick look at each category and will wax poetic on a few favorites (or least favorites) along the way.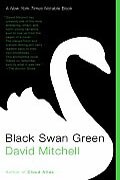 Black Swan Green by David Mitchell – A smaller tome than Mitchell's fans are used to and packed with a sweetness & light heretofore unseen by Mitchell in earlier work. BSG covers one year in the life of Jason Taylor, a 13-year old boy living in England circa 1982. Among the usual childhood concerns (rendered with delicious care by Mitchell), Jason has a more unusual burden to carry: he stutters. Terribly. As Jason struggles throughout the year to make sense of his newly forged and lost friendships & his parents' impending divorce, readers root for him as he struggles, literally, to find his own voice. And what a delightful bugger he is while he tries to sort it all out.
Why you might like it: It will bring your own childhood back. Instantly.
Why you might not: It will bring your own childhood back. Instantly.
The Second Coming of Mavala Shikongo by Peter Orner – The beautiful Mavala Shikongo returns to teach at her all-boys Catholic primary school in Namibia with a new addition – her son. She is headstrong, outspoken and restless, and has no husband. This makes her unpopular with several members of the conservative school staff and highly desirable to others. Through the voice of one of Mavala's admirers (a volunteer from Cincinnati), Orner's book carefully illuminates the cultural and religious issues swirling about in the country soon after it won independence from South Africa in 1990 while also expounding on the fleeting nature of love.
Why you might like it: Beautiful language & evocative landscapes.
Why you might not: It might remind you of your years in Catholic school.
A Million Nightingales by Susan Straight – The heartbreaking and triumphant story of Moinette, who is sold into slavery at the tender age of fourteen and begins plotting her escape as soon as she becomes "property." Moinette's teenage candor swiftly gives way to a strong female voice that pulls no punches as she details every part of her 30-year journey to freedom – from brutality and sexual abuse to finding love in unexpected places.
Why you might like it: It's kind of intense.
Why you might not: It's kind of intense.
Winter's Bone by Daniel Woodrell – Ree Dolly's father is suspected of running a meth lab and he's skipped bail. She's 16 and has plans of her own. Yet with her absent father and two younger brothers depending on her, Ree has to decide if family – or her own dreams of escaping the oppressive poverty of the Ozarks – comes first. When Ree sets off to find her father – dead or alive – things start to get interesting. Very interesting & rather violent.
Why you might like it: A literary shell with a gooey crime fiction center.
Why you might not: Crystal meth + the Ozarks = oppressive. Even in fiction.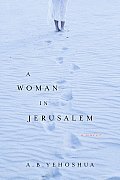 A Woman in Jerusalem by A.B. Yehoshua - What happens when you are a victim of a suicide bomb and no one comes to identify your body? So begins the story of a strangely beguiling woman (even in death) who lies nameless in a Jerusalem morgue for a week. When a local paper finds out she used to work at a bakery, the owner is pressured to take care of her – to find out who she is, to deliver her body to the family and move on. While the baker reluctantly takes on this terrible task, as he uncovers the many fascinating details of her life, he slowly becomes enthralled with the woman – and all she, and he, might have been. While it's too late for her, he realizes has a chance to change.
Why you might like it: Serious and funny all at once - a rare occurrence.
Why you might not: We can't think of one reason. Really. Not one.
So, there you have it. The fiction category all summed up. Sort of. Tell us who you're rooting for or if there is a book you think should have made it on to the list instead. We're all ears. And eyes.