Extra! Extra! Rush busted again.
Stories like these are only possible with your help!
Your donation today keeps LAist independent, ready to meet the needs of our city, and paywall free. Thank you for your partnership, we can't do this without you.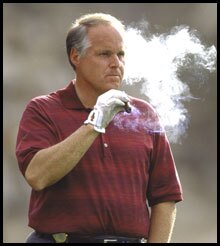 Cigar-smoking right-wing nutjob Rush Limbaugh, the former Oxycontin addict, has been arrested in West Palm Beach, Florida for prescription drug fraud. According to the AP, authorities discovered he'd gotten 2,000 painkillers in 6 months, prescribed by 4 doctors. That is, by our count, more than 10 pills per day. Limbaugh was released on $3,000 bail — how much Oxycontin would that buy?
Also out on bail: USC freshman quarterback Mark Sanchez had to cough up $200,000 yesterday and then headed to his family's home in the O.C. The football player, who has been temporarily suspended from the team, was arrested on suspicion of sexually assaulting a female student.
Across town, an autopsy is pending for Julien D'Avanzo, the UCLA student who died Thursday after falling from a 3rd-floor balcony. Although police haven't said that there was drinking involved, the Daily Bruin says that the 20-year-old, who was an RA and Sigma Pi member, was horsing around after a party.